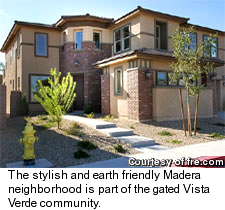 CLIENT FEATURE
Online real estate auction helps golfers save on Las Vegas golf course realty
Can there ever be too many golf courses nearby? We didn't think so, either. If you love golfing, you'll really love the newest online auction of homes in Las Vegas that gives buyers access to life in the heart of one of the premier golf destinations in the nation. LFC Group of Companies, the industry trailblazer in online real estate auctions is spearheading the 30-day, end-of-year builder closeout sale on their residential real estate auction website www.FRE.com®. With minimum bids starting from $99,000, buyers have the opportunity to invest in Las Vegas real estate for well under suggested market values.
With the click of a mouse, first-time buyers, as well as those looking to upgrade to something newer, can bid on the quality home that fits their needs. The homes - located among six neighborhoods - give buyers access to the best in suburban Las Vegas living.
The well-planned communities, countless practical amenities, and vast natural landscape, leave no wonder why Las Vegas has been one of the fastest growing metro areas in America since 1990.
The gated neighborhood of Highgate - in the master-planned community of Providence - is marked by lush landscapes and beautiful architectural finishes, with spacious homes featuring stately interiors and luxurious amenities. Madera and Alvarado, both energy efficient neighborhoods and part of the gated Vista Verde community, afford residents homes that are both stylish and earth friendly. Meanwhile, San Rafael, located near the builder's Eldorado master-planned community, features two-story homes and a neighborhood park. Fiesta del Norte offers unique single-story homes awarded for their superior energy efficiency. Finally, Mandevilla, part of Eldorado, holds some of the best values in Nevada homes.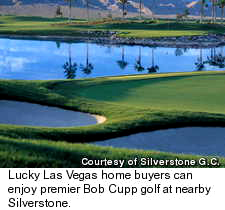 Silverstone, Painted Desert, and Shadow Creek are just some of the amazing golf clubs nearby. When not golfing at one of the many golf courses in Las Vegas, residents can stay busy experiencing the natural beauty of nearby Lee Canyon or Mount Charleston, or exploring the growing number of entertainment and shopping destinations just off the US 95. Residents can take day trips to Lake Mead, Hoover Dam, or the Colorado River. Or, for a more ambitious excursion, camping trips and hikes through the Grand Canyon, Death Valley, and the Valley of Fire make for an exciting taste of the natural southwest.
In the midst of a sluggish market, LFC is changing the way real estate is bought and sold with its innovative, convenient, and transparent online auction format. LFC offers sellers an accelerated sales program and, rather than wasting homebuyers' time, crowding them into a cramped convention room - the trend in Las Vegas auctions so far - the online auction format provides an easily accessible means of buying that also responds to homebuyers' desires to set their own prices.
Register today to buy one of these Las Vegas homes and make your golfing dreams an everyday reality. To place a bid online, visit www.FRE.com/295G7 by the bid deadline of Nov. 6, 2008.
Freedom Realty Exchange - part of the LFC Group of Companies
For more than 30 years, the LFC Group of Companies has served numerous Fortune 500 companies, real estate developers, investors, financial institutions and government agencies by auction-marketing thousands of commercial, industrial, land and residential properties with an aggregate value well in excess of $5 billion. www.FRE.com.
October 2, 2008
Any opinions expressed above are those of the writer and do not necessarily represent the views of the management. The information in this story was accurate at the time of publication. All contact information, directions and prices should be confirmed directly with the golf course or resort before making reservations and/or travel plans.