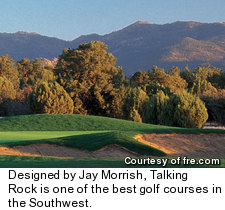 CLIENT FEATURE
Auction: Talking Rock golf community delivers the good life in Prescott, Arizona
There is just something about living on a golf course. From the smell of fresh-cut grass in the morning, to that quick nine, or 18 holes after work, living and breathing the game is virtually every golfer's dream. Delivering this dream to lucky golfers is Talking Rock, a private, guard-gated golf community just 20 minutes from downtown Prescott, Ariz., which features one of the best golf courses in the Southwest.
Talking Rock golf course designer Jay Morrish has been laying out the links for almost four decades. From the 10 years he spent working with Jack Nicklaus, to creating his own company and eventually designing many of the greatest golf courses in Arizona, Morrish has supreme talent when it comes to painting magnificent courses on a rugged desert backdrop.
"At Talking Rock we were given the freedom to design the holes where they wanted to go, without resorting to modern tricks or gimmicks," Morrish states. "The course is a pleasure to play and to walk. It feels like it's been here for years. I know it will please and challenge golfers of every skill level."
Save on Talking Rock real estate via online auction
Now, golfers have a rare opportunity to live in Talking Rock, thanks to a landmark online auction on the LFC Group of Companies' Freedom Realty Exchange Web site, www.FRE.com (click here to view the auction).
The developer is offering one elegantly appointed Ranch House and two Ranch Cottages, in addition to 31 premium lots for custom homes, at a steep discount. For example a property that was once priced as high as $979,000 will have starting bid of $349,000, and lots once listed as high as $239,000 will open for bidding at $59,000. This online auction event has already begun, and will continue until the bid deadline of May 28, 2009.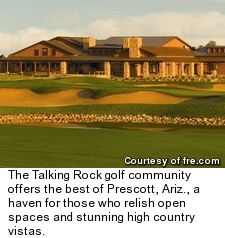 Named to Money Magazine's 2006 top five places to retire, Prescott is a flourishing haven for those who relish open spaces and stunning high country vistas. As the best of Prescott, Talking Rock offers the complete package. At the heart of the community, the Ranch Compound provides a place for residents and guests to come together, whether to spend some quality time on the 18-hole golf course; work up a sweat in the Barn Fitness Center; make a quick stop by Coops store for coffee and a newspaper; or to spend a few hours laughing over dinner and drinks at main Ranch House restaurant and bar. The developer of Talking Rock is also dedicated to living in concert with the natural beauty of this land. For this reason, planners of the rural community set aside more than 1,000 acres of land as natural preserve.
FRE.com auctions are conducted completely online. Bidding in an FRE.com auction begins with the submission of a bid form followed by a bid deposit. Subsequent bids are placed over the web via the privacy and comfort of the buyer's office or home. Properties are available for viewing seven days a week until the bid deadline of May 28, 2009.
Important property documents and disclosures are available on www.FRE.com/289D1 for download and review, ensuring that buyers are fully informed before they purchase.
Broker participation is welcome.
March 26, 2009
Any opinions expressed above are those of the writer and do not necessarily represent the views of the management. The information in this story was accurate at the time of publication. All contact information, directions and prices should be confirmed directly with the golf course or resort before making reservations and/or travel plans.