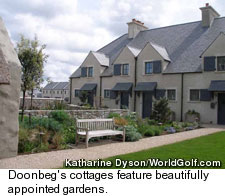 FAIRWAY LIFESTYLE
Doonbeg real estate offers luxury Irish country living and Greg Norman golf
By Katharine Dyson,
Special contributor
DOONBEG, Ireland - My caddie was a crusty, wirey guy from New Jersey; the first person I met coming off the 18th green was a friend from New York; buildings featured beams from 19th century Charleston buildings and Kentucky log cabins; and the place was owned by Kiawah Development Partners of Charleston, S.C.
You'd think this golf course was somewhere in the States. Nope. Ireland.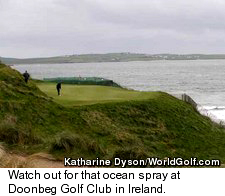 Set on Ireland's blustery southwest coast not far from Lahinch, Doonbeg Golf Club is a stunning $140 million club along 1.5 miles of crescent-shaped beach. In addition to a magnificent setting, Doonbeg has a variety of owner suites and cottages, clubhouse, restaurants and a spa.
Think Irish country village for the rich where architectural elements include stone, beamed ceilings, mullioned windows, gables, fireplaces, rough-hewn dark slate roofs and muscular stack chimneys. Although it just opened in 2002, everything settles well into the landscape of gardens, courtyards, fields and sea.
Attracting international buyers from Asia, Bermuda, Australia, Europe, the U.S. and beyond, most owners see Doonbeg real estate as a luxury second home. A rental program allows them to recoup some of their investment.
Real estate at Doonbeg
Fifteen one-to four-bedroom suites are located in the Elizabethan-style lodge along with the members' clubhouse, dining facilities and White Horses Spa. These accommodations have a burnished old world clubby ambiance and are furnished with 18th and 19th century antiques like a vintage chess set, camelback chairs and carved armoires.
Two adjacent buildings contain six suites in The Garden House and seven suites in the Courtyard along with the Norman suites. Running along the 17th hole are 28 four-bedroom Links cottages (3,000 square feet). The cottages are brighter than the lodge units with walls finished in a white-lime wash.
Averaging approximately 2,000 square feet to 3,000 square feet, no two suites are alike. Special appointments such as milk churn buckets, tavern bottles and other knickknacks are interspersed with a few odd painted country pieces.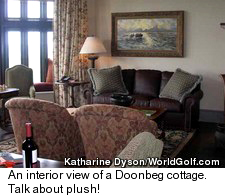 Each suite has a living room, fireplace, kitchen and one or more bedrooms. Luxuries include heated towel racks, stone-topped vanities, plasma tvs, DVDs, whirlpools and winding staircases.
Doonbeg has built and sold 47 suites in phases 1 and 2, and in phase 3 there are eight fully furnished Links cottages remaining (as of June 2008) priced between €1,610,000 ($2,520,919) and €1,660,000 ($2,599,755). Each sale includes a family membership to Doonbeg Golf Club.
Recently added to the market are some two-bedroom resales: an ocean view suite (€1,850,000/$2,948,158), a Norman suite (€1,250,000/$1,992,099) and a three-bedroom Courtyard Suite (€1,495,000/$2,382,759).
Golf at Doonbeg
The first time I played the golf course, it was a gray, blustery day. I kept my head down as I pulled my cart uphill battling wind and, I swear, sleet. It was cold, the rain dripped off my hat down my neck. Still I was determined to finish. After all, who knows when I would get another chance to play Doonbeg, one the most highly touted new golf courses in Ireland.
A painting of course designer Greg Norman dominates a wall in the clubhouse hall. When he first came here he said, "If I spent the rest of my life building courses, I don't think I'd find a comparable site anywhere. It's spectacular, land made by God."
His layout, which evokes a sense of traditional links, runs along the marram-grass dunes, but it has an "Americanized" feeling with wider, more manicured fairways than courses like Lahinch and Ballybunion. Still, winds and horizontal rains lashing in from the Atlantic create a true dunes golf experience.
At the club there is a members' dining room, an Irish pub, locker rooms and lounge. An in-house concierge program helps members with everything from making air reservations to arranging tee times. Members also enjoy preferred pricing, advanced tee time reservations and members-only golf days.
Doonbeg guests enjoy the amenities of the Lodge (except member areas), including preferred tee times. Daily greens fees apply.
Nightly rates range from €239 ($372) to €1,199 ($1,876.95).
For more information, see www.doonbeggolfclub.com.
November 11, 2008
Any opinions expressed above are those of the writer and do not necessarily represent the views of the management. The information in this story was accurate at the time of publication. All contact information, directions and prices should be confirmed directly with the golf course or resort before making reservations and/or travel plans.