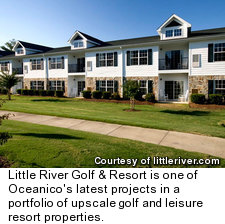 FAIRWAY LIFESTYLE
First resort: Oceanico's Little River Golf & Resort adds another option in Pinehurst area
By Katharine Dyson,
Special contributor
Since the time of oiled sand greens and Donald Ross, Pinehurst has been known as the "Go To" place for serious golfers.
Here in the Sandhills of North Carolina - where golf can be played year-round on more than 40 courses, including the eight championship tracks at the Pinehurst Resort - "green gold" exists.
That's what Oceanico Group owners Simon Burgess, from Manchester, England, and Gerry Fagan, from Ireland, understand well. Oceanico - a nine-year-old real estate development company that has established a strong presence in Portugal's Algarve holiday scene with several villa vacation communities and seven golf courses, including the new tracks by Christy O'Connor Jr. and one by Nick Faldo - has made the jump across the Atlantic to America.
About four miles north of Pinehurst just off U.S. Hwy. 15-501, Little River Golf & Resort is one of Oceanico's latest real estate projects in a portfolio of upscale golf and leisure resort properties adding up to more than $5 billion in assets, until now, mostly in Europe.
When Burgess and Fagan visited the Carolinas with an eye to expanding their operations into America, the Sandhills area quickly captured their attention, not only because of the ideal playing conditions and beauty of the area but for Pinehurst's deep-seated history.
"America is great at resort golf, but much of it is very modern and man-made with no history to it," said Burgess. "Then you come to Pinehurst, and you have so much (history). That's something you cannot build."
Little River Golf & Resort: Real Estate
Oceanico purchased the 640-acre property in December 2007 from Little River Partners - where a golf course was already established (1996) along with a clubhouse (2006) and golf villas - while development plans were on the drawing board for condos and homes.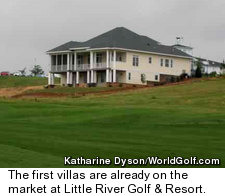 The property came with its own unique history. A century ago it was an Ayrshire cattle farm and later an equestrian training facility with polo grounds and harness racing track. It was the site of the Olympic Equestrian Trails in the 1980s, and a jump from that event is a permanent fixture between the seventh green and eighth tee.
Other reminders of its equestrian heritage are the horseshoe tee markers, the slick logo of a jockey on a race horse and neighborhood names like Pimlico Downs and Churchill Downs. A central recreation area is called Horsemans Park.
Since acquiring the property, Oceanico has moved quickly to expand the development and has spent more than $2.5 million to upgrade the golf course. Construction is underway on a number of homes, and the first section of units for Oceanico's Residence Prestige Club's fractional ownership program has been completed.
Since sales just opened up this spring, Debbie Bureau, sales associate, said, "A lot of interest has been generated."
Fractional ownerships at Little River Golf & Resort
While Oceanico's developments in Portugal are primarily tourism and vacation-related, in America, Burgess explains they are looking at a different mix of half vacation villas, a third permanent housing and a third senior living, a concept that is expected to help spread the risk given America's current economy.
Both conventional and fractional ownerships of homes are being offered at Little River with prices ranging from $285,000 for a two-bedroom condo to $465,000 for a three-bedroom cottage.
Fractional ownerships range from $40,000 for a two-bedroom villa and $40,000 to $150,000 for a four bed single family home. Not to be confused with time shares, fractional owners buy a share of a property so they co-own the bricks and mortar and can rent, sell, will, deed or place in a trust.
Owners get to use their property on a rotating basis, a necessary control for booking prime periods, but all units in the program are available on an unlimited, space-available basis year-round.
This means owners can use not only their own properties but other accommodations at other Oceanico Prestige Residence Clubs for very little extra cost in Portugal and other parts of the world.
Gary Hughes, sales associate for Oceanico said, "Our properties appeal to the more affluent crowd who are looking for more than just a specific time period.
"You have all amenities of a high-end resort within a worry-free environment. If you want to close the door and go home or stay longer on a space-available basis, you can do so."
The master plan calls for a total of about 1,150 townhomes, single family homes and condos, a hotel, a spa, a lazy river, tennis courts and some boutique retail areas. Phase one offers 140 three- and four-bedroom homes and about 100 two- and three-bedroom condos.
The two-bedroom condos range from 950 square feet to 1,400 square feet, the three-bedroom condos are 1,800 square feet and the four-bedroom homes are 3,600 square feet.
Homes come with gourmet kitchens with granite countertops and top-of-the-line appliances. The master bathroom has double sinks, granite vanities, whirlpool tubs and showers. Fireplaces are in both the living room and outdoor patio where there is also a Viking cooking station.
In addition to attracting buyers from North America, Burgess expects Pinehurst will appeal to European golfers as well.
Little River Golf & Resort: The golf
Designed by Moore County native Dan Maples, Little River Golf Course rolls up and down the hills through tall stands of trees with elevation changes close to 200 feet. It was named "A Best New Course" by Washington Golf Monthly when it opened in 1996 and is rated 4-1/2 stars in Golf Digest's Best Places to Play.
Playing 7,018 yards from the tips (4,850 yards from forward tees), with four tees, this superbly maintained course provides enjoyable golf for all levels of players and is one you'll want to play again and again.
But it is the subtleties Maples has worked into the natural terrain that make it special.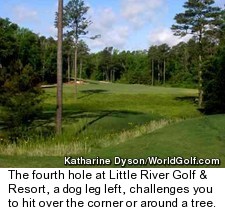 For example, hole No. 4, a par-4 dog leg left, is well protected on all sides by waste areas and in the front bunkers. It's a fun test as a tree blocks your tee shot at the turn. Brave hitters will cut the corner for an easy second shot in.
The front nine is longer, less hilly and has more generous landing areas than the tighter back nine, which challenges with more elevation changes.
Maples has employed some unusual features in his course. For example, he has added a fifth tee box on some holes, and hole No. 2 presents a double-feature par 3 with two greens and two approaches, the hole played from either on a rotating basis.
Hole No. 16, a par 3, also offers risk and rewards. Carry from the tips 200 yards over a very large pond or head to the safer tee at 126 yards where the water threatens all along the left.
The semi-private course, which is managed by Troon Golf, is open to the public, but owners of the Prestige Club enjoy unlimited playing.
Little River Golf & Resort: Rentals
Sixty three two bedroom/two bath condo-style units are available for rent within walking distance of the first tee and clubhouse. Each bedroom and bath is located on either side of the common living space, which includes a sitting room and large TV, kitchen and patio.
Bedrooms are furnished with two queen beds making the unit ideal for traveling foursomes. Extra perks include wireless internet.
Additional facilities include a practice facility, pro shop, Derby's restaurant, a bar area with a pool table and 8,000 square feet of meeting space.
Ask about Little River's two-night package from $240 per person based on quad occupancy in a two-bedroom golf villa. More more information, visit www.littleriver.com.
Katharine Dyson is a golf and travel writer for several national publications as well as guidebook author and radio commentator. Her journeys have taken her around the world playing courses and finding unique places to stay. She is a member of the Golf Writers Association of America, Metropolitan Golf Writers of America; Golf Travel Writers Organization and Society of American Travel Writers.
May 1, 2009
Any opinions expressed above are those of the writer and do not necessarily represent the views of the management. The information in this story was accurate at the time of publication. All contact information, directions and prices should be confirmed directly with the golf course or resort before making reservations and/or travel plans.