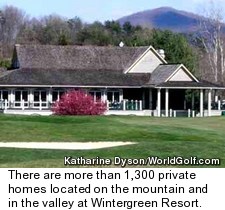 FAIRWAY LIFESTYLE
Wintergreen Resort: A four-season playground in Virginia's Blue Ridge Mountains
By Katharine Dyson,
Special contributor
Leaving the Stoney Creek Golf Course at the base of Central Virginia's Blue Ridge Mountains on a late spring afternoon, it was 69 degrees. Some 15 minutes later, snaking up the hairpin turns leading to the Wintergreen Ski area atop the mountain, the thermometer quickly fell to 53.
This type of temperature swing is a pretty everyday thing for Wintergreen Resort, a four-season playground about three hours from Washington, D.C., where you can ski and play golf on the same day and tee it up year-round. Once known as the "Big Survey" when the land was purchased by a group of investors in 1969, Wintergreen makes an ideal getaway destination for golfers, for skiers and for those who love the outdoors. Active types.
Covering more than 11,000 wilderness acres, Wintergreen has two dozen tennis courts (indoor and outdoor), a 12,000-square-foot spa and aquatics center, hiking and biking trails, as well as an award-winning ski, snowboard and tube facility with 26 manicured slopes and trails.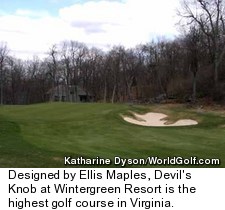 And, of course, there is golf: the 27-hole Rees Jones design at Stoney Creek and the mountaintop 18 at Devils Knob, the highest course in Virginia at 3,850 feet.
The only four-season resort in the country owned entirely by its membership, Wintergreen's homes and condos stretch out along the valley plains and climb the ear-popping mountain. Many are perched atop the cliffs, some at more than 3,800 feet with views of the Shenandoah Valley, Rockfish Valley and blue-green mountain ranges.
Down below in Stoney Creek, there are several neighborhoods, along with businesses, restaurants and a micro-brewery. Nearby, the streams are home to trout, bass and perch, while the calm setting of Lake Monocan is ideal for kayaks and canoes.
Diversity in real estate at Wintergreen Resort
The Wintergreen community consists of 1,100 condos (all nestled along the mountain) and 1,300 single-family homes (800 on the mountain, 500 in the valley). There are approximately 300 private residencies in the guest rental pool, each individually furnished by its owner and adhering to the quality and amenity standards set by the resort.
Our three-bedroom condo rental came with a large wood-burning fireplace, expansive windows looking out to the Blue Ridge Mountains, wet bar with a wine cooler, large kitchen with granite countertops, marble floors, a patio and two televisions.
Condos and homes on the mountain start at $125,000, topping out at $3.5 million, while those in the valley go from $300,000 to $2.5 million. Given the current market conditions, new construction has slowed, yet according to Thomasina Shealey, MBA sales agent, the Wintergreen market has held up better than many in the country, with a drop of less than 20 percent in value.
Shealey also noted that only three properties were in foreclosure. Brian Chase, managing broker for Premier Properties, the in-house real estate arm of Wintergreen Resort, said that the most desirable properties are selling first, while those with less compelling features are taking longer to move.
"It's an astonishing time to be a buyer," Chase said. "You get fabulous mountain views and golf frontage at great prices, during a time when the marketplace is in an eddy."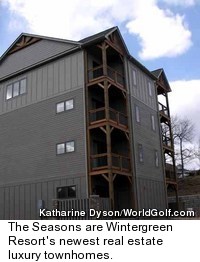 New on the market is The Seasons, a cluster of 24 four-story luxury townhomes located near the top of the mountain. With 3,670 square feet, the homes are extremely high-end, offering four bedrooms, five and a half baths, wide staircases, an elevator, multi-media room and balconies on each level.
Special features include oak floors and molding, granite counters, Viking appliances and 6-foot Whirlpool tubs. Priced from $824,000 to $1.4 million, four are currently under contract. Given the longevity of the Wintergreen Resort area, there is an established re-sale market.
"We now have 91 homes in our sales inventory," Shealey said, "whereas when the market is on fire, the typical inventory is 48 to 50."
Still, homes are taking longer to turn over - routinely from four to five months - even though prices are being somewhat reduced. I saw a beautifully appointed Kestral Point home near the fifth green at Devils Knob, formerly on the market for $595,000. It has just been reduced to $544,000 - completely furnished, right down to the lamps and bowls on the table.
Wintergreen Resort: With ownership comes privileges
The WPI Premier Membership, which includes equity ownership in Wintergreen Partners, is available to those who own Wintergreen property and have a "Right Of Membership" attached to their property, something either already part of the deed, or purchased for $14,000. Equity owners must pay a one-time Capital Contribution fee of $17,000 and annual dues, and equity owners receive 80 percent back when the property is sold.
There is a non-equity membership with a $6,500 activation fee (instead of the Capital Contribution fee) and annual dues between $1,800 and $3,800 per year. Dues for both categories are variable. Basically, the more you pay, the more you get. For example, for $1,800, you get 25 percent off green fees, while the $3,800 package provides full privileges to all facilities, including golf, spa, tennis, etc.
Annual dues in the WOA (Wintergreen Owners Association) are $1,194. Condo owners also pay $550 to $2,700 quarterly in management and maintenance fees.
Condo and home rentals range from $270 per day for a studio to $1,750 for a nine-bedroom home. And don't forget to ask about the Stay & Play packages.
There's plenty of golf at Wintergreen Resort
Both resort courses are open to Wintergreen guests, members, residents and day visitors. Up on the mountain, Devils Knob, designed by Ellis Maples, follows old Indian trails that provide 50-mile views.
A surprisingly level layout, the 6,668-yard course rolls gently over the contours of the land. Notoriously fast greens are narrow, with some multi-tiered surfaces, while danger lurks along the sides of the fairways. Recently the course was lengthened and bunkers were renovated.
There are three nine-hole golf courses at Stoney Creek: Monocan, Shamokin and Tuckahoe. A creek dogs you all the way around Monocan. You hear it, you see it, you try to avoid it. It's a fairly level track with a large pond coming into play on the fourth and fifth holes.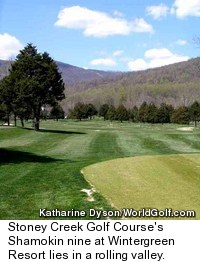 Tuckahoe is a bit of a roller coaster - up and down some pretty steep elevations. It has tricky, undulating greens, several doglegs and lots of trees. Shamokin, a pretty track, is more closed in by trees than the other two nines. Clever marketing is helping to keep golf in the black.
"Golf is the only department beating the budget," says Sean Taylor, Wintergreen's savvy director of golf.
Both pro shops are well stocked with similar quality but different brands. For example, in the Devils Knob shop, you'll find Bobby Jones, Fairway & Greene, Sport Haley, EP Pro. In Stoney Creek, brands include Cutter & Buck, Tehama, Page & Tuttle, Callaway and Ashworth.
"We are the largest 'green grass' account in the mid-Atlantic," noted Taylor whose efforts garnered the PGA of America's award for the best merchandiser of the year for resort shops in the mid-Atlantic.
Also, the Wintergreen Golf Academy offers clinics, lessons and expansive practice areas.
For more information, see www.wintergreenresort.com and www.gowintergreen.com.
Katharine Dyson is a golf and travel writer for several national publications as well as guidebook author and radio commentator. Her journeys have taken her around the world playing courses and finding unique places to stay. She is a member of the Golf Writers Association of America, Metropolitan Golf Writers of America; Golf Travel Writers Organization and Society of American Travel Writers.
May 1, 2009
Any opinions expressed above are those of the writer and do not necessarily represent the views of the management. The information in this story was accurate at the time of publication. All contact information, directions and prices should be confirmed directly with the golf course or resort before making reservations and/or travel plans.