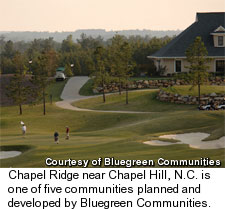 FEATURE STORY
Bluegreen Communities: Experience eases the risk in a volatile real estate market
By Brandon Tucker,
Senior Writer
A topsy turvy real estate market coupled with newspapers flooded with dreary headlines is sure to give home buyers a good dose of uncertainty these days.
But it's not all gloom and doom in the real estate market, you just have to know where and how to look. Your dream golf community property can still be found, especially if you have the aid of an experienced firm on your side.
Bluegreen Communities has been in the business for more than four decades and sold more than 55,000 master-planned residential and golf community homesites in 32 states. Bluegreen continues to set new standards in excellence with its award-winning developments.
At Bluegreen, they know that before you call sell land, you have to sell your people.
"Buyers want to know the strength and credibility of the company they're dealing with," says Tom Powers, Division President of Bluegreen Golf. "We've been in the business 42 years. That experience is important to our clients, it gives them confidence."
Not only has Bluegreen Communities been in the business for more than four decades, few companies can match the hands-on development experience Bluegreen possesses. They are involved in the process from buying the land and obtaining all of the necessary permits, to master-planning the community from scratch. Officials estimate only 2-3 percent of real estate companies handle the many phases of real estate like they do.
Bluegreen's five golf communities - which can be found in metropolitan Dallas/Fort Worth, in the Raleigh-Durham-Chapel Hill area, and in the St. Simons Island area of coastal Georgia - have been able to withstand challenging market conditions thanks to a formula that has withstood up-and-down market cycles since the 1960s.
At the centerpiece of each Bluegreen golf community is a championship golf course. Each of Bluegreen's communities' golf courses teams regional course architects with the signature of a PGA Tour legend who offers their own design style, like Davis Love III and the always popular Fred Couples.
"There's an identification with Couples," said Powers. "He's very personable. People who don't even know him feel comfortable with him."
Aside from creating a more comfortable community, big-name golf designers generally help add to home values, according to a recent study performed by Golf Research Group. Communities with a household name like Couples stand the test of time.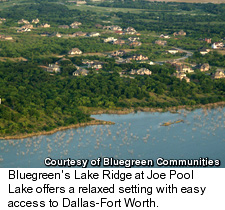 One of the reasons Bluegreen Communities are able to uphold better resale values is they let land buyers choose their own builder and plan, versus communities where the there are only a handful of options, resulting in a cheaper, cookie-cutter look.
After the land owner chooses the builder and their specific home, they then bring the plans to the community's officials, where they approve the planning and materials to ensure it upholds the standards of the neighborhood. Quality is continually checked to ensure the community's integrity.
"Master-planned communities hold their value better in down markets than subdivision-type communities," notes Powers. "It's been proven from the 1960s up to the most recent cycle."
Bluegreen also pays close attention to each community's proximity to cities not only in the present but the future. Each community can be found within an hour's drive from the center of a major metropolitan area and is in the path of a demonstrated, sustainable growth pattern. Their communities are typically between 800-1,200 acres and are never more than five miles from a major thoroughfare.
Bluegreen's communities are also making a point to cater towards the modern family, going well beyond the golf course to ensure everyone in the family has plenty of ways to be active, something Powers says has been a tremendous difference in newer communities versus several decades ago. Walking and jogging trails, community centers, exercise centers, swimming pools and plenty more are now commonplace in every Bluegreen golf community.
While Bluegreen has served multiple generations of families, but they're still attuned to what a modern day family describes as "home".
About Bluegreen Communities
Bluegreen currently has land for sale in five golf course communities. Three of these golf course communities, The Bridges at Preston Crossings, Chapel Ridge and Sanctuary Cove were developed by Bluegreen Golf. Bluegreen Golf is one of the nation's leaders in developing residential golf communities. The centerpiece of each of our Bluegreen Golf communities is a signature golf course, with Fred Couples, Davis Love III and Curtis Strange serving as course design consultants. Lake Ridge and The Reserve at Sugar Tree, both developed by Bluegreen Communities, also feature golf courses near each community. The Bridges at Preston Crossings, Lake Ridge and The Reserve at Sugar Tree are located close to the Dallas-Fort Worth Metroplex. Chapel Ridge is located in Pittsboro, not far from Chapel Hill, and Sanctuary Cove is located on the Georgia coast with easy access to Atlanta. Land is currently available in all five communities.
For more information, visit www.bluegreencommunities.com or call (888) 750-5263.
May 26, 2008
Any opinions expressed above are those of the writer and do not necessarily represent the views of the management. The information in this story was accurate at the time of publication. All contact information, directions and prices should be confirmed directly with the golf course or resort before making reservations and/or travel plans.