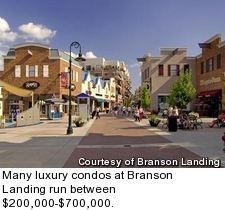 REAL ESTATE
Branson, Missouri: The "Live Music Show Capital of the World" is gaining a reputation for golf living
By Larry Olmsted,
Special Contributor
BRANSON, Mo. -- Nicknamed the "Live Music Show Capital of the World," Branson has always been known for its entertainment. Now it's starting to gain a reputation for its golf.
Newer golf courses of note include Murder Rock Golf and Country Club, which bears John Daly's name, and Branson Hills Golf Club. Both anchor residential golf communities.
Now there are eight golf courses in the immediate Branson area. But despite the growing number of fairways and tees, there's no doubt a main selling point of Branson remains live music and family entertainment, with amusement parks, offbeat attractions and more than 50 Broadway-style theaters along The Branson Strip (Highway 76). While these are geared for tourist, many of Branson's growing number of retirees and second homeowners enjoy the live daily shows and very reasonable prices.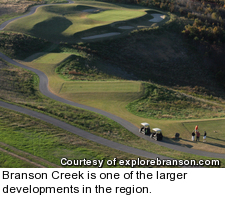 Price and weather are the big reasons why this part of the Ozarks is on the radar of second-home buyers. The summers are hot but not oppressive, while the spring and fall offer great weather. Golf is usually played year round, with a few days missed in January and February due to the cold.
Real estate here isn't expensive. The most expensive part of town is Branson Landing, adjacent to the historic downtown. This mile-long commercial and residential zone is reminiscent of CityPlace in West Palm Beach, Fla. and the River Walk in San Antonio, Texas, with around 100 retail stores and dozens of restaurants built on the shores of Lake Taneycomo. New luxury condos aimed at those who value activity within walking distance are built over many of the storefronts, and most run between $200,000-$700,000.
Outside Branson Landing, prices drop dramatically.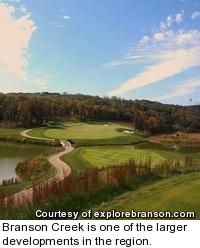 Five miles southwest of downtown, well established Point Royale Golf Village is one of the only gated golf communities around town. A number of local music "stars" live alongside the fairways, yet you can find condos for as little as $50,000 and almost all are less than $200,000. While there are some trophy homes nearing $1 million, the vast majority of single-family homes here are priced in the $250,000-$450,000 range. The golf course is pretty basic, but the large community on the shore of Lake Taneycomo (with nearly a thousand residents) offers a fitness center, indoor and outdoor pools, and nature trails.
Since Branson has always valued waterfront living, homes on golf courses still do not command a premium. In Branson Hills there are several developments, including new condos, that are being advertised as "developer closeouts" and ask would-be buyers to make an offer. Lots here begin at just $29,000. Over at Branson Creek, where Murder Rock is located, a brand-new, well equipped, two-bedroom villa with a garage and deck goes for $149,000, and larger single-family homes start at just more than $200,000.
Waterfront living on an inland budget is a theme here. About a century ago, the Army Corps of Engineers built the first of three dams that have created Branson Lakes. The first, Lake Taneycomo, runs right into downtown.
The second, Table Rock Lake, is another popular second-home spot with a wide variety of lakeshore condos starting at around $90,000. Most are in the $100,000-$300,000 range. Single-family homes begin at just more than $100,000 and run into the low millions, with price dropping noticeably the farther from downtown you get. Most homes, even those off the waterfront, have a dock or boat facilities.
The third lake, Bull Shoals, will be developed down the road. All three lakes have excellent bass fishing, another big sporting draw of the region.
Larry Olmsted has written more than 1,000 articles on golf and golf travel, for the likes of Golf Magazine, T&L Golf, LINKS, Golf & Travel, Men's Health, Men's Journal, USA Today, and many others. He broke the Guinness World Record for golf travel and wrote Getting into Guinness, as well as Golf Travel by Design. He was the founding editor of The Golf Insider, and the golf columnist for both USA Today.com and US Airways Magazine.
May 25, 2011
Any opinions expressed above are those of the writer and do not necessarily represent the views of the management. The information in this story was accurate at the time of publication. All contact information, directions and prices should be confirmed directly with the golf course or resort before making reservations and/or travel plans.