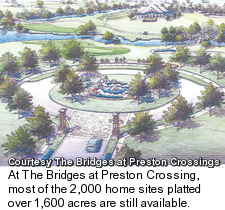 REAL ESTATE
For Texas golf course estate - and The Bridges at Preston Crossing - now is the time
By Mike Bailey,
Senior Writer
GUNTER, Texas - If, indeed, timing is everything, then there might not be a better time to consider buying property at the first golf course community in Texas by Bluegreen Communities - The Bridges at Preston Crossing.
Located about 45 minutes north of Dallas in tiny Gunter, the championship Fred Couples signature golf course is already open, but most of the 2,000 home sites platted over 1,600 acres are still available. Even with the recent state of the economy, now would be the time to buy, according to Bridges Director of Sales Skip Davis, before the growth reaches Gunter. All you have to do, he said, is look a little further south.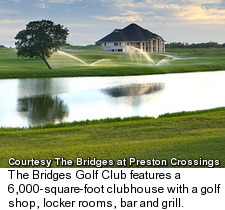 "We look at the growth patterns," Davis said. "Everything is moving north. Between Highway 75 and 289, where the toll way is, that's where it's going. Remember how Frisco was and McKinney were? That was just five years ago. And now that's a hotbed of activity."
Indeed, Frisco and McKinney are thriving. And for those looking to escape the traffic to the serenity of the country, The Bridges at Preston Crossing could be the answer.
Golf enthusiasts can already enjoy the 7,600-yard Bridges Golf Club, designed by Jeffrey Brauer of GolfScapes, in conjunction with Couples. The course meanders up and down rolling hills, with a links sort of feel from its old-school square tees to large undulating greens. There is also a 6,000-square-foot clubhouse that features a well-stocked pro shop, locker rooms, bar and grill and large back porch overlooking the 18th hole. Davis, who once played on the PGA Tour, says the golf course is definitely the centerpiece.
"The golf course is outstanding," he said. "I don't think you'll ever get bored with it."
The home sites range from one-third acre to just over an acre, spread over what used to be the old M&M Ranch, which once played host to various political fundraisers, polo matches and even the Dallas Cattle Baron's Ball. Davis said because Bluegreen was able to buy the property from one owner - as opposed to negotiating with many different sellers, as is often the case - the company is able to keep prices competitive. It's up to his sales people to paint the big picture for potential buyers.
"They have to be really good visionaries," he said. "They stand out there where there's nothing there and have to tell them how nice it's going to be. But as soon as we go through the next phase and put more money into the property, prices are going to go up. Always the tough time to buy is right now, but it's the right time. "
Amenities abound at The Bridges at Preston Crossing
The subsequent phases would include more amenities. Already, all the utilities - electricity, phone, water and sewer, for example - are laid underground, which Davis said is a big plus over many other yet-to-be-developed sites.
"A lot of places, there are no utilities, there are no roads," Davis said. "It's the only community anywhere near us that has all underground utilities, city water, city sewer. You don't have to worry about septic tanks. You're out in the country, but there are concrete streets and curbs; the whole thing is self-contained."
By next fall, Bluegreen is expected to complete a community center, which will feature a state-of-the-art fitness center, tennis courts and swimming pool. Plans also call for sidewalks throughout the community, 10 miles of hike and bike trails, and playgrounds and picnic grounds.
The Bridges is a community designed to appeal to all demographics, Davis said.
"We've got young families that are trying to get out of the hustle and bustle of Dallas, and Gunter's three schools have been rated exemplary," he said. "But for the empty nesters who have kids in town and don't want to be far away, it's a good spot for them, too."
The home sites run about $55,000 for a little more than a third of an acre to about $150,000 for a golf course lot around three fourths of an acre. There is also a gated section called The Estates of Preston Crossing, which has half-acre minimum lots with a 3,000-square-foot minimum for the houses. Davis estimates total cost for a home and lot will run from $400,000 to around $1.5 million.
Buyers are, of course, free to contract their own builders, however, four or five builders have already bought home sites and are ready to go.
"We've got a nice little group together," Davis said. "If somebody comes in from out of state, for example, and they don't have a builder in their hip pocket, we can turn them over to these four or five guys and kind of let them bid for their business."
October 27, 2008
Any opinions expressed above are those of the writer and do not necessarily represent the views of the management. The information in this story was accurate at the time of publication. All contact information, directions and prices should be confirmed directly with the golf course or resort before making reservations and/or travel plans.