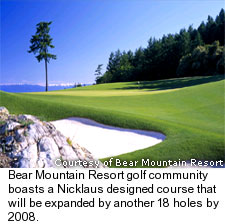 REAL ESTATE
B.C.'s Bear Mountain Resort unveils three new golf-course condo properties
By S. Adam Cardais,
Staff Writer
Bear Mountain Resort in Victoria, British Columbia, recently announced it has expanded its golf course home offerings with three new sets of condos.
The Highlander, Soaring Peaks and Stonehaven buildings are all positioned along the Jack and Steve Nicklaus-designed Mountain course at the Westin Bear Mountain Victoria Golf Resort & Spa. A second course at the resort will be finished in 2008.
The resort is currently fielding reservations for the condos, with resident selection scheduled for early November. The properties range from 540 to 1,500 square feet and cost from $279,000 to $1.17 million.
Bear Mountain Resort has had past success with its real estate, selling out the first 10 phases of lot sales and four luxury condominium buildings as well as town homes and quarter shares. The resort set the island's record for single-day real-estate sales in November 2005, selling $114.7 million in property from the St. Andrews Walk and Finlayson Reach condominium complexes.
"If history is any indication, the upcoming selection day is going to be extremely successful," resort developer Len Barrie said in a written statement. "Because these condominium buildings are so unique to Vancouver Island, we expect demand to outweigh our supply."
The modern Soaring Peaks, a 23-story tower, sits between the ninth and 17th greens. It is one of the tallest residential building in Victoria and includes an outdoor pool, a gourmet kitchen and entertainment area.
"A tower on top of a mountain in the middle of a golf course is a unique concept," Grant Klapstein, president of developer Cove Properties, said. "Soaring Peaks effectively combines modern architecture with traditional luxury and service." The 15-story Highlander on the 18th fairway boasts a traditional design. It will eventually have a Grande Hall with a library, theater, tearoom, fitness center and entertainment room. Residents of four-story sister building Stonehaven will have access to all the amenities at the grand hall.
Highlander designer Steve Carruthers of Zeidler Architects said the properties will appeal to a wide range of people.
"The prospect of living above the clouds, even on an overcast day, is enthralling," Carruthers said. "These new condos offer something for everyone."
Bear Mountain Resort proclaims itself Vancouver Island's only master-planned resort community. Located on 1,300 acres of mountainside property, the community also boasts the Sante Spa, five restaurants and the Mountainside Athletic Club, all near the seaside inner harbor of Victoria.
October 19, 2006
Any opinions expressed above are those of the writer and do not necessarily represent the views of the management. The information in this story was accurate at the time of publication. All contact information, directions and prices should be confirmed directly with the golf course or resort before making reservations and/or travel plans.