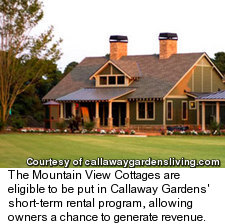 REAL ESTATE
Georgia's Callaway Gardens resort reborn amid green real estate development
By Tom Spousta,
Contributor
PINE MOUNTAIN, Ga. -- Jeff Quinn leaned forward and prepared to answer a question he knew was coming. A couple minutes earlier, he had fondly recalled how as a kid his family vacations always included a stop at Callaway Gardens.
Quinn also remembered how quickly the vacation landscape changed as families became more mobile and expanded their options to include Hilton Head, Myrtle Beach, Florida, the Gulf Coast and elsewhere across the booming Southeast. Amid the shift, Callaway Gardens struggled to retain its audience and keep its brand competitive.
Fast forward to Quinn sitting among the maps and models of the new master plan at the real estate sales office. Asked if it was fair to label a Callaway Gardens comeback as a rebirth, Quinn didn't flinch.
"Absolutely," he said. "We're trying to regain our relevance and bring everybody back to Callaway Gardens. We're all about the rebirth."
Quinn is the senior vice president, general manager for Cousins Properties, the Atlanta mega-development firm that was a carefully chosen partner for Callaway Gardens. His team's mission: Lure back lost -- and future -- generations and recapture the identity that made Callaway Gardens the Southeast's vacation destination of choice for several decades after it opened in 1952.
Golf will play a major role in the makeover, with the Lake View Course and Mountain View Course as anchors. A new, 12,000-square-foot clubhouse is in the works, which would be home for a golf school. Another 18-hole course might be built. Quinn adds that Callaway Gardens might also be interested in hosting a PGA Tour or Nationwide Tour event, or perhaps an LPGA tournament.
"We hope to re-raise the bar for golf at Callaway Gardens. We want to get back on the golf map," Quinn says. "Golf is one of a couple hundred cool things to do here. But golf can lead the way from an amenity standpoint."
Real estate development at Callaway Gardens
Ditto for real estate development. Four more neighborhoods will join Longleaf in attracting residents to the Callaway Gardens lifestyle. All are scheduled to be built as custom EarthCraft premium certified homes and cottages, the highest criteria for a green program. Few, if any, green residential projects thus far pay such attention to detail as these at Callaway Gardens.
"We're just now getting started. Everything we do is incredibly environmentally sensitive. We're not bleeding edge green -- we're way out there cutting edge green," Quinn says.
"We're adding the element of real estate to the Gardens, which is backwards of what development used to be," he adds. "We still have to sell, but we've taken the Callaway Gardens mission and live it everyday in everything we do."
• Highland Park will be a community of 41 home sites next to the Twin Oaks practice facility and near the new golf house.
• Skyview Meadows offers the first opportunity to live on a Callaway Gardens golf course, the 17th and 18th holes of Mountain View.
• Mountain View Cottages puts you a short iron away from the course and practice facility. The 30 cottages are also eligible to be put in Callaway Gardens' short-term rental program, allowing owners a chance to generate revenue.
• Camp Callaway will consist of 47 cabins and gives residents the first chance to purchase lakefront property. These also can be put in the rental program.
Known for its wide range of attractions and activities, Callaway Gardens has numerous combinations in which to market golf and vacation packages. That should help position the resort to weather economic challenges and thrive down the road.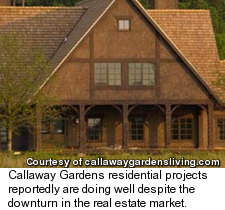 Indeed, Quinn says the Callaway Gardens residential projects are doing well so far despite the prolonged downturn in the real estate market. Perhaps because this doesn't involve the old model of building a course to sell real estate, since Callaway Gardens already owns the land and a great longstanding reputation.
As its biggest residential project, Cousins Properties isn't building and leaving, either, like developers traditionally have done.
"This allows us to be here 15 to 20 years," Quinn says. "We're using the lifestyle here to position the real estate and maximize your value. The mission is to make sure the Gardens are here for generations to come."
In turn, efforts here have helped Cousins become more green as a corporation and in its commercial developments.
"We're blessed with a lot of land. That's why we're here, to be good stewards of the land," Quinn says.
For more information, see www.callawaygardensliving.com.
March 9, 2009
Any opinions expressed above are those of the writer and do not necessarily represent the views of the management. The information in this story was accurate at the time of publication. All contact information, directions and prices should be confirmed directly with the golf course or resort before making reservations and/or travel plans.