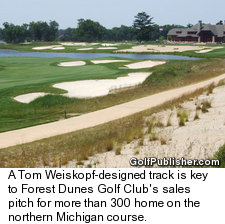 REAL ESTATE
What's in a name? Millions of dollars for developers of golf course communities
By Brandon Tucker,
Senior Writer
There's no denying the allure of a big-name designer in attracting golfers to a course. When that golf course is going to be the centerpiece of a ritzy residential golf development, the stakes of being able to slap "Nicklaus" or "Jones Jr." on the brochure get even higher.
As Greg Norman discovered, it can even prompt a developer to destroy a finished golf course to chase a bigger name - and bigger profits.
In 2000, Norman's completed Stonehaven track in Scottsdale was sold and demolished just prior to its debut. Tom Fazio was brought in to construct an entirely new course. An angry Shark told reporters, "It was the greatest golf course no one will ever play."
He isn't alone. A Ken Kavanaugh design in Sedona, Ariz., was shelved two weeks before the start of construction in favor of a Tom Weiskopf layout.
In the United States golf-course real estate now amounts to more than 3,600 communities and 1.45 million homes - homes worth triple the average U.S. residential property, according to the Golf Research Group, which studies the market. The owners want more than just the luxury of living on a course; they want to maximize their investment. The designer's reputation plays an integral part.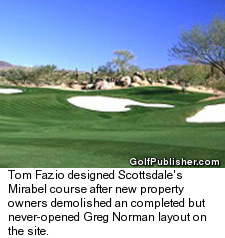 Golf Research Group calculates the value of designer names in golf developments and sells the data to investors. Its net present value (NPV) index shows the importance of architect branding. Courses designed by one of 40-odd top designers have an NPV of $28.9 million, compared to $17.5 for lesser-known designers and $7.9 million for courses that list no architect at all.
Investors expect that brand value to spill over into their homes, and they are right.
Jack Nicklaus is their undisputed champion. Homes in developments with Nicklaus courses are worth an average of $1.2 million and have more than doubled in value in the last 10 years. The average value of an entire Nicklaus-related development is $245.7 million, the highest in the market.
Forest Dunes Golf Club in the small northern Michigan town of Roscommon is hoping the Weiskopf name will help sell more than 300 lots over its 800 acres and eventually enable the club to private. Despite Michigan's current lukewarm economy, Forest Dunes officials believe it's a worthy investment.
"We think we have the kind of course and design that could turn Forest Dunes into a premier Midwest retreat," said Director of Golf Chris Bronson.
They're off to a good start. Golf Research Group ranks Weiskopf third among value-adding designers, behind only Nicklaus and Fazio. Robert Trent Jones Jr. and Gary Player round out the top five.
August 21, 2006
Any opinions expressed above are those of the writer and do not necessarily represent the views of the management. The information in this story was accurate at the time of publication. All contact information, directions and prices should be confirmed directly with the golf course or resort before making reservations and/or travel plans.