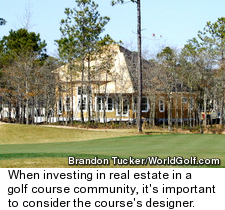 FEATURE STORY
Dye, Nicklaus, Fazio: Names to look for when buying golf course real estate
By S. Adam Cardais,
Staff Writer
Pete Dye, Tom Fazio, Jack Nicklaus - these men are the super stars of golf course architecture, commanding million-dollar salaries to etch their signatures on the fairways and greens of the world's most sought-after golf courses.
They travel in private jets, their names are often included in sentences alongside the words "visionary" and "genius," and golf courses with their John Hancocks on them get an immediate injection of credibility.
"There's no denying (the celebrity-designer obsession) rules the game today with more force and impact than Tiger Woods," Chris Baldwin wrote in a story for TravelGolf.com. "The fate of a new golf course, the way it's perceived, gets largely determined by what big name is credited with the design. Having a living blueprint legend to place on the marquee does not guarantee success, but not having one can often seal doom."
In the golf world, at least, it seems there's very little these giants can't do - and that includes boosting the value of your golf course real estate.
That's right, celebrity golf course designers drive real estate values, according to a recent study by Longitudes Group, LLC, which monitors the travel and spending habits of golfers nationwide. Commissioned by Golf Digest and BusinessWeek, the study analyzed nine architects - Dye, Nicklaus, Fazio, Robert Trent Jones Jr., Arnold Palmer, Arthur Hills, Tom Weiskopf, Gary Player and Greg Norman (though the last three weren't included in the final results) - in nine cities. It found that real estate appreciation rates in developments of so-called "brand-name" designers were 28 percent higher than the local area.
Dye, arguably the world's most respected designer, is also the best investment when it comes to golf course real estate. Over a five-year period, his developments appreciated 60 percent higher than others in the surrounding area. For longer-term investors, Trent Jones Jr. is the way to go, as he performed the best over 10 years.
"So what's behind the Dye edge?" Dan Briody asked in an article for BusinessWeek. "For starters, Dye is one of the premier course artists of all time, landing nine designs on Golf Digest's list of America's 100 Greatest Golf Courses. His name has been especially recognizable of late as he continues to create challenging tour-caliber venues."
Several reasons explain why other designers don't boast such strong numbers. In Jack Nicklaus' case, for instance, houses in his developments are usually priced high initially and therefore don't appreciate as quickly, according to Briody.
Evidence of this can be found at The Club at Longview, a golf community in Charlotte, N.C. that has a Nicklaus Signature course. Its initiation fee, a good barometer for judging property values, is $100,000. By comparison, the fee at Piper Glen, another upscale golf course development in Charlotte, is around $30,000.
If these prices sound like budget-breakers, not to worry: Several up and coming designers without the prestige of the "brand namers" are looking like good investments down the road, according to Briody. One to watch is Jim Engh, whom Golf Digest named Architect of the Year in 2004. He recently completed a new design at Reynolds Plantation, a golf club in Georgia.
June 26, 2007
Any opinions expressed above are those of the writer and do not necessarily represent the views of the management. The information in this story was accurate at the time of publication. All contact information, directions and prices should be confirmed directly with the golf course or resort before making reservations and/or travel plans.