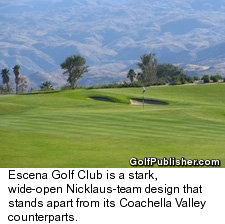 FEATURE STORY
Changing the face of Palm Springs golf real estate? Escena G.C. pushes urbane retro cool
By Chris Baldwin,
Contributor
PALM SPRINGS, Calif. - About the first thing golfers notice when they step into the temporary clubhouse at Escena Golf Club is the sleek model of the new digs being built. It dominates one corner of the room and is surrounded by curvy, cushy chairs that seem to come straight from an Austin Powers set.
Brochures for the new houses being built in the development are on a table. Like the clubhouse model, the home designs are all sharp lines and stark looks. This is a very modern take on 1960s architecture. You're in Palm Springs, but this is anything but your grandfather's desert condo.
"It's different from anything that's ever been built in this area before," Escena General Manager Jeff Sauvage said, picking up one of the brochures. "I think it's really interesting."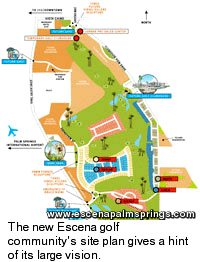 It's not just interesting. It'll be an all-but-official case study into whether the new Coachella Valley, characterized by slick clubs like Red 74, can move into real estate, which around here is still geared to the crowd that frequents the Plaza Theater on Palm Canyon Drive and watches Murder She Wrote in reruns.
Presales are underway at Escena, and real-estate agents aren't the only ones watching to see what happens.
"I like the look for the clubhouse," San Francisco golfer Victor Niemis said. "But I don't know about living in a house that looks like that."
Escena press releases are peppered with words like "hip," "happening," "urbane" and "new." The pictures at its Web site look like something you'd see in an architectural-magazine spread on an ultra-trendy Southern California suburb (which Palm Springs hasn't been mistaken for in a long time). The designs are somewhat boxy yet eccentric at the same time - old-school gray suddenly splashed with bright red, a brick fireplace appearing out of nowhere.
"This is the exclusive enclave community for people who like their architecture a little out there and edgy, and who don't want to see the same-old same-old when they come home every night," said Holly McKie, marketing director for developer Lennar Communities.
It has a few other things going for it that having nothing to do with esthetics. The most important may be a location close to downtown Palm Springs that takes advantage of Americans' recent swing toward moving into cities rather than fleeing from them.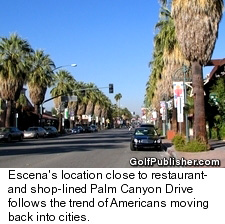 Escena is the first new course built within the city in more than 10 years and the first new golf/homes development in more than 20, bucking the longtime trend of construction in outlying Coachella Valley communities like La Quinta, Palm Desert and Rancho Mirage. It's close to the Palm Canyon Drive main drag, filled with restaurants and fashion shops, and virtually next-door to the airport.
It's also got a golf course from a Jack Nicklaus design team that's drawn fairly consistent praise. Like its soon-to-be residential neighbors, Escena Golf Club is strikingly different from its Coachella Valley counterparts - stark, largely open and lacking the palm trees that dominate so many area tracks, setting up views instead of the towering white mills of a nearby wind farm.
Of course, another thing that makes the course different now is that there are no houses in sight.
You can forget that soon. No one's going that far back in time. Escena's vision of bringing Bob Hope's favorite town back into the future includes houses that look as nice as you imagine they looked in the 1950s or '60s but never really did. There are plans for up to 1,400 of those new-look-retro houses.
But who will be buying, and how enthusiastically? Those questions go beyond real estate and touch on just what kind of town Palm Springs is going to end up being. Does hip, happening and urbane work here?
If you go
Escena Golf Club
Tee times: 1-800-767-3574 or 1-800-767-3574
Home inquires: www.escenapalmsprings.com
September 4, 2006
Any opinions expressed above are those of the writer and do not necessarily represent the views of the management. The information in this story was accurate at the time of publication. All contact information, directions and prices should be confirmed directly with the golf course or resort before making reservations and/or travel plans.