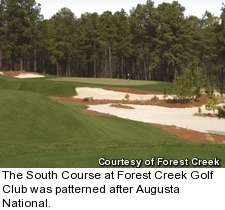 REAL ESTATE
Forest Creek Golf Club community is right at home in the Village of Pinehurst
By Larry Olmsted,
Special Contributor
PINEHURST, N.C. -- Known as the "Golf Capital of America," Pinehurst is home to the nation's first golf resort and one of its most vaunted courses -- Pinehurst No. 2.
One of the big attractions here is that Pinehurst is a fantastic place to live or have a second home. It's a charming, historic town full of great dining and shopping options, and it's minutes from its equally charming sister town, Southern Pines. And, located a little more than an hour from Raleigh and the Raleigh-Durham International Airport, it's all surprisingly affordable.
First and foremost, however, is the golf, with countless public and private complexes with courses designed by some of the top architects.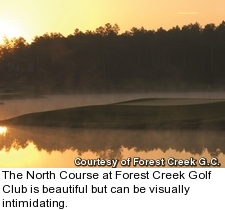 But only one of these has two highly acclaimed designs by Tom Fazio, often called the greatest living designer. That would be Forest Creek, which stands out among the many standout private golf communities in the Pinehurst area.
Just two miles outside the Village of Pinehurst and less than five minutes from Pinehurst No. 2, Forest Creek combines a perfect location with first-rate amenities and golf. The master-planned community spans 1,265 acres, and when it's fully developed it will contain 750 residences.
Forest Creek properties
Forest Creek is no newcomer -- the first golf course opened in 1996 and the first real estate was sold in 1997. Despite the economic downturn, growth at Forest Creek has been steady. There were 24 properties sold in 2011 in what was considered a slow year.
Currently, 610 of the 750 pieces of property have been sold, and 160 homes are complete and most of them are occupied. There are two options: lots for custom homes or lots for village homes, which are clustered into miniature "village" enclaves, each group with a putting green and outdoor social space. These allow buyers to choose from a number of pre-designed homes, which are customizable. Some have home theaters, while others boast walk-in wine cellars or home offices.
So far the construction has been about evenly split between custom homes and village homes. The custom lots average about .8 acres and run between $75,000-$150,000 for forest settings and $200,000-$350,000 for golf course frontage. Village lots are about half the size, .4 acres, and the village homes range from $400,000-$1.5 million. Models start at 1,800 square feet and go to 6,500 square feet for an eight-bedroom, eight-and-a-half-bath model. There are 19 resale units on the market, a mix of custom and village homes, that range from $659,000-$1.459 million.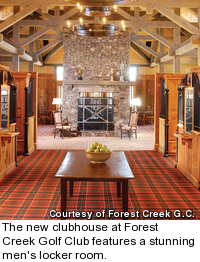 A third option is the 11 clubhouse suites built above the new deluxe golf clubhouse. These proved so popular they had to have a lottery for the chance to buy the most desirable balcony unit. None are currently available, but when they come on the market they are typically around $450,000 and offer turnkey, apartment-style living and can be rented out to guests of members.
The new clubhouse is a centerpiece of the community and features a stunning men's locker room, while the women have their own adjacent locker room building in the original clubhouse. The property was originally a 19th-century farm, and this theme has been maintained. The pro shop is in an old cabin that was relocated to the property. The clubhouse boasts a huge open fireplace, and the lockers are made from vintage heart of pine.
Golf at Forest Creek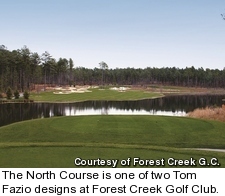 The South Course at Forest Creek, patterned after Augusta National, was the first to open and has a distinctly parkland feel. The greens are set in bowls, and the course is straightforward and beautiful. Forest Creek's North Course opened just in time for the 2005 U.S. Open at the nearby Pinehurst Resort and is much more akin to Fazio's beloved Pine Valley, where he is a member and designed the short course.
Here, he took advantage of the indigenous tan sand of the Sandhills region, stripping away the grass to reveal extensive waste bunkers with jagged edges. In typical Fazio fashion there is far more room off the tee than it appears, but the course is visually intimidating.
These are two different experiences that you would not expect to find within 50 miles of each other, let alone in the same community. It's almost even in terms of member preference, though the North Course plays about two shots harder.
The focus here is on golf, but Forest Creek is a full-service country club community. There is a modern fitness center, tennis, an elaborate golf practice facility with extensive short game area and a large pool complex. The entire property is gated with 24-hour security. For anyone interested in Pinehurst, one of the world's richest golf destinations, Forest Creek is definitely worth a look.
Larry Olmsted has written more than 1,000 articles on golf and golf travel, for the likes of Golf Magazine, T&L Golf, LINKS, Golf & Travel, Men's Health, Men's Journal, USA Today, and many others. He broke the Guinness World Record for golf travel and wrote Getting into Guinness, as well as Golf Travel by Design. He was the founding editor of The Golf Insider, and the golf columnist for both USA Today.com and US Airways Magazine.
July 9, 2012
Any opinions expressed above are those of the writer and do not necessarily represent the views of the management. The information in this story was accurate at the time of publication. All contact information, directions and prices should be confirmed directly with the golf course or resort before making reservations and/or travel plans.