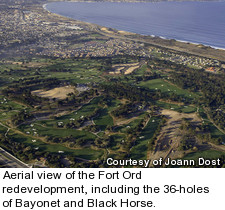 REAL ESTATE
Fort Ord real estate opportunities can have golfers living the Monterey dream in northern California
By Larry Olmsted,
Special Contributor
If money is no object, there are few more desirable destinations a golfer could live than California's famed Monterey Peninsula, home to two of the best private and public golf courses -- Cypress Point Club and Pebble Beach Golf Links.
Then there are the stunning 36 holes at the private Monterey Peninsula Country Club, the acclaimed and private Preserve Golf Club, and two more renowned public courses -- Spyglass Hill Golf Course and The Links at Spanish Bay.
There is no shortage of great golf on the Monterey Peninsula, along with plenty of other outdoor activities and natural beauty so stunning that folks gladly pay a fee just to drive through the place on the heavily tolled 17-Mile Drive. Ansel Adams made some of his most iconic photos here, and the place is a stereotype for waves crashing on the rocks, seals basking in the sun and dramatically gnarled cypress trees. It really is golf heaven on earth.
What has been missing here are affordable vacation homes with accessible golf. Very few of us are going to be invited to join the Preserve or Monterey Peninsula Country Club -- and forget Cypress Point. There are plenty of homes within the 5,300-acre Pebble Beach Resort, but the prices are crazy. There are just a handful of listings at less than a million. More than half are at least $2.5 million, and more than a third are at least $4 million. The handful of homes with unobstructed ocean exposure fetch $10 million-$20 million, and even the condos and townhomes run $2.5 million-$4 million.
Even if your wallet is fat, residents at Pebble Beach do not get playing privileges, and the three awesome resort courses are totally public -- with no membership. So after you plunk down $5 million to buy a decent home, you still have to pay some of the highest greens fees in the nation -- if you can get a tee time. Traditionally, the alternative has been the slightly less expensive real estate outside the resort, such as in the quaint Carmel-by-the-Sea, where you might score a decent cottage for $1.5 million.
Ford Ord real estate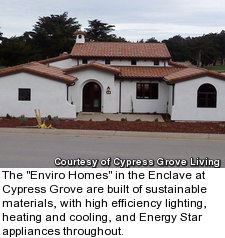 But now there is another option -- Fort Ord.
Savvy golf travelers have long known that the two layouts on this redeveloped military base -- Bayonet Golf Course and Black Horse Golf Course -- offer very high quality and value. In fact, they are so good that Pebble Beach guests often add them as their fourth and fifth rounds.
The facility has hosted PGA Tour, Champions Tour and Nationwide Tour events and has served as a venue for both U.S. Open and PGA Tour qualifying.
But it gets better.
In 2008, both were totally renovated by architect Gene Bates to the tune of $13 million and are noticeably improved, especially the quality of the grasses, maintenance and putting surfaces. They also offer the variety of two very different challenges.
At 7,104 yards, Bayonet is trickier, with narrow fairways and deep, penal bunkering in the classical U.S. Open mode. Black Horse, about 100 yards shorter, is eye candy, with sweeping Pacific vistas, wider fairways and distinctive, shallower bunkers with serrated edges.
Seaside Development's long-term master plan
Recently, the former Fort Ord parcel has started developing real estate. The long-term master plan by Seaside Development includes a hotel and spa, which will turn the former base into a more affordable and fully featured golf community -- and the best deal on the Monterey Peninsula.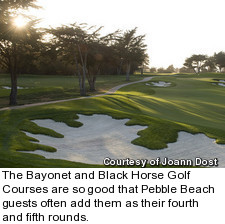 It also abuts 20,000 acres of protected open space full of hiking trails that have views of the bay. What is unusual, besides the more reasonable pricing, is that the two golf courses are established -- of proven, high quality -- whereas in most new golf developments early buyers make a leap of faith about the future of the golf component.
The gated 400-acre development is called The Enclave at Cypress Grove, and it will include a 330-room hotel, spa, 125 homes and 175 condominiums. The real estate development is still in its infancy, with only the first phase on the market. It consists of 29 lots in a subdivision located mostly between the two courses, with views of Monterey Bay. They began selling lots last year, and the first home was just completed in February.
Buyers have the option of bringing their own architects and builder, subject to design review standards, or choosing a plan from Palo Alto-based Clarum Homes, a builder dedicated to sustainable and energy efficient design that Cypress Grove has partnered with. Their first "Enviro Home" was just finished, and the 2,775-square-foot house is built of sustainable materials, with high efficiency lighting, heating and cooling, Energy Star appliances throughout and an electric car charging port in its three-car garage.
In this first phase, lots -- which range from 12,000-20,000 square feet with either golf course or ocean views -- start at $380,000 and peak at a half million. That's not exactly cheap, but it is for the Monterey Peninsula. Future releases are likely to be more and less expensive for lots, depending where they are located, and the forthcoming condominiums offer the promise of turnkey, low-maintenance golf second homes in what is without a doubt one of the world's greatest golf destinations.
Unlike Pebble Beach, all Cypress Grove residents will be able to get full golf memberships -- with unlimited fee-free play -- along with their real estate.
Larry Olmsted has written more than 1,000 articles on golf and golf travel, for the likes of Golf Magazine, T&L Golf, LINKS, Golf & Travel, Men's Health, Men's Journal, USA Today, and many others. He broke the Guinness World Record for golf travel and wrote Getting into Guinness, as well as Golf Travel by Design. He was the founding editor of The Golf Insider, and the golf columnist for both USA Today.com and US Airways Magazine.
April 6, 2011
Any opinions expressed above are those of the writer and do not necessarily represent the views of the management. The information in this story was accurate at the time of publication. All contact information, directions and prices should be confirmed directly with the golf course or resort before making reservations and/or travel plans.