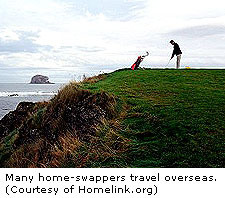 FEATURE STORY
Home-swapping is one option for certain traveling golfers
By Tim McDonald,
Contributor
Home-swapping may not be as fun as wife-swapping, but it costs less in terms of moral dilemmas.
And for a certain segment of traveling golfers, it may be the answer to the resort-golf blues, with high prices and limited access to different courses.
The concept of home-swapping has been around for 50 years or so, but it's only been in the last eight to 10 years with the advent of the Internet that it's come around to being tailored for the traveling golfer.
Whereas golfers can pay up to $200 and more a night for high-end golf resorts, and usually have access only to the resort's golf, home-swappers can stay in golf destinations for free and sometimes have access to a variety of courses.
"Why would you stay in a cold, sterile hotel room?," said Helen Bergstein of Digsville Home Exchange Club.
She might get quite an argument from the resort industry, but her point is well-taken. Staying in another family's house certainly has its advantages, the most obvious being price - which is zero in most cases for home-swappers.
Of course, you won't get room service unless you order pizza.
There are dozens of home-swapping companies that are cheap and relatively easy to use. Usually, the golfer need only join a home-swapping club for a fee, then advertise his home as being available. Then, it's a matter of searching for a golf destination, finding the right home, and agreeing on dates.
There are a few catches: Since most home-exchange companies don't screen their clients, potential swappers must make sure their "guests" are not convicted felons or worse. This usually entails a lot of work: phone calls, e-mails and contacting references.
Also, some people complain that they spend quite a bit of money getting their own houses in order, so to speak, so their guests won't be disgusted.
There are other, unseen expenses, too, like adding to your home and auto insurance.
There appear to be few complaints, though. According to HomeExchange.com, there are more than 250,000 home-swaps every year. Most people say there is an "odd intimacy" to living in someone else's home. The upside is they can feel like residents for a while, not tourists.
Another catch may be that some of the home-exchange companies seem to be mainly for the upscale.
"Since 9-11, baby boomers are looking at travel as a priority," Bergstein said. "I believe there is a large market out there for potential swappers. It's really the audience Jet Blue is looking to capture. It's a pretty upscale clientele - not intentionally, that's just the way it's turned out. They seem to put more value on travel."
And golf.
For the seriously upscale, there are other options, like Exclusive Resorts, a company that owns multi-million dollar homes in 25 destinations, many of them golf-centric, like Scottsdale, AZ, Naples, FL. Los Cabos, Mexico, Hawaii and Kiawah Island, S.C.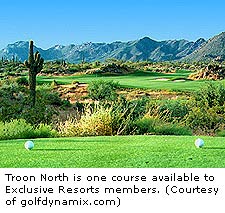 In Scottsdale, there are at least 20 top-notch courses, like Troon North, Estrella Mountain and Legend Trail. Lake Tahoe has Northstar Golf Club, among others, Beaver Creek offers a Robert Trent Jones, Sr.-designed layout and Naples has more than 100 within driving distance, including Tiburon. All of those are listed among various lists of America's top courses.
"It's a golfer's paradise because rather than getting access to only one course as you would if staying at a luxury resort, you have access to the best courses in the world through your membership, since you're considered a 'resident' of these exclusive golf communities," said an Exclusive Resorts spokesperson. "So, you can be staying for a week in one location, and play a completely different course every day."
The catch here is the $375,000 member, refundable deposit with annual, non-refundable fees of between $15,000 to $19,000.
The fastest growing segment of the home-swapping industry, for the less affluent, is the vacation home category.
There are about 7 million vacation homes in the U.S. alone, according to the National Association of Realtors. The typical vacation home averages an occupancy rate of eight weeks per year. That leaves 44 weeks a year when it' s sitting empty.
For those with vacation places, swapping homes is more flexible: the swap doesn't have to be simultaneous.
More golfers are taking advantage, according to Bergstein.
"We did a survey last year, asking people why they swap," she said. "Vacations have changed. It's gone from the one big vacation abroad, to shorter periods closer to home, like a long weekend. The survey said the No.1 reason as far as desired activity was it had to be near a beach. The No. 2 was it had to be near a golf course."
No money changes hands between owners, the exception being with long-term stays when visitors may be asked to pay utilities.
When the concept first started, home-swapping was usually the preferred method of academia, teachers and professors who had summers free and a limited budget. Now, it's mainly the province of baby boomers with children, empty nesters, seniors and, of course, traveling golfers.
July 7, 2004
Any opinions expressed above are those of the writer and do not necessarily represent the views of the management. The information in this story was accurate at the time of publication. All contact information, directions and prices should be confirmed directly with the golf course or resort before making reservations and/or travel plans.