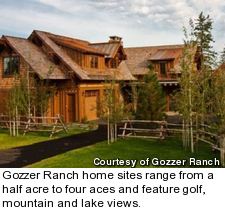 REAL ESTATE
Live in luxury on Lake Coeur D'Alene: Idaho's Gozzer Ranch Golf & Lake Club
By Brandon Tucker,
Senior Writer
HARRISON, Idaho -- The first hour of my visit to Coeur d'Alene and the Gozzer Ranch Golf & Lake Club in northern Idaho was a whirlwind.
Upon arrival at Spokane Airport, a staff member was waiting for me outside baggage claim with a car and whisked me 40 minutes east to the docks of Lake Coeur d'Alene. There, a private boat was waiting, with a full bar, to whisk me across the lake to the community.
Five minutes later, I hadn't gotten halfway through my beer before arriving on the east side of the lake at the club's marina. In minutes, I was on the first tee of Gozzer Ranch's golf course, sailing a drive into the blue sky.
That's VIP style, and it's the norm for the residents at Gozzer Ranch, a new private golf and lake community concept by Discovery Land Company. High-roller service and amenities are combined with a flurry of activities on, and looking above, the spectacular lake.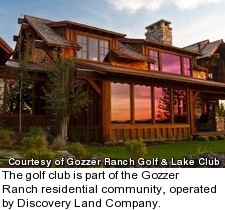 Gozzer Ranch sits on 700 acres of the former John Gozzer family ranch estate in the crisp, northern Idaho air 2,000 feet above sea level. Upon transfer, the family asked that the land be kept in tact as best it could. Today, it still feels like old, open ranch land, only now with the few home sites spaced out.
Home sites range from a half acre to four aces and feature golf, mountain and lake views. Prices start at $350,000 and range up to $1.5 million. Discovery land-built cabins, condominiums and cottages are available from $1,450,000.
But the prime real estate on Lake Coeur D'Alene is only amplified further by the service here.
The staff is on call 24/7 and mic'd up with one another to ensure every guest gets just about anything they wish. That could be a babysitter for the night, picking up groceries or even some yard maintenance. The golf experience comes with forecaddies and a fantastic maintenance team and completes one of the west's top new private-course designs.
Golf at Gozzer Ranch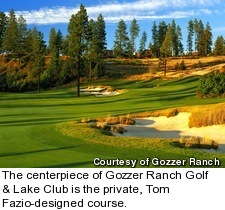 If there was ever a golf course architect that knows how to maximize scenery in design, it's Tom Fazio, Discovery's go-to-guy for its high-end private courses.
And Gozzer Ranch features one phenomenal vista after another. It was built upon a basalt rock ledge high above the lake, and winds around black outcroppings and through dense forest. No two holes are alike, and no two fairways play near one another.
There are some intimidating tee shots and a championship yardage that can play 7,317 yards to test the club's aces. An errant drive may slam into a rock -- or you may be in the woods, hack and whacking out of high grass and shrub.
But at its core, this is the kind of course that seems to set up well to the eye, and members can usually get a good number on the card.
"With the design of the golf course, we can really change how it plays day to day," said Jim McPhilomy, superintendent at Gozzer Ranch, who came here from DLC's Kukio Golf Club on the Big Island of Hawaii. "But, generally, it's a really fun golf course to play. We don't try and keep the rough too high."
Outdoor pursuits at Gozzer Ranch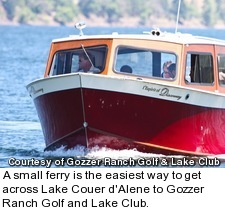 After our round we ran into former PGA Tour pro Andrew Magee, who works at Gozzer Ranch in the summer showing off the lifestyle to prospective residents. But he was in a hurry after his round, ready to dart down to the lake to spend the rest of the afternoon on his boat.
That seems to be a common theme for Gozzer residents: 18 holes in the morning sun with afternoon sun out on the lake, whether it's some relaxing fishing or intense wakeboarding. Lake Coeur D'Alene features more than 100 miles of shoreline with all sorts of tucked away fingers and nooks into the mountains surrounding it -- or some long stretches of straightaway waters where you can give your speed boat a little gas.
Off the lake, Gozzer Ranch has the "Homestead Barn," an activity center that has a pool, sport court, video games and art room. (A concept becoming increasingly popular. Martis Camp in Truckee has its own rendition, called the "Family Barn.")
Gozzer Ranch features a vertical membership structure that allows immediate and extended family to enjoy privileges for generations to come and an activity list that makes someone of any age feel like they're at summer camp. To learn more about real estate and membership inquires, visit GozzerRanchClub.com.
Brandon Tucker is a Senior Writer and Special Projects Editor for the TravelGolf Network, where he contributes not only golf and travel articles, but photo essays, videos and more. His golf travels have taken him across the U.S., including more than 50 Myrtle Beach-area golf courses, and to such destinations as Scotland, Wales, Portugal, the Czech Republic, Poland, Germany and Malaysia.
March 30, 2011
Any opinions expressed above are those of the writer and do not necessarily represent the views of the management. The information in this story was accurate at the time of publication. All contact information, directions and prices should be confirmed directly with the golf course or resort before making reservations and/or travel plans.