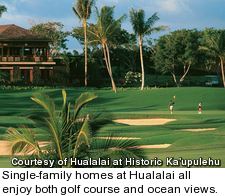 REAL ESTATE
Beyond black lava and gold-plated luxury: Hualalai resort on Hawaii's Big Island boasts exclusive real estate opportunities
By Larry Olmsted,
Special Contributor
Primary and second homes in golf communities come in all flavors, colors and prices. There is bargain priced, middle of the road, and then there is Hawaii.
Nothing in Hawaii comes cheap, and the real estate, especially near the coast, is some of the dearest in the United States. So if you are looking to buy in the 50th state, you might as well dream big. And for the deep-pocketed golfer, nothing is bigger than Hualalai.
This resort community on the Kona Coast of the Big Island is best known as the home of the Four Seasons Hualalai and the Jack Nicklaus Signature golf course it manages, uniquely carved through black lava. The hotel has won endless awards and accolades, showing up on just about every "world's best" list, while the golf course, host of an annual Champions Tour event, is beloved by its guests.
Yet while it is a true luxury resort, one of the finest and priciest in the nation, it is limiting as the public perception of Hualalai. Few realize that the resort is also an exclusive real estate development, with benefits to owners that go well beyond even the white glove treatment at the 5-Star Four Seasons -- including a second course, this one by Tom Weiskopf and off limits to non-owners.
To be clear, ownership in Hualalai is not for everyone. If you adhere to the often sensible logic that it is beneficial to own the cheapest house on your street, you are looking at just less than $2 million to get a foot in the door, but it is easy to spend five or 10 times that, and the nicest homes fetch $30 million (when up for sale, the highest on the market is currently $18,500,000). Then again, every single home has both golf course and ocean views, which is very unusual, and over the past two years the community spent $40 million in renovations.
Hualalai is an 865-acre, master-planned community located amid dramatic black lava fields sitting right on the Pacific Ocean. Outside the resort, the chief appeal of the Big Island is diversity. It is by far the largest Hawaiian island -- more than double all the others combined -- and soars from sea level and sandy beaches to snowcapped Mauna Kea at 13,796 feet. In between is an amazing variety of scenery, geography and weather, with 11 of the 13 main climate zones (all except Arctic and Saharan), plus the world's largest volcano. If you can stop playing golf long enough, the Kona Coast, where Hualalai sits, is also famed for some of the best deep sea fishing (trophy tuna!) on the planet.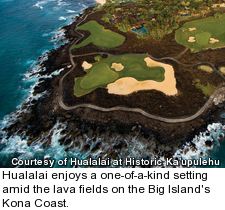 But it may be hard to leave. Besides the two stunning golf courses, both among Hawaii's elite, there is a state-of-the-art sports club, with lap pool, basketball and tennis courts, rock climbing wall, a 2,200-square-foot strength gym, and an attached spa that offers a huge menu of health and wellness programs, plus the unique Waiea (Water of Life) Garden, featuring multiple therapeutic pools. This is all in addition to the award-wining spa and fitness facilities within the Four Seasons, also available to residents. The hotel boasts an array of six very different signature pools, including my favorite, the King's Pool. If you don't like swimming in the ocean, don't despair -- the Four Seasons brings the ocean to you. The freeform pool is carved from black lava, 15 feet deep, with sandy bottom, and filled with filtered sea water. It is home to more than 3,500 fish, including spotted eagle rays, and with complimentary snorkel gear, it's like swimming in an aquarium. You cannot make this stuff up.
Another unique offering is an extensive watersports program based on the Hawaiian tradition of the "waterman," sort of an uber-lifeguard, which offers guidance in outrigger canoe paddling, stand-up paddling, shoreline fishing and surfing, along with more mainstream pursuits such as snorkeling, windsurfing, scuba diving, boogie boarding, and sailing. There is a cultural center, shops, and multiple restaurnats, including one exclusively for homeowners. If you want to see what it feels like to live like a modern day Hawaiian king, you can start with a room at the Four Seasons, and if you like it, move up to one of 35 luxury vacation villas and homes rentable through Hualalai Villas & Homes, the on-site property management company.
Then it might be time to buy.
Larry Olmsted has written more than 1,000 articles on golf and golf travel, for the likes of Golf Magazine, T&L Golf, LINKS, Golf & Travel, Men's Health, Men's Journal, USA Today, and many others. He broke the Guinness World Record for golf travel and wrote Getting into Guinness, as well as Golf Travel by Design. He was the founding editor of The Golf Insider, and the golf columnist for both USA Today.com and US Airways Magazine.
March 8, 2011
Any opinions expressed above are those of the writer and do not necessarily represent the views of the management. The information in this story was accurate at the time of publication. All contact information, directions and prices should be confirmed directly with the golf course or resort before making reservations and/or travel plans.