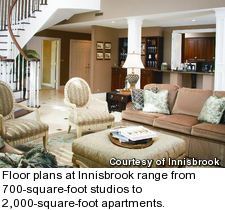 REAL ESTATE
Innisbrook Resort and Golf Club near Tampa, Florida: A wide-open, laid-back lifestyle at an affordable price
By Larry Olmsted,
Special Contributor
Just like the New York/Los Angeles rivalry, residents of Florida's east and west coasts view the other side with suspicion and have strong preferences for choosing where they live.
The general take is that while the southeast coast is more heavily developed and more ostentatiously flashy -- especially South Beach, Boca Raton and Palm Beach -- the west is more natural, low rise and low key.
"We call it the Suncoast," said Debra Nobile, president of Innisbrook Real Estate Services. "The east coast is more built up. Here, everything is nestled among the trees, there's more beach. It's more laid back."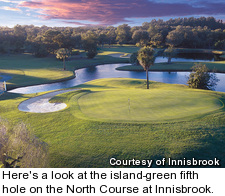 It's also a surprisingly cultural area, given its reputation for being less developed, with professional football, baseball and hockey teams, a big-city downtown nearby and two major theme parks, Busch Gardens and Adventure Island. There is a full slate of performing arts as well as the $35 million Salvador Dali Museum, which opened in January 2011 and has generated a lot of buzz with the world's largest Dali collection.
But one of the biggest appeals is golf, and lots of it. While there is an endless stretch of pricey gated golf communities around Naples, the wealth epicenter of the west coast, the majority of golfers looking to grab a slice of this wide-open, laid-back lifestyle need to look no further than Innisbrook Resort and Golf Club, a large resort community in Pinellas County, just outside the twin cities of Tampa and St. Petersburg and less than 30 minutes from the Tampa airport.
Innisbrook is best known for its famed and feared Copperhead Course, host of the PGA Tour's Transitions Championship. Not as well known are its three other full-size courses, giving it the largest concentration of golf in the region.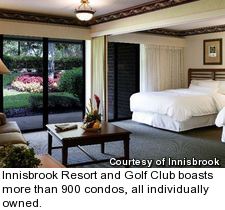 A major second-home community, Innisbrook covers nearly 1,000 lakeside acres. And unlike many recent projects that have struggled to be completed, it has been fully built out for 40 years. Only resales are on the market.
Nonetheless, new ownership, Salamander Hospitality, which operates highly regarded hotels in Charleston, S.C., and the Dominican Republic, has pumped $26 million into recent renovations and additions. Besides the four golf courses, amenities of the community include three clubhouses, a state-of-the-art fitness center, a nature preserve, new luxury spa, several bars and restaurants, tennis courts, lakes and six heated swimming pool complexes, including an elaborate family one with waterpark features.
Condos at Innisbrook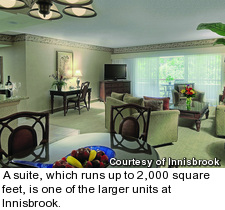 Developed as a resort, all of the Innisbrook residences are condos intended to double as hotel accommodations, and these are available in five different floor plans ranging from 700-square-foot studios to 2,000-square-foot apartments at a cost of $89,000 to $415,000.
There are 938 condos, all individually owned, and typically about 10 percent of these are for sale at any time. Owners do not have to put their units into the resort-lodging program, but most do, since it can greatly help offset carrying costs. Unlike most similar projects, which utilize a unit-specific rental program, Innisbrook has a rental pool. So whenever a condominium is not being used, all rental pool participants receive a pro-rata share of nightly revenue, regardless of whether their actual unit was rented out. The rental pool split is 60 percent/40 percent, with the resort getting the larger share.
In addition to the golf courses, Innisbrook has a full-time dedicated golf academy. While the Copperhead Course is the most famous, many residents prefer the Island Course or the North Course, and the variety is impressive.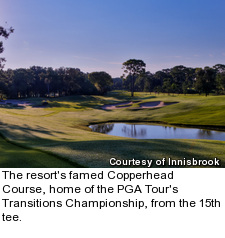 The rolling Copperhead Course stretches to more than 7,300 yards, and it's largely free of residences, with a natural feel and plenty of wildlife and birds from the nearby lakes.
Innisbrook Resort and Golf Club's Island Course is actually tighter, with narrow fairways, numerous water hazards and bunkers, plus significant elevation changes, especially by Florida standards. After a recent renovation it is in better shape than ever and just as difficult as the longer Copperhead.
The North Course occupies terrain similar to the Copperhead, with rolling tree-lined fairways, but runs just 6,300 yards. It's far from easy, however, with narrow fairways, trees in play and greens protected by bunkers. Eleven holes offer the chance of losing your ball in the water.
The most resort friendly design is the 6,600-yard South Course, with fewer trees and lots of non-penal waste bunkers.
The bottom line is that for a surprisingly reasonable price, residents of Innisbrook Resort and Golf Club will wake up each day wondering which of their golf courses they should head out to play.
Larry Olmsted has written more than 1,000 articles on golf and golf travel, for the likes of Golf Magazine, T&L Golf, LINKS, Golf & Travel, Men's Health, Men's Journal, USA Today, and many others. He broke the Guinness World Record for golf travel and wrote Getting into Guinness, as well as Golf Travel by Design. He was the founding editor of The Golf Insider, and the golf columnist for both USA Today.com and US Airways Magazine.
July 15, 2011
Any opinions expressed above are those of the writer and do not necessarily represent the views of the management. The information in this story was accurate at the time of publication. All contact information, directions and prices should be confirmed directly with the golf course or resort before making reservations and/or travel plans.