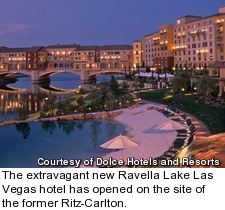 REAL ESTATE
Real estate gamblers betting on rebirth at Lake Las Vegas in Nevada
By Larry Olmsted,
Special Contributor
The bad economy hurt Lake Las Vegas in Nevada and its courses. But with new investors, this might be the time to take a chance with real estate in the golf community.
In its heyday, Lake Las Vegas was one of the highest-flying golf communities in the country.
It was anchored by South Shore Golf Club, a high-quality, Nicklaus-designed private club, and the exquisite Reflection Bay Golf Club -- a public Nicklaus Signature course that includes a combo of mountain and arroyo desert holes with ravines, elevation change and a Shadow Creek-esque waterfall that golfers cross on a "bridge" of flagstones. Reflection was easily the best public access course in the Las Vegas area.
Its stunning highlight was a series of truly waterfront holes carved into the banks of Nevada's largest privately owned lake, sort of the "build it and they will come" desert version of Teeth of the Dog at Casa de Campo.
As if this course, which once hosted the Wendy's 3-Tour Challenge, and the private club for landowners, was not enough, developers added a Tom Weiskopf design, The Falls Golf Club, known for a series of mind boggling cliff and canyon holes carved through the resort's highest peaks.
Then they broke ground on a fourth course, Rainbow Canyon, by Tom Fazio. All of this was capped with multi-million dollar custom homes belonging to the likes of Celine Dion, two luxury resort hotels by Ritz-Carlton and Loews, spas, beach club and MonteLago, a faux Italian Village complete with multiple restaurants, shops and a casino.
In short, Lake Las Vegas was golf community heaven on earth, removed from the neon and safely gated but close enough to the Vegas Strip for its denizens to enjoy celebrity chef dinners and world-class entertainment whenever it struck their fancy.
Then the economy went south.
The recession hits Lake Las Vegas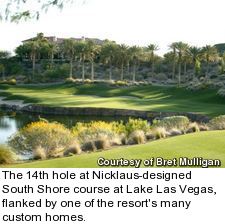 Even before the recession hit, the developers were over-extended, and construction of Rainbow Canyon, the fairways already graded, ceased permanently. Next, The Falls, open and fully operational for a couple of years, was abruptly shut down.
Once the global economy tanked, the unthinkable happened, and Reflection Bay, too, was shuttered -- public golf was gone from the resort. Private South Shore was also hurting, and quickly cut a deal with the Loews to allow hotel-guest access.
Meanwhile, Ritz-Carlton closed its hotel and walked away -- the only time the brand has ever done that in this country. High flying Lake Las Vegas became a shadow of its former self.
Yet, odd as it may sound, lots of Vegas locals are making noise about now being the time to jump in and buy.
"Prices plummeted 60-70 percent after the developer declared bankruptcy in July 2008, but since the reorganization in June 2010, prices are expected to get back on track," said Diann Tonnesen, one of the top Vegas-area realtors and founder of GreatLasVegasHomes.com.
Lake Las Vegas: Comeback in future?
The key word is "expected." Thanks to the heavy discounts -- 70 percent off is a lot, even these days -- and abundance of properties for sale, both from individual owners and brand new from developers, offers well below asking price may still be acceptable, and there is something in Lake Las Vegas for virtually every budget. There are condos, townhomes, spec homes and custom homes, hundreds of them.
"Properties run from luxury condos that can be purchased for under $100,000 to multi-million dollar custom estates," Tonnesen said. "It's always been a popular choice for second, third or fifth homes and is considered by many to be the most beautiful development in the valley."
Potential bargains abound, but they are only bargains if the community eventually thrives or at least survives. Fortunately, there are new signs of life.
Investing in Lake Las Vegas is a gamble but one that could potentially pay off big. After all, the reason for the resort's initial success was its incredible infrastructure, much of which is still operational. Reflection Bay, the crown jewel, was maintained by the bank throughout the reorganization so as to not become devalued, and while still closed, it is frequently rumored to be on the verge of re-opening, which would be a huge boon for home owners.
Meanwhile, the Ritz property, once thought to be the resort's ruination as an empty, white elephant, was purchased by Dolce, which operates numerous golf resorts including Napa's Silverado and Atlantic City's own PGA Championship venue, Seaview.
The renovated resort re-opened in February 2011 with incredible facilities as the Ravella Lake Las Vegas, the first big good news in years. The World Half-Ironman Championships and several other events are coming this year, and for the first time in recent memory, developers are bringing more new homes to the market.
South Shore is still open and accepting some outside play, and if you are not risk averse, you might consider betting on the possible rebirth of Lake Las Vegas.
Larry Olmsted has written more than 1,000 articles on golf and golf travel, for the likes of Golf Magazine, T&L Golf, LINKS, Golf & Travel, Men's Health, Men's Journal, USA Today, and many others. He broke the Guinness World Record for golf travel and wrote Getting into Guinness, as well as Golf Travel by Design. He was the founding editor of The Golf Insider, and the golf columnist for both USA Today.com and US Airways Magazine.
March 28, 2011
Any opinions expressed above are those of the writer and do not necessarily represent the views of the management. The information in this story was accurate at the time of publication. All contact information, directions and prices should be confirmed directly with the golf course or resort before making reservations and/or travel plans.