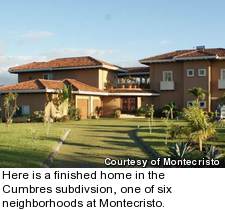 REAL ESTATE
Montecristo community could be a game changer for golf course living in Nicaragua
By Larry Olmsted,
Special Contributor
Among sports enthusiasts, the west coast of Nicaragua is better known for its world-class big-game fishing than its golf.
That may be changing, thanks to Montecristo.
Montecristo is much more than a new golf development. It bills itself as a "Lifestyle Estate." It occupies a huge swath of beachfront property on the west coast, including the planned Montecristo Golf Club, a 7,060-yard, par-71 design by Mike Young that will be set just inland of the ocean. Nine holes will be on a flat parcel running along arrive, and nine on higher hills overlooking the Pacific.
There will be beach club with pools, restaurant and a wide array of motorized and non-motorized water sports. A full-service equestrian center includes facilities for dressage and jumping, an arena, stables and 60 acres of pasture, plus a lengthy trail network extending to the inland mountains. Other slated recreation facilities and amenities include basketball and tennis courts, gym, spa, main clubhouse with dining and retail village with a supermarket.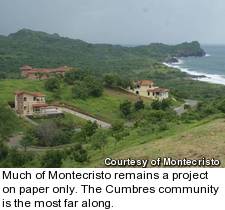 The resort community includes six distinct subdivisions, or neighborhoods, each with a different style of residential appeal.
Cumbres: It sits on an elevated section of cliffs overlooking the sea. Lot sizes for custom homes average one-third of an acre. There are pre-designed casitas and two-bedroom smaller homes (each with its own private pool and hot tub) that top out at 1,270 feet.
Costa Azul: This beachfront community is the vibrant heart of Montecristo, home to the beach club, golf course and prime surfing spots. Lots, casitas and pre-designed villa homes will be available here.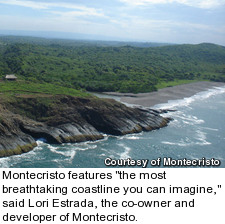 Cileos: There are much larger home sites here (from one to four acres) with rolling hills overlooking the Pacific. There's more privacy here and small, exclusive beaches.
Altos: This neighborhood features a cluster of pre-designed luxury villas that are on the highest point of the property.
Valle del Mar: Here you'll find the other active heart of the development, home to the equestrian center and Montecristo's village, a town center with shops. Casitas will be available within walking distance of the main attractions.
Los Olas: The newest community is situated in the heart of Montecristo, and an interconnected greenway will give residents access to the entire property.
One of the biggest attractions at Montecristo is the place itself. It's a beautiful piece of land suited for beach enthusiasts, horseback riders, surfers and golfers.
"When we found this absolutely stunning location, over 2,000 acres with the most breathtaking coastline you can imagine, we immediately fell in love," said Lori Estrada, the owner and developer of Montecristo along with her husband, Jorge.
Another thing potential residents might love is the price. Nicaragua has been rising on the retirement and second-home radar due to its value proposition and low cost of living. And it's not as far away as one might think, with nonstop flights from Los Angeles, Atlanta, Houston and Miami (a 2-and-a-half-hour trip), and it has beach weather all year round.
The land here costs a fraction of what it does at similar projects in the U.S. and many other countries in South America and Central America. Some of the three- and four-acre lots at Montecristo are just $175,000, while half-acre lots can be had for less than $100,000. The least expensive lots ($40,000) are one-fifth of an acre.
The turnkey casitas (some are already finished and ready for occupancy) range from $229,000-$449,000 for the larger two-bedroom versions on the golf course and feature ocean views, private pools, hot tubs and fixtures like oversized walk-in marble showers and stainless steel kitchen appliances. They come fully furnished, right down to the TVs.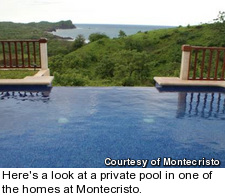 Of course, one reason for the low prices is that the community is very much in its infancy and much of Montecristo remains a project on paper only. The Cumbres community is the most far along, with paved roads and water and electric supplied to every lot, and casitas and several custom homes are either finished or well under construction. Several of the turnkey casitas have been finished and sold, while others are ready to go or nearly finished, and an impressive number of lots have been sold.
But most of the project is still undeveloped, including the beach club and golf course, on which construction is slated to begin soon. If all happens as promised, this could be an opportunity to get in on the ground floor.
Larry Olmsted has written more than 1,000 articles on golf and golf travel, for the likes of Golf Magazine, T&L Golf, LINKS, Golf & Travel, Men's Health, Men's Journal, USA Today, and many others. He broke the Guinness World Record for golf travel and wrote Getting into Guinness, as well as Golf Travel by Design. He was the founding editor of The Golf Insider, and the golf columnist for both USA Today.com and US Airways Magazine.
October 1, 2012
Any opinions expressed above are those of the writer and do not necessarily represent the views of the management. The information in this story was accurate at the time of publication. All contact information, directions and prices should be confirmed directly with the golf course or resort before making reservations and/or travel plans.