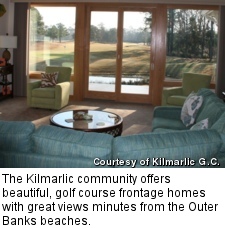 REAL ESTATE
Flying high: The Outer Banks of North Carolina have all the "Wright" stuff
By Larry Olmsted,
Special Contributor
When you see the sticker OBX on the back of a car, it is not an airport code.
Rather, it is the nickname for the Outer Banks, a geographically unique region of coastal North Carolina (it slightly extends into Virginia as well) that is fervently loved by its residents and frequent loyal visitors.
People go barefoot and casual, and the height of "fine dining" here is peeling shrimp and drinking beer on a deck while reveling in the gorgeous weather, beaches, sunsets and abundance of fresh seafood.
There is an air of escapism to the area, which has long attracted out-of-the-box thinkers from the infamous pirate Blackbeard to aviation pioneers Orville and Wilbur Wright, who debuted motorized flight here.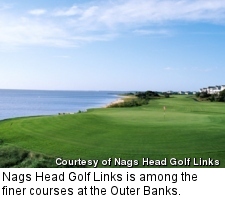 The Outer Banks is a 200-mile-long series of barrier islands linked by bridges and ferries, though the populated section is less than half that, about 90 miles from the town of Corolla, where the road ends in the north, south to Hatteras Village.
Because the islands are razor thin, a lot of the homes enjoy frontage on or near the beach, leaving little room for golf. But there are a few courses, including The Currituck Club, Kilmarlic Golf Club, The Pointe Golf Club, The Carolina Club and Nags Head Golf Links.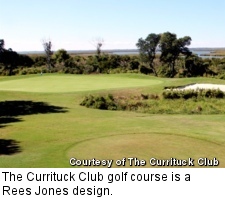 The most notable barrier island course is The Currituck Club, just south of Corolla. This laid-back, family-friendly club includes tennis, basketball, a beach club and modern fitness facilities, plus a free trolley network so residents rarely need their cars.
Designed by Rees Jones, the golf course stretches to 6,885 yards. With Bermuda fairways and bentgrass greens, it is a classic parkland design with few trees. The Currituck Club has the kind of links openness often found near the ocean.
Because of the lack of terra firma on the islands, more courses are located on what is known as the mainland, a peninsula jutting into Albermarle Sound, which has the main bridge to the islands. Most locals consider the peninsula part of the Outer Banks even though it is connected to the lower 48.
The most notable offering here is Kilmarlic Golf Club, a master-planned golf community that is very popular with second-home owners. It boasts tennis facilities, a beach club and clubhouse, and a 300-acre Ducks Unlimited nature preserve surrounds it.
Outer Banks realty options
Because the Outer Banks is so laid back, there are few gates and outside homeowners are welcome as members. Realty options abound inside and outside these communities.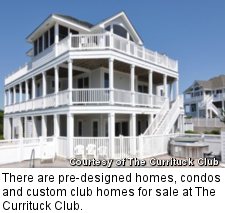 At The Currituck Club, there are pre-designed homes, condos and custom club homes -- and almost all are resales. Currently, there are 34 lots listed, ranging in price from $51,000-$415,000. In general, waterfront lots start at around $200,000.
There are 17 custom club homes on the market, from $560,000-$1.7 million. The average price is around $760,000. These are significant homes. Typically they are about 3,500 square feet, with five bedrooms, four bathrooms, a two-car garage, pool and hot tub on about a half-acre lot. Most are sold furnished and are relatively new. The bulk of homes have been built since 2000.
Pre-designed homes also vary widely, and range in price from $299,000-$774,000. These are typically large, usually four bedrooms with a garage and pool. Finally, there are three-to-five-bedroom condos for sale in Windswept Ridge from $229,000-$350,000.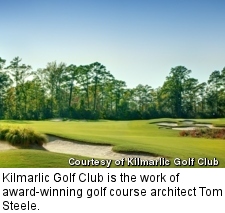 Kilmarlic Golf Club is the work of award-winning golf course architect Tom Steele. The newer Kilmarlic community occupies 600 pristine acres and also offers a choice of custom or pre-designed homes.
Custom home and lot packages of .25-.34 acres with three bedrooms and two bathrooms, fronting the nature preserve, start at $349,000. Larger golf course home packages (four bedrooms, two-and-a-half bathrooms on about a half acre) start at $499,000.
There are a few waterfront lots intended for 3,500-square-foot homes, which are $799,000 for the custom home. Kilmarlic also has approval for condos, which have not been developed yet, and the maximum build out for freestanding single-family homes is 175.
Larry Olmsted has written more than 1,000 articles on golf and golf travel, for the likes of Golf Magazine, T&L Golf, LINKS, Golf & Travel, Men's Health, Men's Journal, USA Today, and many others. He broke the Guinness World Record for golf travel and wrote Getting into Guinness, as well as Golf Travel by Design. He was the founding editor of The Golf Insider, and the golf columnist for both USA Today.com and US Airways Magazine.
December 21, 2012
Any opinions expressed above are those of the writer and do not necessarily represent the views of the management. The information in this story was accurate at the time of publication. All contact information, directions and prices should be confirmed directly with the golf course or resort before making reservations and/or travel plans.