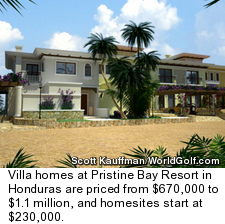 REAL ESTATE
Pristine Bay Resort - coming soon to Roatan, Honduras - could be the next exotic golf hot-spot
By Scott Kauffman,
Contributor
Pristine Bay Resort, Honduras' first master-planned golf community, offers real estate investors and property buyers a taste of luxury in the tropics - plus Dye golf and attractive tax benefits, development officials say.
MIAMI - Golf fans around the world had their eyes set on the classic Blue Monster course at Doral last month as Tiger Woods played in his second tournament since coming back from major knee surgery.
To be sure, Tiger took center stage for most of the World Golf Championships-CA Championship, but just off the 17th green, in a comfortable Alliance Suite setting, principals behind Pristine Bay Resort and the famed father-son golf design team of Pete and Perry Dye certainly made their presence felt as they showcased Honduras' first luxury, master-planned, resort golf community to investors and prospective buyers.
Featuring a 400-acre site on the tropical island of Roatan, the Dyes' soon-to-be-opened par-72, 7,057-yard Black Pearl Golf Course has all the makings of another "to-Dye-for" layout. Located 35 miles off the coast of Honduras next to the world's second-largest barrier reef, Pristine Bay Resort also is actively building a private beach club for residents and a 120-room, five-star boutique hotel in a joint venture with Houston-based Lancaster Group.
Future plans call for a deep-water, 156-slip marina with a mixed-use marina village, state-of-the-art, PGA Tour-quality practice area and Central America's first spa and medical facility, according to Mario Toriello, Pristine Bay Resort's vice president of sales and marketing. The resort community is currently offering seven different villa homes priced from $670,000 to $1.1 million, and homesites that start at $230,000.
The opportunity to buy a pristine piece of the "next great vacation destination" at such relative values was one of the main reasons Americans Brett and Liz Molgren decided to purchase a hillside custom lot. The Houston couple purchased one of the $350,000 lots that overlooks Pete Dye's signature island green on the 11th hole. In all, 14 of the 18 holes have stunning vistas of the ocean and Meso-American Barrier Reef.
"That lot would've been $1 million anywhere else in the Caribbean," Brett Molgren said. "It's a very safe, they speak English and it's a beautiful place."
Last week, the Black Pearl at Pristine Bay, situated on the largest of three Bay Islands, announced its latest phase of custom home lots and luxury villas. Many of the community's one-quarter-acre custom home lots feature unobstructed views of the ocean, white-sand beaches or the golf course that is expected to open next year with the resort hotel.
The new lots are priced from $230,000 to $700,000. The various two-, three- and four-bedroom villa units, named the Cannes, Toscana Venecia and Niza St. Tropez, range from $600,000 to more than $1 million. The development's condominiums are priced from $348,000 to $700,000.
"Pristine Bay's collection of real estate products is second to none in the Caribbean," says Toriello, who has sold 29 of the 34 phase-one villas. "The variety of designs and price points makes us a very enticing option for persons who've always dreamed of owning a tropical island getaway in a development offering all the amenities of home."
Tax benefits of owning real estate in Honduras
Abutting the Meso-American Barrier Reef, the 50-square-mile island is an excellent option for North Americans seeking second homes or retirement spots, Pristine Bay Resort officials say. For starters, Roatan's tax benefits and proximity to the United States and Canada make it especially alluring.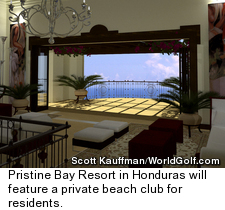 As individuals, foreign nationals are allowed to own up to three-quarters of an acre, and Pristine Bay Resort will provide the all-important title insurance. Meanwhile, Pristine Bay Resort executives point out property taxes are especially low, with the projected assessment being $1.30 for every $1,000 of assessed value. Additionally, Roatan has no income tax, sales tax or import duties on the island, and capital gains are taxed at just 4 percent.
Phase one construction started at Pristine Bay Resort last June, comprising the private residential beach club, golf course and training facility, hotel and initial villas.
Not far away, the Bay Islands are abuzz with activity as Carnival builds a new $40 million cruise-ship dock. The Royal Caribbean cruise line recently upgraded its own dock due to the growing demand for this destination.
When asked how to describe Pristine Bay Resort's state of sales, Project Manager Luis Toriello said with a smile, "It's better than if we were in the States."
Scott Kauffman, a senior columnist with the Real Estate Channel, is an expert on golf course real estate and resort development. A former staff writer with the Golfweek Group, the Central Florida resident has been published in more than 20 national and regional golf and luxury lifestyle publications, including Fairway Living, Links and Nicklaus magazines, Robb Report Vacation Homes and Robb Report Collection, Unique Homes, Estates West and Private Air.
April 15, 2009
Any opinions expressed above are those of the writer and do not necessarily represent the views of the management. The information in this story was accurate at the time of publication. All contact information, directions and prices should be confirmed directly with the golf course or resort before making reservations and/or travel plans.