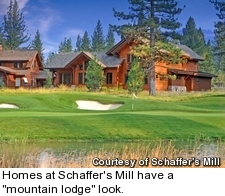 REAL ESTATE
Schaffer's Mill community combines golf course living with an active mountain lifestyle in the Lake Tahoe area
By Larry Olmsted,
Special Contributor
There are a number of notable golf communities in the Lake Tahoe area, a destination very popular for second-home owners thanks to its mix of world-class watersports, incredible winter skiing, access to casinos and their dining and nightlife offerings, and lots of great golf courses.
One of the best golf courses was Timilick, an acclaimed Johnny Miller and John Harbottle design named the best new private course in California by Golfweek magazine when it opened in 2008. Unfortunately, the Timilick residential community struggled and its future seemed in jeopardy.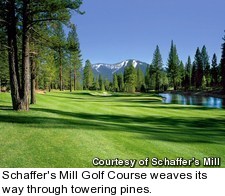 Its fortunes changed dramatically in January 2011, when Dallas-based developer New Martis Partners, specializing in family oriented residential investments, acquired the property and began to rebrand and reposition the community. It's now called Schaffer's Mill and the course is known as Schaffer's Mill Golf Course.
As far as the golf course goes, little has changed. It still weaves its way through towering pines, offering two distinct nine-hole experiences. The mostly flat Meadow nine ambles through firs, spruce and Ponderosa pines at the base of a ridge, while the Mountain nine climbs and drops with elevation changes up to 400 feet and magnificent 360-degree views of the Martis Valley, Lookout Mountain and the Carson Range. It is easily one of the very best courses in the region.
As far as the community goes, however, a lot has changed. The new owners continue to make major investments. In May 2012 there was a groundbreaking ceremony for the new clubhouse and 7.4-acre clubhouse village, which will include a pool, hot springs bathing area, several restaurants, a sports shop, large fitness center and Schaffer's Square, a community gathering spot. The major village features should be completed by summer 2013.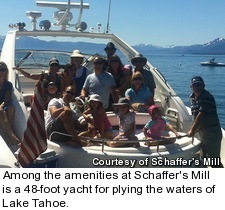 When completed, it will join an already impressive list of amenities at the community, including a 48-foot yacht for plying the waters of Lake Tahoe, a lakefront private clubhouse for accessing watersports and shuttle service for members with free pick up and delivery to area ski resorts in the winter months.
The improvements at Schaffer's Mill are working. Over Memorial Day weekend 12 home sites and four Mountain Lodges were sold, about $7 million in sales. Real estate offerings in the 450-acre planned community include about 400 home sites for custom or pre-designed homes as well as Mountain Lodges (luxury three- and four-bedroom, semi-detached townhomes). These have a "mountain lodge" look with open floor plans, rugged timber details, vaulted ceilings, architectural veneer stone, cedar siding and other design features reminiscent of the classic lodges of the Sierra Nevadas.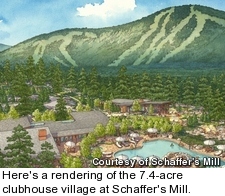 There are a number of floor plans from 2,000-2,600 square feet and all have two-car garages, laundry rooms and either a patio or large deck and run $800,000 to $1.1 million. Lots for custom homes range from three-quarters of an acre to one acre and are priced from $250,000-$399,000.
Starting later this year, Schaffer's Mill will be offering High Sierra Cabins, which will be similar to the Mountain Lodges but freestanding, with numerous floor plans from 2,200-3,500 square feet. For both pre-built products, the lodges and cabins, exterior landscaping and maintenance is included, offering turnkey convenience for owners whose primary residence is elsewhere.
There has been a trend in recent years toward combining golf course living with the active mountain lifestyle of skiing, hiking and biking for year-round recreation. Schaffer's Mill is another good example of this kind of choice for those seeking a vacation home.
Larry Olmsted has written more than 1,000 articles on golf and golf travel, for the likes of Golf Magazine, T&L Golf, LINKS, Golf & Travel, Men's Health, Men's Journal, USA Today, and many others. He broke the Guinness World Record for golf travel and wrote Getting into Guinness, as well as Golf Travel by Design. He was the founding editor of The Golf Insider, and the golf columnist for both USA Today.com and US Airways Magazine.
June 19, 2012
Any opinions expressed above are those of the writer and do not necessarily represent the views of the management. The information in this story was accurate at the time of publication. All contact information, directions and prices should be confirmed directly with the golf course or resort before making reservations and/or travel plans.