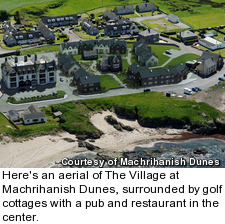 REAL ESTATE
Scotland may be the birthplace of golf, but two new real estate developments show it's keeping up with the times
By Larry Olmsted,
Special Contributor
Scotland is the birthplace of golf, but that doesn't mean there isn't anything new going on.
In fact, there are two new developments that would be of interest to any golf lover in a position to consider real estate on the Old Sod. While they are new, they are in places very old and dear to the game of golf.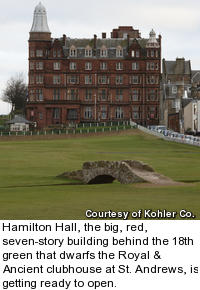 One is St. Andrews, where Hamilton Hall is getting ready to open. If you've been to St. Andrews or even seen pictures, you know Hamilton Hall. It's the big, red, seven-story building behind the 18th green, next to (and dwarfing) the Royal & Ancient clubhouse.
It originally opened as a hotel in 1895, but it spent most of its life as a dormitory for the University of St. Andrews until it closed in 2006 mainly for being outdated and off campus. The Kohler Company -- the plumbing and generator giant that already owns the Destination Kohler resort and its PGA Championship venue Whistling Straits in Wisconsin, as well as the Old Course Hotel and Dukes Course in St. Andrews -- stepped in and bought it, then undertook an extensive and pricey renovating that is almost complete.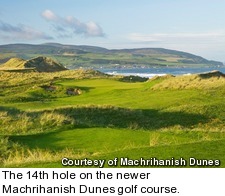 Hamilton Hall will open sometime in the second half of 2012 with 26 luxury apartments from two to four bedrooms and 1,130 to 2,780 square feet, plus a bar, restaurant and private lounge for residents.
The units will essentially be sold, though since this is the UK they will actually be 99-year freehold leases, and the prices start at £1.35 million (just more than $2 million). Ownership will include membership at the Duke's Course, full run of the Old Course Hotel, and for those who meet residency requirements, the opportunity to buy the incredibly cheap resident's membership to the Links Trust courses -- all of them. Vacant apartments may be (and are strongly encouraged to be) placed in a rental pool managed by the Old Course Hotel to generate revenue when not in use.
Machrihanish Dunes rests on small-town charm, tradition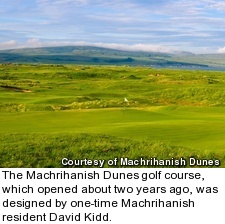 By far the biggest appeal of Hamilton Hall is its location -- both in the world and within St. Andrews -- on a treasured site. The same cannot be said of the project at Machrihanish Dunes, which instead rests on small-town charm, tradition, and two golf courses very old and very new.
The project is known as The Village at Machrihanish Dunes and includes 30 two-bedroom cottages, a pub and restaurant, golf shop and two hotels, both of which are old town classics being totally gutted and renovated to reopen in February 2012. The Village complements the Machrihanish Dunes golf course, open about two years and designed by one-time Machrihanish resident David Kidd (of Bandon Dunes and Castle Course at St. Andrews fame).
The old course is the Machrihanish Golf Club, which opened in 1897 and was designed by another famous Scottish architect, Old Tom Morris. Besides being a perennial world top 100 layout, the course is famed for having what many consider the best opening hole in the world. Buying into The Village does not give you a membership at Machrihanish Golf Club, but you will be welcome to pay to play, and the first tee is literally a flop wedge from the cottages.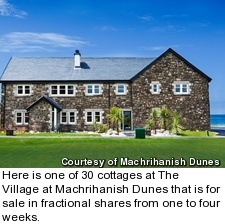 The cottages are all being sold as one- to four-week fractional shares. But unlike timeshares, they are fully titled. You own your share of the physical real estate, and you can resell it or pass it to heirs.
Physically they resemble the nicer cottage-type product at any luxury golf resort. They're well equipped for foursomes with a living room, pull out couch, two large bedrooms with walk-in showers and modern bathrooms, a dining area and flat screen TVs, and they are all nicely furnished.
They're aimed at Americans who realistically will not use them more than once or twice a year, mainly because Machrihanish, near the tip of the Kintyre Peninsula, is one of the most remote and tough to get to golf courses in all of Scotland. It is a charming town and close to another charming town, Campbeltown, where they make a lot of the world's best whiskies.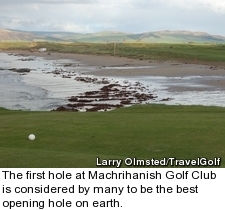 Single-week ownership varies by the time of year: $15,700 for low season, $28,300 for midseason and $31,500 for high season. Four-week fixed ownership runs $74,000 to $110,000.
Let's face it: unless you are planning to move to Scotland, or are flexible enough to spend a season there, chances are good that it may not be the second home golf destination that makes sense for you, but it's certainly the second-home golf destination of our dreams.
Larry Olmsted has written more than 1,000 articles on golf and golf travel, for the likes of Golf Magazine, T&L Golf, LINKS, Golf & Travel, Men's Health, Men's Journal, USA Today, and many others. He broke the Guinness World Record for golf travel and wrote Getting into Guinness, as well as Golf Travel by Design. He was the founding editor of The Golf Insider, and the golf columnist for both USA Today.com and US Airways Magazine.
September 22, 2011
Any opinions expressed above are those of the writer and do not necessarily represent the views of the management. The information in this story was accurate at the time of publication. All contact information, directions and prices should be confirmed directly with the golf course or resort before making reservations and/or travel plans.