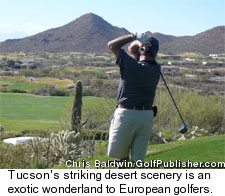 FEATURE STORY
Influx of European golfers hits Tucson's second-home market
By Chris Baldwin,
Contributor
Tucson, a golf destination with a relatively low cost of living for Americans, has now become a new hot spot for Europeans seeking to purchase golf course real estate.
TUCSON, Ariz. - Forget the hop, skip and a jump. Getting to Tucson from Switzerland turns out to be a lot more complicated than that.
Yet Renee Berger and his wife Monique make the trip every year. When people back home ask about the location of their second home, their reply produces more puzzled looks than Sanjaya's singing on American Idol.
"Everyone asks, 'why Tucson?'" Renee Berger said, sweeping his arms around the desert panorama at Starr Pass Country Club. "Are you joking with me? Why not?"
More and more Europeans - golfers in particular - are asking themselves that same question. Tucson, a city of less than a million, is getting a significant European influx.
"We're not quite sure why we're seeing more European golfers," Starr Pass Director of Golf Todd Howard said. "It's certainly not easy for them to get here."
Yes, those direct flights from Frankfurt to Tucson are but a dream. You just don't expect so many people to be having that dream.
"I think they like the non-Northern feel," Howard said.
That's part of it. Though the vision may be even less urban than you're thinking.
"My friends all believe I'm John Wayne riding a horse in the American desert," Renee Berger said, laughing.
The Bergers' chariot turns out to be a golf cart. They ride it from their home to the first tee. Then again, this is a dream that tends to cross continents and cultures.
Golfing into your sunset years is a fairly universal goal.
Tucson provides that with more than 50 golf courses in the area and home prices that still look like steals to people from Scottsdale and Las Vegas. Imagine how good they look to people who get paid in euros.
"It's a great bargain for them," Howard said.
It's also a very different experience. Part of Tucson's siren call to Europeans is its striking desert landscape. When you've seen the Eiffel Tower dozens of times, a towering 12-foot-tall, 150-year-old Saguaro cactus with limbs going every which way but logical looms as the out-there thrill.
Tucson's European second homers may not be galloping out into the desert a la John Wayne. No matter what they tell their friends back home who've never been.
But they do head out hiking, mountain biking and bird watching for close encounters of the nature kind.
"We've seen enough cities in our lifetime," Monique Berger said. "We want to see something beautiful."
Tucson's college town atmosphere helps
Tucson will never be mistaken for Rome. Or even Brussels for that matter. But it's not exactly a modern day Deadwood either.
The presence of the University of Arizona gives Tucson some culture you might not normally find in a city this size. OK, sometimes that "culture" is college-aged kids staggering down the street drunk. But who says many Europeans can't get on board with that?
"Sometimes I forget I'm married," Renee Berger said, with his wife looking on laughing. "I love having such a number of beautiful young women around."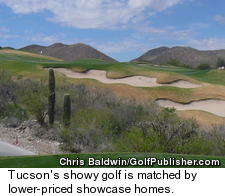 Berger demonstrates this by flirting with one of Starr Pass' cart girls so heavily - though charmingly - that James Bond would approve. His wife tries to help his cause as best she can.
They're European. They don't care how Arizona natives regard them.
The University of Arizona doesn't just mean drunk hot college chicks though. It also means art-house movies, entertainment acts you might not expect and some serious NCAA hoops.
That second home is suddenly much more than a John Wayne fantasy.
And then there is the weather. Tucson golf resorts have been surprised to find that some Europeans - Germans in particular for some reason - don't seem to mind the 110-degree temperatures of the summer.
"They'll still be out at the pool all day," Starr Pass General Manager John Adams said.
What's a little heat when you've been through the gray drab winter of Berlin?
"This is not too hot for me," German visitor Luther Klopfer said, shrugging. "Maybe we're simply tougher than most Americans. I'm considering purchasing a second home here."
Tucson home prices
Homes in Tucson are not just cheap by Euro standards. This spot - two hours and another vibe away from the Phoenix-Scottsdale resort corridor - isn't just much more reasonable than California (like almost all other West Coast spots). It's much less expensive than Las Vegas and even less expensive than some of the satellite communities in the Phoenix Valley that have been drawing bargain seekers.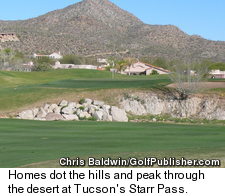 The average home price in Tucson is $250,000 - which real estate agents say is about equivalent to $650,000 worth of home in California. Of course as recently as three years ago, Tucson's average home price came in at about $164,000.
This has some locals fearing the rising prices - and blaming the influx of second-home buyers - for this real estate leap.
"The more people who come in and buy second homes, the harder it gets for regular people in the area to afford a first house,'' local Dan Maloney said.
There's no stopping it now though. The Swiss are coming. You don't mess with the Swiss.
Not when they've discovered the desert golf of courses like Canoa Ranch.
"Golf is a wonderful game," Renee Berger said. "It can take you to places you'd never expect."
With or without the cowboy hat.
If you go
Tucson Tee times: 1-800-767-3574
Hotels: 1-800-767-3574
May 3, 2007
Any opinions expressed above are those of the writer and do not necessarily represent the views of the management. The information in this story was accurate at the time of publication. All contact information, directions and prices should be confirmed directly with the golf course or resort before making reservations and/or travel plans.