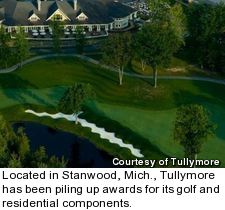 REAL ESTATE
Tullymore and Crystal Mountain stand out among western Michigan golf communities
By Larry Olmsted,
Special Contributor
The Midwest is rich with great and often overlooked golf courses, and Michigan is no exception, thanks to its rural countryside, vast expanse of Great Lakes coastline, and most of all, its numerous ski resorts that double in the summer as golf destinations and create four-season communities.
What is nice about the part of western Michigan between Grand Rapids and Traverse City (each with its own airport), is that the real estate is quite affordable compared to many other similarly equipped golf destinations in the country. Michigan has several sizable and notable golf resorts with real estate components, but in this corridor between Grand Rapids and Traverse City, two very different communities stand out as examples of the options available in the area.
Tullymore: A traditional, pure golf community
Tullymore is a traditional, pure golf community, focused on a high-quality destination course -- its highly rated Jim Engh design. Engh is a Colorado-based architect best known for his Rocky Mountain efforts such as Redlands Mesa, the Sanctuary, the Snowmass Club and Idaho's acclaimed Black Rock. This is his only course in the Midwest. Located in Stanwood, Mich., Tullymore has been piling up awards for its golf and residential components, including the No. 1 golf resort in Michigan from Golf World, along with spots in the top 100 public lists in both Golf Digest and Golf Magazine.
Tullymore has a wide range of real estate options, including an enclave of custom homes starting at $245,000 and well appointed with professional landscape packages. Lots are offered from $70,000, and condos come in two sizes, 1,836 or 2,136 square feet, and they all feature first-rate finishes such as GE Profile appliances, hardwood flooring, custom cabinetry, and cathedral ceilings. Prices start from $289,000. Purchases of any lot, home or condo include a full golf membership to Tullymore and it sister course at the nearby St. Ives resort. The resort is also currently running an innovative trade-in program, where would-be buyers who are hampered by being unable to sell their current home elsewhere can simply trade it in to Tullymore, much like a new car purchase.
Crystal Mountain: A wide gamut of residential options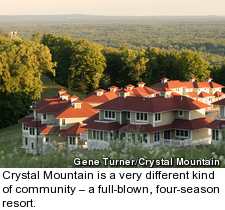 Crystal Mountain is a very different kind of community -- a full-blown, four-season resort. It features two golf courses, a large ski area, tubing facility, water park, retail and dining pedestrian village, tennis, fitness center, climbing wall, spa, a unique sculpture garden with nature trails, and more than 30 miles of cross country skiing and mountain biking trails. The appeal here is not so much the quality of golf -- with the Mountain Ridge and Betsie Valley courses -- as the quantity of facilities and a well earned reputation with more than half century of popularity with families in the Midwest. Located in Thompsonville, Mich., the resort also includes multiple restaurants and a full service hotel.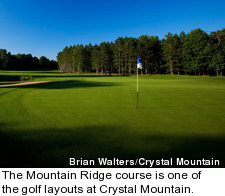 Crystal Mountain has a wide gamut of residential options, including townhouses, single-family homes, cottages and several forms of fractional ownership. Choices include everything from trailside lots for custom homes from less than $60,000 and studio condos starting at $76,900, all the way up to large single family homes approaching $700,000, though even the top of Crystal Mountain's market is very reasonable compared to most ski and golf resorts with similar amenities.
These two projects represent just the tip of Michigan golf real estate, with something for everyone from the diehard golf fanatic to the family looking for a multi-use, year-round property.
Larry Olmsted has written more than 1,000 articles on golf and golf travel, for the likes of Golf Magazine, T&L Golf, LINKS, Golf & Travel, Men's Health, Men's Journal, USA Today, and many others. He broke the Guinness World Record for golf travel and wrote Getting into Guinness, as well as Golf Travel by Design. He was the founding editor of The Golf Insider, and the golf columnist for both USA Today.com and US Airways Magazine.
March 1, 2011
Any opinions expressed above are those of the writer and do not necessarily represent the views of the management. The information in this story was accurate at the time of publication. All contact information, directions and prices should be confirmed directly with the golf course or resort before making reservations and/or travel plans.