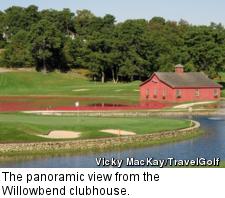 REAL ESTATE
Willowbend's 'Cape Cod casual' cultivates a relaxed, luxurious lifestyle in one of New England's premier communities
By Leigh MacKay,
Contributor
MASHPEE, Mass. -- Willowbend has been one of Cape Cod's and New England's premier communities since 1994.
The 440 acres, situated just over the Bourne Bridge alongside Shoestring Bay, contain more than 250 single-family dwellings, lots for custom homes, and guest villas. In response to the demand to enjoy the unique Cape Cod standard of living, Willowbend is currently constructing an additional 40 villas and townhomes, which will be available early in 2015.
The centerpieces of the private community -- with four of its five neighborhoods gated -- are the 27-hole championship golf course, the tennis stadium and eight Har-Tru courts with adjoining basketball courts, the fitness facility and spa complex, the Olympic-sized swimming pool and cabanas, and the spacious 46,000-square-foot clubhouse, which hosts functions for up to 300 people. The value and attractiveness of Willowbend have earned it a spot in Travel & Leisure's "Top 100 Communities in America."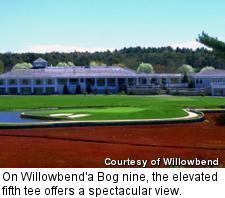 Willowbend's rise to prominence started slowly in 1987 when Willowbend Country Club opened its 18 greens for business but soon went bankrupt. Paul Fireman, founder and CEO of Reebok International, bought the golf course at auction in 1991, and David Southworth, a hotelier turned real estate developer, became Fireman's partner and the club's first GM.
Southworth's first act was to complete the clubhouse and then, in 1992, he and Fireman publicized the venue with the Willowbend Children's Charity Pro-Am, which for 14 years attracted PGA Tour pros like Nick Faldo, Greg Norman, Gary Player and Tom Watson and was one of New England's most popular events. In 2003, he oversaw the construction of The Bay golf course, a new nine holes, which complemented The Bog and The Bend.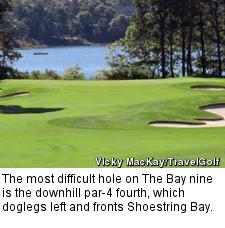 The 27 holes are always immaculately groomed, and the bentgrass greens, usually rolling between 10-10.5 on the Stimpmeter, are some of the best in New England. The nines, which have surprising elevation from tees and greens, wend their ways through the scenic Cape Cod countryside: towering hardwoods and pines, working cranberry bogs, innumerable water hazards, ubiquitous marshland and natural land slopes. The six sets of tees can appease every golfer's power supply, and a number of forced carries helps determine which set is best for each skill level. The course fits the phrase "sneaky hard but fair."
Southworth also completed the tennis, pool and fitness centers, and, in 1994, initiated the Grand Champions Over-35 Tour, with tennis legends like Bjorn Borg and Jimmy Connors taking center court.
Willowbend real estate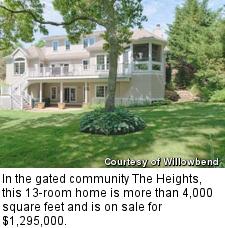 Finally, with all the amenities in place in 1994, Southworth opened up the real estate for lot sales and home building. For the next 10 years the Fireman-Southworth vision turned the original 18-hole golf course into a thriving, exclusive community with world-class amenities.
Southworth parted ways from Fireman in 2004 to form Southworth Development LLC, and in the ensuing years, his company developed more than $1 billion in golf and hospitality projects. When Fireman, at age 68, told Southworth in the spring of 2011 that he wanted to slow things down, Southworth and his business partner Joe Deitch bought Willowbend Country Club. As he had first done 20 years before, Southworth revitalized the amenities and renovated major areas of the campus. He also discarded "Country Club" from the name because he wanted Willowbend to be thought of as much more than just a golf course property.
Southworth's directive has been to make Willowbend a family-friendly club that offers events and activities for children and adults alike. Additionally, Southworth, who never wears a tie, wants Willowbend to foster a casual, laid back atmosphere -- "Cape Cod casual" because so many members and residents have crossed the bridge to unwind and relax with their families. He has brought in Massimiliano Mariotta as the Executive Chef to ensure the excellence of the clubhouse fare in The Grille Room, and he has also opened two other informal dining spots, Cafe Amici and The Scoop.
Families can unwind and relax in elegant surroundings. Resales of around 25 existing homes, all superbly landscaped and with unhindered views of either the golf course or the natural surroundings, start at $759,000 for 3,100 square feet and increase to $1.7 million for 5,500 square feet and up to $2,795,000 for 7,000-plus square feet. Almost 30 choice lots from one-third acre to three-quarter acre to a full acre begin at $225,000, continue to $350,000 and culminate at more than $900,000 for the most select lots.
The Village at Willowbend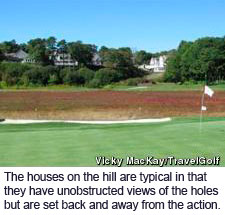 The ultimate in a relaxed, maintenance-free lifestyle will be available in early 2015 in the 40 new two-story townhomes and single-floor villas in The Village at Willowbend, located within steps of all the amenities. The two- and three-bedroom designs offer plans from 2,052 to 3,295 square feet, feature unobstructed views of The Bog holes 8 and 9 and range from $625,000 to $1,075,000.
Golf memberships, which include a non-refundable fee of $45,000 and use of all facilities, have annual dues of $11,800. Tennis, fitness, pool and social memberships are also available at reduced non-refundable fees and dues.
For more information, www.willowbendcapecod.com.
Leigh MacKay is a freelance golf writer who specializes in features and travel reviews. A member of Golf Writers Association of America, Golf Travel Writers, and International Network of Golf, he writes a monthly column, "Celebrity Golfer," for New England Golf Monthly and splits his time between Port St. Lucie, Fla., and Plymouth, Mass.
October 21, 2014
Any opinions expressed above are those of the writer and do not necessarily represent the views of the management. The information in this story was accurate at the time of publication. All contact information, directions and prices should be confirmed directly with the golf course or resort before making reservations and/or travel plans.