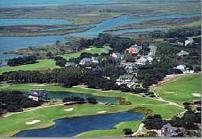 North Carolina's Outer Banks: If You Can Find the Currituck Club, You May Never Leave
By Shane Sharp,
Contributing Writer
COROLLA, N.C. - If you don't think the Outer Banks of North Carolina are "out there", you better ask somebody.
A full 353 miles from Charlotte, 215 miles from Raleigh, and 251 miles from Wilmington, sits the town of Corolla - perched on a sliver of land in northernmost reaches of the Outer Banks. Find it on the map, and you'll wonder how you could park a car on a chunk of earth so narrow, much less build one of the Tar Heel state's most sought after golf course communities.
But oh, did they build.
First an 18-hole Rees Jones designed golf course, then tennis courts, bike paths, basketball courts, sand volleyball courts, five residential communities, and a trolley system that connects it all. And with a newfound popularity spawned by word of mouth, and glowing accolades in two national newspapers, Currituck can forge ahead with its plans to construct 70,000 square feet of upscale shopping space, and an 80-room Inn is in the works.
Not bad for an island that is just 3.5 miles wide.
"We are already three quarters of the way sold out here," says Currituck Real Estate Associate Lorena Godly. "It is amazing, considering our location, but I think that seclusion has become attractive to golfing families. We have residents from all over the world."
The Golf Course
Sand Dunes style courses are the norm in the Outer Banks, but most of them have never made their way onto lists of the state's top layouts. The Currituck Club could be the best of the lot, and Jones is mostly to blame.
By necessity, golf courses in the Outer Banks are often short, tight, and overrun with housing. There's just no much property to work with, so its hard to point the finger at anyone culprit when it comes to these less than sensational layouts.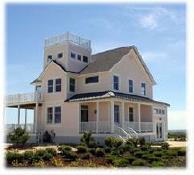 As far as the Jones boys (Robert Trent Jones II and Rees) go, Currituck is low profile. Missing are the trademark Jones mounds, and in their place are gentle swales that really never poke their head up too far above sea level.
The course opens to the south on the sand dunes of the property, makes its way north along the Currituck Sound, turns south again toward the Dunes to open the back nine, and then finishes dramatically along the sound on the last four holes. Jones brought the 18th right up to the edge of the water, with the clubhouse nowhere in sight.
The par three 15th hole has been hit with the signature label, and its little wonder why. Jones included a manmade pond that runs from tee to green, and appears to be part of the natural tidal basin. As you'd expect, there's plenty of water on the course, most of it sneaking into play on the front nine where holes four, five and six flirt with the local lagoons.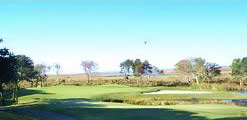 While it was obviously built as a real estate endeavor, Currituck's coastal crafted homes don't suffocate the course. Golf Magazine thought enough of the six-year-old layout to hit it with a "Top 10 You Can Play," in 1997, and Golf Digest has ranked it in the Top 25 Courses of North Carolina.
That the Currituck Club Golf Course hasn't made its way into the thoughts of many golfers from the Old North State is a testament to its location. From North Carolina, it's a solid three-hour drive from Raleigh, which many North Carolinians consider to be way out east. But from Norfolk, Va. it's just a 90-mile drive south, and a chip shot away once you cross the Wright Bridge.
Living on the Links
Currituck has a custom home building option that let's you pick a homesite, and then design away 'till your heart's content. An architectural control committee will make sure you keep your new crib in line with the Joneses, and a personal sales associate is available to guide you through the process. Homesites start in the low $100,000's, and the homes start around $500,000 and go up to $1.5 million.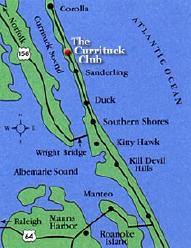 The Hammocks is Currituck's newest development. The Hammocks is bordered by the Atlantic Ocean to the east, and the Currituck Sound to the west. The neighborhood is golf-oriented, and will contain 72 vacation homes situated between the twelfth and thirteenth fairways of the golf course. Six different models area available, and the complete package ranges from the low $300,000's to $600,000. Floorplans range from 1700 to 2400 square feet.
Two more (semi) affordable options are available: Magnolia Bay, a neighborhood of tasteful patio homes, and Windswept Ridge, golf villas perched high above the golf course. Magnolia Bay has already sold out, with homes starting in the low $300,000 and going up to $600,000.
Currituck also has a new real estate option called the Reserve Collection. This section of the club will be built on the golf course, with ocean and sound views available. Home and homesite packages will start at $600,000 and will be 2500 square feet.
The Currituck Club Basics
Hwy. 12
Corolla, North Carolina 27927
For tee times: 252-453-9400
Green fees: $65-$115
More North Carolina Golf Communities & Golf Homes:
Merry Hill Golf Package
Dates: August 18, 2016 - December 31, 2017
The Chowan Villa's are designed for convenience and functionality. Charming ranch with three bedrooms and 3 1/2 baths. Its large screened in porch will be the focal point for relaxing and socializing after a long day on the course.
Price range: $133 - $173