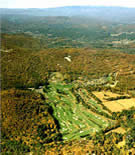 North Carolina Golf Communities & Golf Homes: Kenmure, Flat Rock
Click here to request free North Carolina golf communities & golf homes information.
A 1,400- acre, gated country club community located four miles south of Hendersonville.
Golf
Kenmure flaunts a 6,509-yard Par 72 championship course designed by Joe Lee. The course—built in 1981—plays quite short, with just four holes measuring over 400 yards. But the challenge is in the placement of shots at Kenmure, not the distances the balls are hit. The layout features bent grass and water hazards that come into play on 14 holes. The small greens are fast and well-manicured. The course is open from April 1 to November 1. Permanent membership in the golf club is generally only available to Kenmure property owners.
Real Estate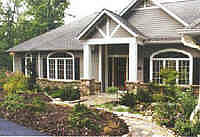 The Cottages of Kenmure are single-family homes with mountain views priced from $250,000 to $353,400. Single family homesites of approximately 1-2 acres can be purchased, many with spectacular views. Previously owned condominiums, homes, villas and lots are also available.
Cottage options include:
Sterling - 1,620 Square Feet $250,000 (w/o basement)
Pisgah I - 2,540 Square Feet (2 story) $334,000 (no basement option)
Pisgah II - 2,900 Square Feet $353,400 (with basement)
Pinnacle - 2,100 Square Feet $299,000 (w/o basement)
Wooded, mountain homesites feature streams, creeks or long range views of the Blue Ridge Mountains. All homesites have underground utilities, city water, natural gas and cable television.
Miscellaneous
The Kenmure Mansion has an informal grill room, formal dining room and banquet facility, pro shop and administrative offices. A heated swimming pool and tennis courts (hard and soft surface) are also part of the amenities. Memberships are restricted. there will be a 500 Full Golf et al memberships and 200 memberships made up of Tennis-Social-Swimming, Social-Swimming and Social.
Other amenities include the new fitness center, a heated swimming pool, 6 tennis courts (hard & soft surface) an antebellum clubhouse with a grill room, lounge, dining room, pro shop and banquet room; and clubs for hiking, gardening, literature, photography, or astronomy.
The nearby Flat Rock community--on the National Register of Historic Places--is home to the Flat Rock Playhouse. It is recognized as one of the10 best summer stock theater companies in the United States.
Nearest Airport: Asheville Regional Airport (15 miles away)
To set up a visit to Kenmure, call 1-800-345-1860.
Click here to request free North Carolina golf communities & golf homes information.
More North Carolina Golf Communities & Golf Homes:
Content for this site is provided by GolfPublisher Syndications.
Braselton Golf Package
Dates: February 15, 2017 - December 31, 2017
A deluxe overnight room in the Inn at Château Élan, with breakfast for two the following morning in the Versailles Restaurant, a 50-minute Château Essential Massage or a Chateau Essential Facial for her and one round of Golf on the Château course or Woodlands course for him.
Price range: $388 - $688