South Carolina (North Carolina) Golf Communities & Golf Homes: The Cliffs Communities
Click here to request free golf communities & golf homes information.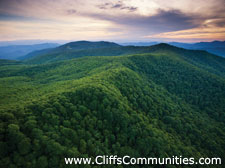 The Cliffs at High Carolina is the site of the first Tiger Woods Design golf course in America.
Twenty years ago, The Cliffs established its first community with a strong commitment to the land and a dedication to the people who would call it home. Today, we offer eight communities; all just minutes apart, all in the heart of the Blue Ridge Mountains of the Western Carolinas, all available with one membership. Members can choose from three regions—Mountain, Mountain-Lake and Asheville—while enjoying every clubhouse, golf course, wellness center, hiking trail, international vacation property, tennis court, marina, restaurant, everything. A Member of one Cliffs community is a Member of all eight.
Golf
The Cliffs enjoys championship golf courses built by champions. In fact, we're the only club in the world to offer Members the opportunity to play courses designed by the three living career Grand Slam winners: Tiger Woods, Gary Player and Jack Nicklaus. All with a single membership.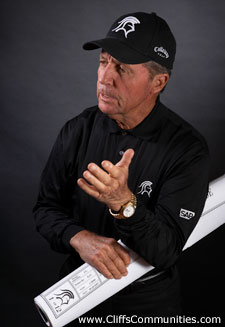 In 2008, the Gary Player Group North American headquarters opened at The Cliffs at Mountain Park, in which a Gary Player Signature golf course is currently underway.
The eight championship courses of The Cliffs – Tiger Woods Design's first golf course in America at The Cliffs at High Carolina, Gary Player's first Cliffs design in development at The Cliffs at Mountain Park, two Jack Nicklaus designs at The Cliffs at Keowee Falls and The Cliffs at Walnut Cove, and two Tom Fazio designs at The Cliffs at Keowee Vineyards and The Cliffs at Keowee Springs – all provide their own distinct personalities to create a lineup found nowhere else in the world, where both beginners and low-handicappers can thrive. Play high among mountaintops, along the shores of Lake Keowee, through mountain meadows, over and around streams, coves and creeks, or within mountain valleys.
Members can also improve their games at the International Institute of Golf at The Cliffs at Keowee Springs, a state-of-the-art teaching academy led by esteemed instructors Steve Bann and Dale Lynch, whose clients include Stuart Appleby, Geoff Oglivy and K.J. Choi of the PGA Tour.
Collectively, The Cliffs has been featured in The Robb Report's first ever Top 10 Golf Communities ranking, as well as honored among Travel + Leisure Golf's Top 10 Golf Communities for four consecutive years.
Wellness
At The Cliffs, wellness is personal. Our approach includes a customized plan of action that meets you wherever you are. We utilize fitness professionals and wellness coaches, a team of doctors, state-of-the-art wellness complexes and spa offerings, specialized affiliations such as Wake Forest University School of Medicine, outdoor sports and trails, nutritional and lifestyle assessments, a 10-acre organic farm, comprehensive fitness programs, massage services and whatever wellness programs our members need in order to pursue their passions.
Membership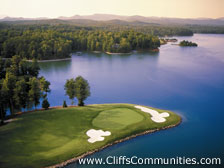 The Cliffs at Keowee includes three distinct, private, gated residential communities, Keowee Springs, Keowee Falls and Keowee Vineyards. Keowee Springs is home to the International Institute of Golf, run by renowned instructors Dale Lynch and Steve Bann.
The Cliffs' membership gives our Members the keys to all eight communities: being a Member of one community makes you a Member of all. One Cliffs membership lets you enjoy every amenity at every community - from golf and tennis to marinas and equestrian to restaurants and clubhouses, as well as access to The Cliffs Retreat Collection of international destination vacation properties in British Columbia, Chile, and the Bahamas is available immediately upon purchase of a home site or residence at The Cliffs. Only property owners are extended the invitation to become Members at The Cliffs.
The Cliffs offers homesites from $200,000 to more than $3 million and custom homes from $700,000 to $5 million.
About The Cliffs
The Cliffs Communities
3851 Highway 11
Travelers Rest, SC 29690
866-798-0934
Obtain the Property Report required by federal law and read it before signing anything. No federal agency has judged the merits or value, if any, of this property. This is not an offer where registration is required prior to any other offer being made. Void where prohibited by law. In South Carolina, Bradley D. Childs, Broker-in-Charge, Cliffs Real Estate Inc., 3850 Highway 11, Travelers Rest, SC 29690. In North Carolina, Daniel M. Whalen, Broker-in-Charge, Cliffs Real Estate Inc., 226 Charlotte Highway, Asheville, NC 28803.
Click here to request free South Carolina golf communities & golf homes information.
Greensboro Golf Package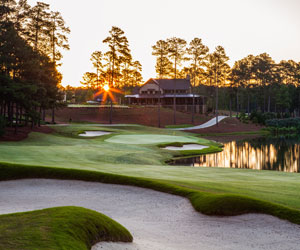 Dates: June 6, 2017 - December 31, 2018
Perfect for your annual golf getaway, The National Village Experience gives you and your guests convenient access to eat, sleep and play unlimited golf at Reynolds.
Price range: $339