Tennessee Golf Communities & Golf Homes: Rarity Pointe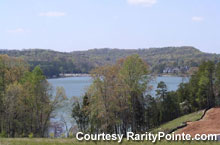 The Rarity Pointe community sits amid the "Lakeway to the Smokies," yet is near the amenities of the city of Knoxville.
Click here to request free golf communities & golf homes information.
With the Great Smoky Mountains ranging the horizon and yachts bobbing gently on the waves in the harbor of Lake Tellico, the Tennessee Valley has something for everyone. Rarity Pointe is a scenic resort-style golf community located in the heart of the valley in a county often referred to as the "Lakeway to the Smokies," just nine miles from Knox County and the nearby amenities of the city of Knoxville.
A gated, waterfront community with lakeside living in English Country Manor design homes, Rarity Pointe offers elegance and scenic beauty to rival any location. Luxury and privacy are the hallmarks of this community with its own golf course, marina and yacht club, not to mention quiet, picturesque walking trails.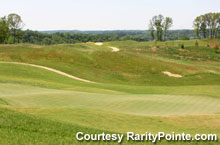 Rarity Pointe features Tennessee's only Audubon Signature Course, a 7,225-yard, Bob Cupp-designed gem.
Rarity Pointe features Tennessee's only Audubon Signature Course. The lush, rolling course was designed by Bob Cupp, who enjoys world reknown far beyond the years he spent working with Jack Nicklaus. With five sets of tees on the par-72, 18-hole championship course, every golfer can challenge their skills while enjoying the breath-taking views of water and mountains along the length of its 4,700 yards on the forward tees to 7,225 yards at the championship tees.
The marina at Rarity Pointe offers 335 slips and will accommodate yachts up to 90 feet, as well as a dry storage facility that can house up to 200 boats. The Yacht Club and Marina restaurant and bar is a comfortable haven to relax in after your adventures on the waves. Lake Tellico is popular among boaters and abundant with game fish.
A state-of-the-art Wellness Facility offers further recreational possibilities for the fitness minded of the community. Residents will find a spa, sauna, pools, tennis courts and a smoothie bar in an architectural gem that blends in with the surrounding buildings.
A Discovery Center and Social club round out the simpler amenities of a luxurious lifestyle. Rarity Pointe's Discovery Center sits at the entrance of the community to serve the residents' needs while the Social Club offers a perfect place to meet and enjoy fine dining with your friends.
More Tennessee Golf Communities & Golf Homes: