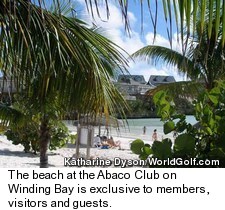 FAIRWAY LIFESTYLE
The Bahamas' Abaco Club on Winding Bay: For people who never ask how much
By Katharine Dyson,
Special contributor
Owners land at Marsh Harbour airport in the Bahamas, many arrive in their own planes, clear customs through the club's terminal, relax in deep, comfy leather sofas and help themselves to apples, snacks and beverages before being escorted to their vacation retreats in golf carts.
They'll play golf and tennis, ride horses, get spa treatments, fish and sink their feet in the powdery soft sand. They may even forget to check their e-mail (available via Wi-Fi).
Five years ago, flying over Great Abaco's eastern shore, international entrepreneur Peter de Savary saw a narrow peninsula with a two-mile crescent of powdery white sand. For a closer look, he took a boat and cruised up to the beach.
He saw no houses, no chaises or annoying little drinks with umbrellas in them — just gray-weathered driftwood, shells and sea debris. Beautiful, unspoiled. His kind of place.
De Savary went ashore, hacked his way into the dense tropical foliage and soon after, bought the 534 acres and started building the Abaco Club on Winding Bay, a golf and sporting retreat for people who need never ask, "How much?"
With the club well up and running, the Ritz-Carlton Hotel Company, L.L.C. purchased all of de Savary's financial interests on Jan. 1.
Abaco Club on Winding Bay owners
In the circular clubhouse bar, a music mogul wearing khaki shorts, T-shirt and sandals chats with another guy in jeans and polo shirt. This is not a dress-to-the-nines kind of place.
The jovial bartender, Archie Simonette, knows what the owners drink and whether they prefer a Cohiba or Hoyo de Monterey. Chef Simeon Hall knows how they like their food — his mahi mahi filet with creamy tomato orzo, shrimp, citrus and asparagus is a favorite.
Personalities like Sean Connery, Annika Sorenstam and Rod Stewart mingle easily with the less-familiar. No big deal.
Abaco Club on Winding Bay's golf course
Designed by Tom Mackenzie and Donald Steel, the Abaco Club's stunning seaside course evokes the spirit of Scottish links with grass-topped sand dunes, deep, sculptured bunkers and wide swales of native grasses. Seven holes play along the beach, and it is not usual to catch the waves leaping high into the air behind the 18th green.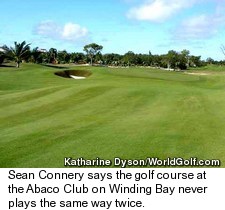 Both days I played, I saw but one other foursome, giving me the leisure to re-stroke missed putts on the slippery Sea Dwarf paspalum greens. I was playing with Golf Director Justin Norvell who cautioned, "The greens just don't break as much as you think. And pay attention to the wind. It can be a huge factor." Right on both counts.
Although the Sponge Bob-like grass bunker walls grabbed my ball with the tenacity of Velcro, generally I found the course forgiving with wide fairways and generous bail-out areas. A first-class resort course for all levels of play, Sir Sean Connery remarked, "It's never played the same way twice. I'll never get bored."
Membership entrance fees are $85,000, while dues are $7,800.
Abaco Club real estate
Estate lots (one acre and up) follow the crescent of the beach and golf course and sell for $1-$3 million; buyers will spend another $5-$10 million building their lofty residences with the approval of the architectural board.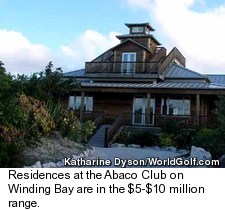 Currently, 45 of the 60 lots have been sold, and 13 homes have been built.
Offering a more modest option, two- to four-bedroom turn-key cottages selling for $1.7 to $3 million are strung along the crest above the sea. Averaging 2,000 square feet, cottages have souring ceilings, tumbled stone tile baths, huge decks - some more than 1,000 square feet.
Colors inside and out are natural and of the sea and surrounding landscape. Furnishings from cottage-to-cottage are similar with only an occasional photo, stack of books or other personal item reminding visitors of the owners. Of the 72 proposed cottages, 33 have been sold, and 29 have been built.
Rentals
According to Bahamian law, if you rent for 270 days, you get property tax relief. Owners receive 60 percent of the rentals, which typically run $1,800 -$3,200 a night; annual homeowner dues are $12,500.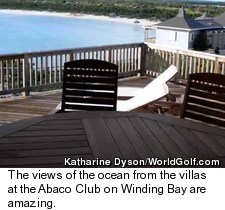 Although the purchasing process in the Bahamas has never been easy nor fees inexpensive - the Bahamian stamp duty is 10 percent of the purchase price - Michael Brown, project director, says, "We have succeeded in streamlining the process."
Originally built to accommodate potential buyers, 20 octagonal cabanas with decks, wet bars, hammocks, beds and sitting areas back up to the golf course. They can now be rented for $550 a night with recreational facilities available on a per-fee basis. For example, green fees are $175, carts $20, kayaks by the hour.
Some cottages, cabanas and homes are included in the Ritz-Carlton Club inventory, a luxury members vacation club with pricey destinations in places like Aspen, Kauai and Lake Tahoe.
Although not looking for the transient market, Brown says, "The rental price and laid-back style of Winding Bay serves as a natural filter. We have found if people come here and like what they see, very often they'll buy. Our long-range vision is to have primarily a members club."
One thing is for sure: Just 170 miles off the coast of Florida, it's easy to get to and a world away from the business buzz, and that's just the way members like it.
July 24, 2008
Any opinions expressed above are those of the writer and do not necessarily represent the views of the management. The information in this story was accurate at the time of publication. All contact information, directions and prices should be confirmed directly with the golf course or resort before making reservations and/or travel plans.