FAIRWAY LIFESTYLE
Cap Cana in the Dominican Republic: Way more than just a 'Caribbean hideaway'
By Katharine Dyson,
Special contributor
If you had extra cash about six years ago and the foresight to buy into Cap Cana's massive 30,000-acre development on the eastern tip of the Dominican Republic, your real estate investment would have realized some serious appreciation. It's still not too late. It just may cost you more.
Five years ago the 60 Founders' real estate packages sold for $800,000. Today they are valued at $2.5 million and up.
This is one big Kahuna - comparing Cap Cana to a Caribbean hideaway is like comparing the QEII to a Sunfish. Still with exclusive gated enclaves like Trump's Farallon Estates, those with the means to pay for their sybaritic pleasures will get what they want. But timing could be everything: 64 lots in Farallon selling for $3.5 to $15 million are already sold. Only four are left.
A project of The Abrisa Group of the Dominican Republic, Cap Cana is not for the all-inclusive, pile-your-plate crowd. The master plan calls for a low-density residential community costing more than $1.5 billion targeting those who can afford a minimum of $480,000 for a two-bedroom condo and $1 million and up for an estate lot.
When completed, Cap Cana will have three miles of beaches, five golf courses, a tennis and racquet complex, 500 hotel rooms, numerous "villages" with a total of about 5,000 residences, along with restaurants, shops, country clubs, polo grounds, casino, world-class spa and marina.
Golf at Cap Cana
Hugging the broken coral coastline with grit and tenacity and set against the startling blue sea, Punta Espada, the first Jack Nicklaus Signature course in the Dominican Republic, hosted its first Champion's Tour event.
"I could not take my eyes off the water. It was so cool," said Mark Weibe after winning the three-day event. "My friends back home asked if it was really that beautiful. I told them, 'No, it's more beautiful.'"
Indeed waves crash high against the rocks close to tees and greens; ribbons of turquoise splash into coves while lush paspalum grass carpets the fairways.
Once the $26 million Las Iguanas, the second Nicklaus course, is completed, Punta Espada will become private (membership fee, $50,000) while the third Nicklaus course, Mountain Golf Course along with Las Iguanas will be public.
Cap Cana Real Estate
The first phase comprising 8,680 acres, is up and running and last November Cap Cana reported sales of close to $690 million in residential sales as smart marketing quickly moved 480 villa units in the Green Village enclave. Now buyers who purchased a package (two villas) are getting their investment back by selling one of the units. A one-bedroom resale is listed for $480,000 while the package resale price is around $2 million.
New on the market are Racquet Village starting at $350,000 for a lot, and Las Iguanas Villas, 67 villas selling for $2.7 to $6.7 million. Ranging in size from 6,500 to 10,700 square feet, owners will have prime access to the Las Iguanas Golf Course, the Juanillo Beach Club, restaurants and bars.
The Marina at Cap Cana
Already the $96 million Cap Cana Marina is a happening place as trendsetters come to dine, shop, party and watch the action from the balconies of their townhouses as yachts come and go. When completed, the Marina will have 1000 slips able to accommodate yachts up to 250 feet.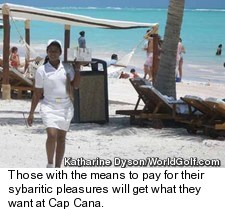 Recently an outdoor fashion show by designer Arcadio Diaz, blew the champagne-sipping, white-linen dressed beautiful people away as stunning Venezuelan models - young ladies in impossibly high heels and thongs and barefoot, bare-chested men - strutted their stuff up and down the runway.
With plenty of waterways, three small lslands and a Grand Canal, Vaporetto water taxis run shuttle services from shops to restaurants to the small islands.
Of the various Marina communities, the four-bedroom Ribera Marina Town Homes are selling from $3.1 to $4.6 million including membership in the Cap Cana Yacht Club.
Trump at Cap Cana
Bigger-than-life photos of "The Donald" line the main drive announcing: Trump at Cap Cana. Two golf courses, Farallón and Dolinas, golf villas, lots, beach club, condo hotel, and residences with magnificent ocean views will all be contained within the gated community.
What these select few will get for their money are drop-dead views 200 feet above the Caribbean. What they won't get is beachfront property (there is a private beach club). But then, looking down on everything and everybody does have its price.
Other Cap Cana projects on tap
Among other projects on the horizon are The Golden Bear Lodge; Racquet Village where 100 lots are selling form $480,000-$680,000; Mountain Golf Course and Village; Soto Grande, an 88-room boutique hotel and 352 high end beachfront units; and the Altabella Fishing Lodge.
Ritz-Carlton has two projects on the drawing board: a 220-room resort with a 16,000 square-foot spa and beach club and 194-privately-owned beachfront and golf residences.
Las Canas, a village with shops, the Heritage School and other public buildings is a work in progress.
Sanctuary Cap Cana Golf & Spa
The 176-suite Sanctuary condo hotel and Mandara spa blend elements of the Spanish colonial era, the Caribbean and modern minimalist architecture. A big plus is the glorious white sand beach shaded by coconut palms and white canvas open "tents" and set up with uge cushioned double chaises, hammocks and lounges. Nightly rates are $350 to $7,000.
In addition to the hotel, visitors can rent one of the 16 three-and four bedroom Caleton Villas with soaring thatched roofs and views of the sea and Punta Espada golf course. Nightly rates are from $1,800.
Owners who put their units into the rental program get 70 percent of the rental income.
For more information, see www.capcana.com.
Katharine Dyson is a golf and travel writer for several national publications as well as guidebook author and radio commentator. Her journeys have taken her around the world playing courses and finding unique places to stay. She is a member of the Golf Writers Association of America, Metropolitan Golf Writers of America; Golf Travel Writers Organization and Society of American Travel Writers.
April 18, 2008
Any opinions expressed above are those of the writer and do not necessarily represent the views of the management. The information in this story was accurate at the time of publication. All contact information, directions and prices should be confirmed directly with the golf course or resort before making reservations and/or travel plans.