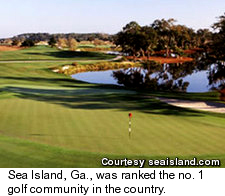 FEATURE STORY
Travel & Leisure Golf names the top golfing communities in the U.S.
By Tim McDonald,
Contributor
Travel & Leisure Golf has released its annual ranking of the top 100 golf communities in America.
It's no surprise that those communities in the South and West dominate: In the top 10 alone, four are in the South, including the top two, and the rest are out west.
Here are the top 25 golf communities in the U.S., according to Travel and Leisure Golf:
1. Sea Island; Sea Island, Ga.: A perennial favorite, Sea Island is halfway between Savannah, Ga., and Jacksonville, Fla., set on 50,000 acres, among marshes, dunes, ancient oaks, rivers and sea.
Nine separate, residential communities enjoy temperatures that average from 65-89. Resident members have their own golf course as well as a boathouse next to a lake stocked with bass, along with a spa, stables and a new beach club.
2. Palmetto Bluff; Bluffton, S.C.: The community has boating, fishing, an award-winning spa and "Jack Nicklaus golf."
"Traditional pedestrian neighborhoods fitted with retro touches like brick and gaslight are an important trend in upscale golf communities, as is generous conservation of land," the magazine said.
3. Santa Lucia Preserve; Carmel, Calif.: This is a green, or - as the magazine described - "globe-cooling" community.
There are 18,000 acres of protected land to "ensure 'nothing will change' here for some time." There is also a Tom Fazio layout amid "redwoods and stately oaks."
4. Mayacama; Santa Rosa, Calif.: It has a walking-only Nicklaus course, and the community style is not faux European.
"This community comes by its European sensibility honestly, through its vintner members and wine-country pedigree," according to Travel & Leisure Golf.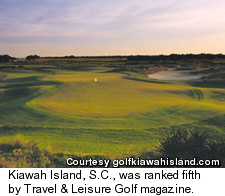 5. Kiawah Island; Kiawah Island, S.C.: The community is home to the famed Ocean Course, and the private Kiawah Island Club opened several years ago.
"Affluent golf lovers have made profits of their own on Kiawah real estate," the magazine said, "although continual improvements to the golf and other amenities make this a hard place to leave."
6. Promontory; Park City, Utah: This is a 7,500-acre mountain retreat with 36 holes of golf, an equestrian center, fly-fishing, skiing and tennis.
Showing that luxury communities aren't only for the old establishment, there is a rock-climbing wall inside the elegant 5,000-square foot clubhouse.
7. The Cliffs Communities; Travelers Rest, S.C.: The community built a global headquarters for Gary Player Golf and then made a big splash when it hired Tiger Woods to design his first U.S. golf course, the Cliffs at High Carolina.
Clemson University is using a $250,000 government grant to create, in part, public, botanical gardens.
8. Pronghorn Bend; Oregon: The clubhouse has personal wine storage, and Mount Bachelor is a 20-minute drive away, though it can be seen from the community.
Located in the high desert, Pronghorn has "fractional ownership." Only $200,000 or less gets you a partial claim of a lodge-style home with golf view, Travel & Leisure Golf pointed out.
9. Spanish Peaks; Big Sky, Mont.: The community has a Tom Weiskopf course with homes alongside fairways still available. The building style is stone and timber.
"This is perhaps the only golf community whose residents are excused for suddenly acquiring twangy accents and buckskin breeches," the magazine wrote. There are also ski-in, ski-out neighborhoods, a general store and outfitters cabin.
10. 3 Creek Ranch; Jackson Hole, Wyo.: 3 Creek has a Rees Jones-designed course, an ultra-modern workout facility and world-class streams for fly fishing.
The rest of the top 25:
11. Estancia; Scottsdale, Ariz.; 12. The Bear's Club, Jupiter, Fla.; 13. The Greenbrier; White Sulphur Springs, W.Va.; 14. Talisker; Park City, Utah; 15. Isleworth; Windemere, Fla.; 16. Windsor; Vero Beach, Fla.; 17. Kuki'o; Kona, Hawaii; 18. Wade Hampton; Cashiers, N.C.; 19. Reynolds Plantation, Georgia; 20. Yellowstone Club; Big Sky, Mont.; 21. St. Johns's Island; Vero Beach, Fla.; 22. Iron Horse; Whitefish, Mont.; 23. Spring Island; Okatie, S.C.; 24-Stock Farm; Hamilton, Mont.; 25. Silverleaf; Scottsdale, Ariz.
February 25, 2008
Any opinions expressed above are those of the writer and do not necessarily represent the views of the management. The information in this story was accurate at the time of publication. All contact information, directions and prices should be confirmed directly with the golf course or resort before making reservations and/or travel plans.