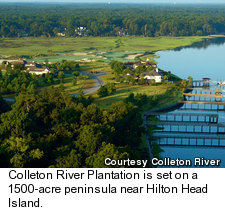 FEATURE STORY
Colleton River Plantation near Hilton Head Island offers coastal scenery and championship golf
By Brandon Tucker,
Senior Writer
BLUFFTON, S.C. - Like many of the Hilton Head Island-area golf communities, Colleton River Plantation begins modestly with a brick, beautified entranceway just off Highway 278, the main road onto Hilton Head Island.
But what lies just a few miles beyond the gates is anything but an ordinary golf community. A shaded, winding road leads you several miles back through rolling, lowcountry land on the cusp of the Atlantic coastline, and suddenly you're surrounded by Colleton River's biggest asset.
"The difference for Colleton River over other developments is the land it occupies," said Ussery. "Being a 1,500-acre peninsula cache, it's an extraordinary piece of property. You can watch the sun rise on the (Pete) Dye Course and the sunset on the back porch of the (Jack) Nicklaus Clubhouse. It's a unique experience."
A 1,200-acre nature conservatory buffers Colleton River from the more vibrant Hilton Head and Bluffton minutes away. Views of the Colleton and Chechesee Rivers, Port Royal Sound and Atlantic Ocean make for a secluded, surreal escape, and each of Colleton River's two private golf courses share their own unique and magnificent coastal scenery.
Colleton River's unique setting isn't likely to be duplicated anytime in the foreseeable future either. Stricter building permits since the development's inception in the early 1990s make it near impossible for newer communities to build on such canvases.
Colleton River currently has 300 homes built or under construction.
The bulk of the properties at Colleton River have been purchased, though 125 home sites are still available for purchase. Lots range from $175,000 upwards of $2 million for the most scenic, waterfront property. Existing homes for sale are currently listed between $800,000 and $2.5 million.
Despite a real estate slowdown that has worsened nationally, Colleton River was in a unique position in 2006 that they improved on their sales figures from the year before. Developers attribute that to the opening of the highly anticipated Nicklaus Clubhouse, which was paid for entirely by the membership and helped elevate Colleton River's status even loftier.
Colleton River also currently features 10 vacation cottages, designed to serve as accommodations for visiting family or friends or for a property owner with a home under construction or renovation. Rather than buy a house that's too big for their daily life in order to accommodate guests, residents can put their guests up in one, which are beautifully appointed with Southern charm.
Accolades have been pouring in at Colleton River since its inception, and 2007 was no different. It was ranked among the best 100 golf communities at Golfweek, T&L Golf and Links Magazine among others.
Colleton River golf
Two of the Hilton Head-area's finest golf courses are available to members of Colleton River Plantation, the Pete Dye and Jack Nicklaus courses.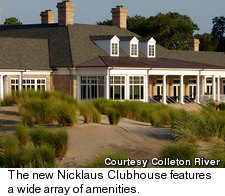 Though it's Colleton River's Nicklaus Course that receives a little more national ink in magazines, the newer Dye Course is arguably a more-stunning piece of land, featuring more holes overlooking the beautiful Port Royal Sound on the cusp of the Atlantic Ocean.
The front nine plays mostly through dense forest before opening up on the ninth hole. The backside is a sight to behold, as it plays on a wide-open setting ushering in more of a links-type feel. When Colleton River officials met with Dye recently, they were shocked when he told them it was the best course he ever built.
"We won't argue with him," said Ussery. "I think what he loves about Colleton is the piece of property. You can see the Atlantic Ocean from 10 of the holes."
The original Nicklaus Course takes on a few different forms, beginning with a traditional, forested Lowcountry look. From the island green, par-3 fourth hole, it then plays alongside marshland for a few holes before rounding the front side out on the ninth, which doglegs around marshland to the left on a peninsula green.
On the backside, several holes have a more barren, dunesland look featuring expansive waste bunkering. These are followed by the par-3 17th that plays along side the river. It makes for a round where the golfer is always anticipating what's around the corner.
The Nicklaus Course also opened a brand new clubhouse in the past year, which features a wide variety of amenities, including a new state-of-the-art fitness center overlooking the course.
"The community is much established and mature," said Ussery. "But to some degree it offers a brand new amenity package to members with the new Nicklaus Clubhouse."
Aside from the two golf courses, activities at Colleton River include a world-class tennis facility, individual and community deepwater docks for boating, a Junior Olympic-sized swimming pool and a 6,000-square-foot fitness center.
January 23, 2008
Any opinions expressed above are those of the writer and do not necessarily represent the views of the management. The information in this story was accurate at the time of publication. All contact information, directions and prices should be confirmed directly with the golf course or resort before making reservations and/or travel plans.