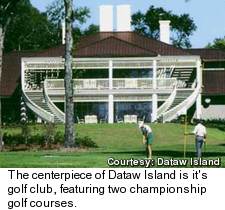 FEATURE STORY
South Carolina's Dataw Island a beautiful, historic coastal golf community
By Brandon Tucker,
Senior Writer
Boasting two championship golf courses - Cotton Dike and Morgan River, designed by Tom Fazio and Arthur Hills, respectively - Dataw Island is a spectacular coastal South Carolina golf community.
DATAW ISLAND, S.C. - It takes some island hopping by car over numerous bridges just to reach the Dataw Island community, nestled between Ladys Island and Helena Island along the South Carolina barrier islands near Beaufort.
Once you've arrived and are driving along the winding, shaded residential streets, it's easy to feel transported to another time. A sense of warm camaraderie is instant, as passer-bys in cars and on foot offer a friendly wave.
For guests staying in a cottage, or residents themselves, Dataw Island quickly feels like home.
"We have grown to appreciate the relationships with our new 'family' of neighbors and friends," said Susan Beekman, a resident of the island. "Which is perhaps the most impressive amenity on the island."
That isn't to say the amenities are lacking on Dataw. In fact, the day's dilemma will generally be deciding what to pass up in favor of something else. The facility includes two championship golf courses, a community and fitness center, eight tennis courts and a full-service marina and yacht club, which is three miles from the Intracoastal Waterway and 30 minutes from the Atlantic Ocean. The centerpiece is an elegant 25,000 square-foot clubhouse defined by two sweeping spiral staircases.
"The golf is great, sure," acknowledges member Bob Hopkins, who organizes golf matches several times a week with fellow members. "But what really makes the island is the people. You're always busy. There's always a dinner party to attend."
Though the modern day community stems back just two decades, the history of Dataw Island is rich. It is said to be named after legendary giant King Datha, and recorded history of Dataw Island stems back to 2,500 B.C., when wandering Native Americans frequented the island and its surrounding waters for game and shellfish.
Later, during America's Plantation Age, Dataw flourished as an indigo and cotton field. To this day, preserved ruins of slave quarters behind the second green on the Cotton Dike course serve as a reminder of the island's past, as well as the dike that lies right off the par-3 fourth hole.
It's always been an enchanting place. A sergeant in the Civil War wrote of the island: "I hardly know how to describe this place, I think God made it for the Garden of Eden."
Following the Civil War, the island was a quiet hunting ground for the next century until Alcoa Properties began development in 1983.
Today, the Dataw Historic Foundation is led by a group of island residents who collect artifacts and records while continuing preservation efforts. It's been praised as an example of an early 19th century plantation community.
The community's location is only about an hour's drive to Hilton Head Island depending on the traffic, though ask residents how often they go and they make it sound like some kind of epic trek. That's probably because there's really little need to travel that far when there are two golf courses as scenic as you'll find in the islands, coupled with the charming town of Beaufort just minutes away.
Dataw Island golf
Dataw Island features two private championship courses built in the 1980s: the Cotton Dike and the Morgan River.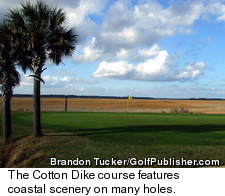 This scenic island location means both courses boast plenty of coastal views, mixed with lowcountry forested inland holes.
Both courses feature four sets of tees, though neither is overly long, playing under 6,800 yards from the championship tees.
Tom Fazio built the Cotton Dike course, which features a collection of beautiful holes playing along marshland on both the front and back sides.
Both the ninth and 18th holes capture the island beauty. The course has a spectacular finish, highlighted by the par-5 18th hole, which plays around dolphin inhabited waters to the left and has been compared to the closer at Pebble Beach.
Architect Arthur Hills built the Morgan River course - a tighter, though slightly shorter test than the Cotton Dike that wraps its way through a tidal estuary and moss-draped maritime forest.
Home sites on Dataw Island range from $75,000 to $900,000. Existing homes range from $300,000 to over $2 million. Golf and recreation memberships are optional, though social membership to the club is required for all residents.
For more information on Dataw Island golf and real estate, call 866-68-DATAW or visit www.Dataw.org.
January 10, 2008
Any opinions expressed above are those of the writer and do not necessarily represent the views of the management. The information in this story was accurate at the time of publication. All contact information, directions and prices should be confirmed directly with the golf course or resort before making reservations and/or travel plans.