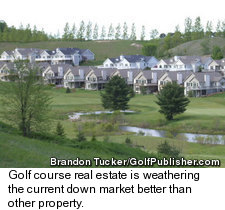 FEATURE STORY
Longitudes Group study: Golf course real estate bucks trend in housing
By Tim McDonald,
Contributor
Golf course homes seem to hold their value more than other real estate, even in the same zip code, according to a recent market study by the Longitudes Group.
There may be many things you love about your home on the golf course: all that nicely trimmed grass, the hilarious sight of hackers butchering the game, the short walk to the clubhouse and first tee.
But, for the more financially aware of golf course home owners, you probably also know this: you have been much more immune to the recent and ongoing real estate market slide than those poor saps who don't enjoy course-side living.
A recent study by the Longitudes Group, a company that specializes in the role sports plays in real estate decisions, found that owners of golf course homes are faring much better in the homeowners market these days.
"Lot values on golf courses have a 40 percent premium over other lots in the neighborhood," said Sara Killeen of the Longitudes Group. "Even when a market is really getting hammered, people will find a golf course home more appealing than a non-golf home. A golf home is going to out-perform a non-golf home almost every time.
The company was hired by Golf Digest and Business Week to track real estate trends in 40 of the most popular golf course destinations and vacation home markets.
It came up with profiles of the five strongest and weakest markets and evaluated how golf course homes appreciated compared to other "standard" properties in their respective zip codes.
Some of the findings may surprise you.
For example, Myrtle Beach, S.C., is among the "up" markets the company identified, second only to the "High country" of North Carolina. Myrtle Beach has had a series of golf course closures in the last several years, though it still sports more than 100 courses. Most of those courses have sold their land for development.
Myrtle Beach recorded the strongest percentage growth of all the areas surveyed, up 34 percent over the past 12 months and 126 percent over the past five years. The top performing golf development studied in Myrtle Beach was Barefoot Resort, where properties appreciated 56 percent since 2006.
The other "up" markets the group cited were the central Oregon region, east and west of the Cascade Mountains, Park City, Utah, and Vail, Colo.
"Down" markets included northern Michigan, Palm Springs, Calif., Reno, Nev., Sarasota, Fla., and Scottsdale, Ariz.
It isn't that the golf course home is completely immune to market trends. It's just that it's holding its value more than other homes.
"It's going to hold its value and be a little more stable than what the market might deliver you in a regular neighborhood home," Killeen said.
In areas where real estate has taken a hit, golf homes have not gotten as battered as other property in the surrounding zip codes. Scottsdale's overall real estate market is down 4.1 percent while homes in the studied Scottsdale golf developments were up 1.4 percent. The same trend was noted in Reno, Palm Springs and Sarasota.
"Money is just not flowing as easily or as confidently as it was 12 and 24 months ago," Killeen said. "People in all categories are definitely feeling the credit crunch. The very high-end homes - more than $2 million - are holding their own, but people who have to carefully plan out the expense of a second home might be waiting on the sidelines to see what happens."
The fact that the wealthiest homeowners are not as adversely affected came as no shock to the researchers.
"Everybody has done these stories on the rich getting richer, and this feeds right into that," Killeen said. "The wealthiest are not impacted."
Florida in particular is suffering, even the golf course homeowners, since the state has over-built for decades.
"Overall, Florida is getting hammered ," Killeen said. "Even if you have a golf course home. For example, Naples. Of the zip codes we studied, home values were down 12 percent and golf homes were down 10 percent."
The methodology used by Longitudes Group identified 40 golf destination markets across the U.S. and Canada. The five strongest and five weakest markets were then evaluated by using a random sample of homes in the identified golf developments and compared to the average value changes and appreciation rates over the last year within the same zip code.
The research is used in an article titled, "Crunch Time In Heaven," written by Matthew Rudy of Golf Digest. It appears in the Nov. 12 Business Week Magazine and the December 2007 issue of Golf Digest.
November 27, 2007
Any opinions expressed above are those of the writer and do not necessarily represent the views of the management.
Palm Coast Golf Package
Dates: February 1, 2018 - December 31, 2018
Whether planning your annual golfing trip or just looking for a quick golf escape, Hammock Beach allows you to come together for the ultimate golf experience. Enjoy golf and luxurious accommodations at Hammock Beach Resort.
Price range: $183