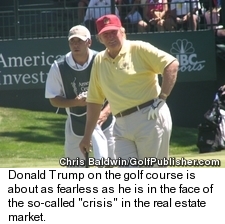 FEATURE STORY
Donald Trump on the pluses of a down real estate market, his Scotland golf resort, and more
By Chris Baldwin,
Contributor
Donald Trump has made a fortune in realty, but golf course real estate might just be his true passion in life. He took time recently to speak with Senior Writer Chris Baldwin about the current real estate "crisis," his proposed mammoth golf resort in Scotland, what Tom Brady thinks of Trump National L.A., and more.
Donald Trump laughs when someone mentions the current real estate "crisis." One man's crisis is another billionaire's long-awaited opportunity.
"I've made a lot of money in times that others have looked at as real estate downturns," Trump told GolfCourseRealty.com. "This is the time you should be buying and negotiating fantastic deals.
"Let the nervousness of the wishy-washy business people work to your advantage."
Trump portrays himself as the master in the art of the deal, of course. And if you don't believe him, he'll tell you to read one of his books. The latest is titled, with typical Trump bluster, "Think Big and Kick Ass in Business & Life."
When Trump talks real estate, people tend to listen. Whether it's the well-heeled guys who find themselves partnered with him in a celebrity golf tournament, the regular folks who pony up to see him teach his Learning Annex course or the Apprentice fans who turn up at his book signings.
Yet he also readily tells people that business takes a certain amount of "natural ability." That he can make almost everyone better, but he cannot make everyone into a star.
Even as Trump sells, sells, sells, he seems to avoid B.S.ing you. Or maybe he's so good that you just don't notice.
Either way, Trump swears he doesn't sweat the falling real estate market.
"When other people get jumpy or short sighted, you can make a lot of money," Trump said. "I've made a lot of money going against the crowd."
Golf has fit into this swoop-in-when-others-panic business model too. Trump bought Ocean Trails Golf Club out of bankruptcy for $27 million in 2002, quickly recognizing the bargain that could be had on 215 acres of Southern California oceanfront property. Then, he turned Ocean Trails into Trump National L.A., his only public course (a local ordinance requires it stay public).
Still, Trump's high-end golf projects - and he doesn't get involved with a course that he does not think he can call the best in Southern California, the best in the known universe or the best in somewhere big - have been largely surprisingly non-real estate focused. The guru of the real estate deal has not been about popping up mansions along the fairways of his U.S. courses.
In fact, he gave up a number of home sites at Trump National L.A. to give his handpicked renovation/redo architect Jim Fazio - and himself - more room to work with.
Carolyn Kepcher, the former head of Trump's golf division, put it this way before Trump fired her, "I really think golf is Donald's true passion project. He truly loves the game and wants a legacy in it. You didn't hear about how much something costs when it comes to the golf courses as much as you hear, 'What are we doing to make it the best.'
"He always wants the wow factor. But with the golf courses, it's wow over everything else. I don't think he's ever going to be about just using a golf course to sell houses. He wants courses that he'd want to play."
Trump's Scotland golf resort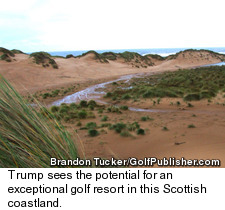 Trump yearns for his biggest must-play to be a mammoth golf resort in Scotland on the North Sea. This is a proposed Trump golf project with a major real estate element - 1,500 houses and a six-story resort. Unlike Trump National L.A., for example, where The Donald took over a struggling existing course and poured in millions, the Scotland Aberdeen project would be his to completely sculpt from scratch.
Not that Trump will be designing the two courses himself. He's enlisted course architect Martin Hawtree, the man behind Carnoustie. But the entire project is pure Trump vision, more grandly schemed than an Egyptian pyramid.
Only the pharaohs never had to fret over special-interest groups or community activists.
If you read the major United Kingdom newspapers, there's a significant uproar over Trump Scotland. If you listen to Trump, it's more blown out of proportion than a Britney Spears' custody hearing.
"The overwhelming majority of the Scottish people love the project," Trump said. "They're excited. They know the number of jobs it's going to bring in. They know it's not going to be anything but first class in every way.
"There are a handful of people who don't like it, and they get the headlines because they're fighting Trump."
Trump shrugs. Soon three people with Blackberries are in his face, telling him about a matter that needs his attention.
This is how it is for Trump when he completes a round in a celebrity golf tournament. Actually, playing golf can be a strain on his schedule. Playing it in a celebrity tournament where the rounds last five-plus-hours - more than double and sometimes triple the time the quick-playing Trump takes to finish 18 at one of his clubs - can be murder on it.
Trump is usually buried out in public. I've spoken to him at a celebrity golf tournament and at a book signing and on the phone, and there's no question he's more relaxed on the phone when you're part of his schedule.
As much as Trump enjoys talking real estate, his voice picks up even more when the topic turns to sports. He loves the fact that athletes seem to love Trump. And golf's only given him even more entry.
Tom Brady and Jason Kidd are just a few of the big names who regularly play a number of his courses. Joe Torre held his annual charity golf tournament at Trump's Westchester, N.Y., golf club. Now that Torre's the new Dodgers manager, Trump has already talked about Torre's tournament moving to Trump National L.A.
"Ask Tom Brady what he thinks of Trump L.A.," Trump tells a reporter.
Brady isn't sweating much these days. Neither is the real estate baron in the supposed real estate downtime.
Not if you listen to Trump. He often says that "revenge is good," but seems to like bucking the trend even better.
November 14, 2007
Any opinions expressed above are those of the writer and do not necessarily represent the views of the management.