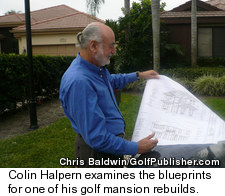 FEATURE STORY
Colin Halpern, Domino's Pizza's Europe tycoon, gets into luxury south Florida real estate
By Chris Baldwin,
Contributor
PALM BEACH GARDENS, Fla. - Even among other eccentric millionaires in Florida, Colin Halpern stands out. He's been told he looks like Sean Connery, and the British accent surely helps foster this sense of transatlantic cool.
Halpern is a 70-year-old who doesn't look a day over 50 and who conducts business like he's 35, still charging to get ahead.
He plays golf. Just not nearly as often as many of his contemporaries. "It's hard to find the time," Halpern says, shrugging.
Perhaps when he's 85, Halpern will manage to cut out some time on the fairways. Maybe.
Right now, he's too busy transforming ultra-upscale private golf course communities. The founder and former chairman of Domino's Pizza's UK operations has caught the golf course real estate bug at a time in life when many are just hoping not to catch a flu bug.
Halpern is not doing golf real estate as some abstract transaction on a computer screen either. He's so involved that his expensive loafers get chalked with concrete dust from building sites.
Consider this scene from one bright day: Members of his crew working on the bare high-beam supports overhead, Halpern looks around the house going up around him and grins.
"This was just a lark," he says. "Just a lark."
This is buying houses in very high-end golf course communities, tearing them down, rebuilding them in a design and style of Halpern's vision, and turning around and selling them at tidy profits to other millionaires. As larks go, it's one heck of an unexpected laugh to the bank.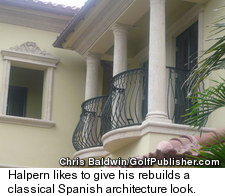 Halpern started with a number of homes in Frenchman's Creek, the rich folks' retreat in Palm Beach Gardens that he and his wife call home themselves. With home prices running between $900,000 and $13 million, there is still a pretty broad range of house types in Frenchman's.
The man who introduced the United Kingdom to American-style pizza delivery has been buying up some of the older homes on U.S. golf courses and transforming them into much more upscale dwellings.
Part of what sets Halpern's strategy apart is his desire to rebuild the homes before he has a buyer. Halpern believes he has a strong sense of what buyers in this income bracket are looking for (including home theaters with plush leather seats, windy turret staircases, and kitchens with sleek appliances and fancy stone countertops), and he wants to work off the blueprints his architect draws up according to the millionaire's vision.
"I have no interest in being ordered around by someone who's trying to build their dream home," Halpern said. "Suddenly you're special ordering this and that, redoing the kitchen two, three times and it never ends.
"I'm going to build houses I like, and if other people like them and want to buy them, great. If not ... it's all just a lark anyways."
Of course, this strategy comes with plenty of risk, especially in today's often soft and unpredictable real estate market. If people with money do not like Halpern's homes after they're finished, he could be left holding the bag.
Then again, a lot of experts never thought Halpern could turn around the pizza company overseas either. And at this stage in his life, a little risk is not going to keep him up at night.
From Domino's Pizza to retooling Florida's richest zip codes
Sitting in Halpern's living room can be an intimidating experience. His own large, but hardly over-the-top, home in Frenchman's is filled with eclectic modern art and offbeat but luxurious furnishings. His favorite room might be the wood study filled with shelves and shelves of books.
It's a room Halpern probably wouldn't include in his own revamps and rebuilds. Not mass-market-millionaire enough.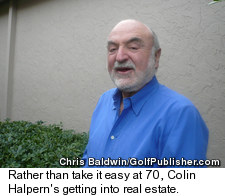 Halpern has spent a large part of his life jetting around the world for various business ventures. This new foray into golf course real estate has him much closer to home base.
Which doesn't mean he's taking it less seriously.
He waits for architects' faxes before heading to dinner. He shows up at the houses as they're being rebuilt to go over things with the head of his crew. He even brokers peace with neighbors who aren't so thrilled to suddenly have a construction zone next door.
"In a lot of cases, people just want to be heard," Halpern says, throwing up his shoulders.
And sometimes they just want a new door. When one neighbor kept inquiring about what was going to happen to an old door from a rebuild, Halpern instructed his crew to put it up at the guy's house. The neighbor was so grateful, he now speaks up in favor of Halpern's building when others are complaining about the noise.
"We were going to throw the door out anyways," Halpern says.
Hey, you learn about more than just pepperoni when you're courting customers for a pizza empire and occasionally golfing in Europe.
In his new life holding the blueprints, Halpern still occasionally gets mistaken for Sean Connery now and then. The last time came while he waited with his wife for a valet to bring around their car. When a guy walked up and asked if he was that old James Bond, Halpern simply put his finger to his lips.
Don't tell anyone but the Domino's tycoon is having more fun than ever in golf real estate.
July 30, 2007
Any opinions expressed above are those of the writer and do not necessarily represent the views of the management. The information in this story was accurate at the time of publication. All contact information, directions and prices should be confirmed directly with the golf course or resort before making reservations and/or travel plans.