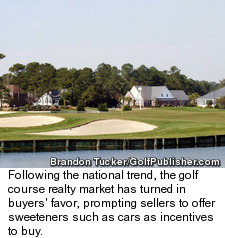 FEATURE STORY
In slow golf course real estate market, sellers throwing in cars, boats to sweeten the deal
By S. Adam Cardais,
Staff Writer
With sellers nationwide throwing in bonuses to get people to buy homes in a falling market, it's only natural that the trend would extend to golf course realty.
Looking for a great deal on a new car? Maybe you should consider buying a house.
In a nationwide real estate market that saw home sales fall a whopping 8.4 percent in March from February, and which will likely experience an unprecedented overall dip in prices this year, according to the National Association of Realtors, sellers are desperate to get out - so desperate they're throwing in cars, boats and other sweeteners as incentives to buy.
The trend extends to golf course realty, so, if you're looking to buy either a second home or a retirement home, you might just get a great deal on the property - plus a little cherry on top.
"The market has changed some, and it's more of a buyer's market, so you will see other incentives outside the property," said Royce King, president of The Litchfield Company Real Estate, which operates in South Carolina golf and beach communities such as Myrtle Beach and Pawley's Island. "I think it will be this way as long as you see the market as flat as it is."
In South Carolina, King said this trend is most pronounced in golf course-rich Myrtle Beach, where oversupply is leading some new-home builders to offer discounts. Sellers are even offering incentives in upscale Charleston, S.C. The Post and Courier reported a story at the end of March about a family selling a house in Charleston National Country Club. To help attract buyers, the sellers threw a champagne-colored Mercedes worth $13,000 into the deal.
The sweeteners go beyond cars and boats. Some developers at The Reserve at Litchfield golf course community in Pawleys Island, S.C., are offering buyers credit toward a golf membership at the prestigious club, according to King.
Such deals could be around until next spring because the market isn't likely to rebound anytime soon.
"I think [the market] is still going to be slow," King said. "It's going to take a while to work off some of the inventory."
That doesn't mean, however, buyers can afford to sit on their hands. King said he's seen a 15 percent to 25 percent increase in buyers recently. In many cases, these are people who first showed interest in 2005, when the real estate boom was driving prices higher, and are now re-entering the market. Clearly, now is the time to buy.
"It's excellent, and that's why we're seeing buyers come back into the market," King said, adding that it's extremely unusual for prospective buyers to resurface more than a year after initially showing interest. "They just went on the shelf, and now they're trickling back into the market."
July 12, 2007
Any opinions expressed above are those of the writer and do not necessarily represent the views of the management. The information in this story was accurate at the time of publication. All contact information, directions and prices should be confirmed directly with the golf course or resort before making reservations and/or travel plans.