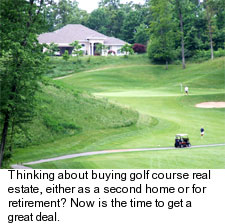 FEATURE STORY
Soft market in Southeast means deals on golf-course real estate
By S. Adam Cardais,
Staff Writer
With its temperate climate and host of first-class golf destinations, the Southeast is one of the most sought-after golf-course real estate markets in America. And if you're scanning property listings, looking to buy a second or retirement home, now is the time.
Nationwide, sales of existing homes are falling after several boom years. The 8.4 percent drop from February to March this year was the biggest one-month decline since January 1989, according to the National Association of Realtors. This despite what the association predicts will be an overall decline in prices this year.
The national trend is in evidence in southeastern communities saturated with golf-course realty. In the Bluffton, S.C. area sales fell approximately 9 percent in 2006 from 2005.
Nearby Hilton Head Island, one of the country's most revered golf destinations, took an even bigger hit - 30 percent, according to John Ussery Jr., sales manager at Colleton River, a residential golf community on the island.
As a result, owners are looking to get out, and buyers are positioned to get great deals after years of suffering in a seller's market.
"The reality is if you think you want to enjoy ownership over the next five to 10 years, your timing couldn't be better than today," Ussery said.
Sellers started accepting significant hits on list prices in the last six months to exit the market, Ussery said, adding that property is selling for 15 percent less than a year and a half ago in the Bluffton area. Prices have fallen even steeper off the mainland in Hilton Head.
"In many places, list prices have come down to address the realities of the market," he said. "The sellers looking to sell are doing so with the goal of getting out. [So] there's definitely some low-hanging fruit out there."
The same goes for golf-rich Myrtle Beach, where oversupply is leading some new-home builders to offer discounts, said John Wachter, a managing member of Signature Homes of South Carolina Inc.
"It's a good time to find something down here," Wachter said.
In Hilton Head and its environs, buyers are already starting to rush the market. Ussery said he's seen sales increase 50 percent in the last month and a half, unusually high even in what is typically a spring and fall market.
"Within the last month and a half people have been coming out of the woodwork," Ussery said. "We really didn't have to do much selling."
Ussery said he expects the fall to be even stronger, which means buyers looking for a deal should act soon, before the market stabilizes.
"The floor could rise in the fall," he said.
June 7, 2007
Any opinions expressed above are those of the writer and do not necessarily represent the views of the management. The information in this story was accurate at the time of publication. All contact information, directions and prices should be confirmed directly with the golf course or resort before making reservations and/or travel plans.