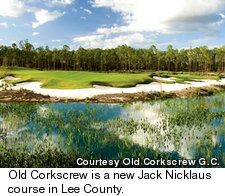 REAL ESTATE
Golf course construction slowdown? Not in southwest Florida
By Tim McDonald,
Contributor
NAPLES, Fla. - Florida is different from the rest of the country. That even goes for golf-course construction - especially in southwest Florida, long a boom spot for golfers.
While the country overall lost golf courses last year for the first time in 60 years, the Florida counties of Collier and Lee down near the 10,000 Islands and Everglades continue to turn them out.
"Southwest Florida is definitely bucking the national trend of golf-course construction slowdown," said Joey Garon, vice president of operations for Bonita Bay Group, a developer.
Bonita Bay is a prime example, with two new courses set to open in the first quarter of 2007 - Whispering Oak, a Jack Nicklaus/Jack Nicklaus II design at the company's Verandah community in Fort Myers, and the Aerie, a Gary Player championship course at TwinEagles in North Naples.
"In addition, we opened a Golf Learning Center at Mediterra in North Naples earlier this month," Garon says.
The National Golf Foundation (NGF) reported a nationwide decline in golf facilities in 2006, the first drop in six decades. Even golf meccas didn't escape the trend, with Myrtle Beach particularly hard-hit.
The optimists, including the NGF and Myrtle Beach tourism officials, say the decline can be considered healthy, with weaker courses being weeded out and the survivors better positioned to charge green fees closer to a more realistic market rate.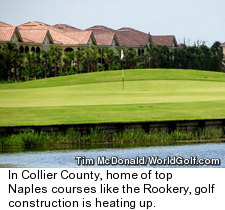 Lee and Collier counties don't have to worry, even as they suffer the same real-estate slowdown the rest of the country is experiencing. Of course, in this area, which includes Naples, the "slowdown" is relative.
"We are going from an extraordinary real-estate market to a normal market," economist Hank Fishkind told the Naples News.
Six new golf courses will have sprung up by the end of next month in the two counties, and four more are slated to open by the end of the year. With four announced closures, that will bring the Lee-Collier total to 152, about 50 more than on all of the Grand Strand.
Neither Hurricanes, soaring insurance rates, the real-estate downturn nor the famous mosquitoes seem to be slowing the local golf scene down. To those northerners sitting through annual ice storms and white-outs, the lure of Florida at this time of year will always be strong.
"Lee and Collier counties have traditionally been a mecca for people who want quality golf, and that demand for great golf continues to expand as our population grows," Bonita Bay's Garon said.
"We continue to see strong population growth in southwest Florida, and a key reason for that growth is our phenomenal weather and high-quality golf courses. We don't see that trend changing anytime soon."
The NGF already lists both counties in the national top 10 in golf holes per capita, and they feature quality as well as quantity.
Collier County, which includes Naples and Marco Island, is home to Tiburon Golf Club, the Rookery, the Flamingo Island Club, Naples Grande, Fiddler's Creek and La Playa.
Lee County includes Fort Myers, Cape Coral, Bonita Springs and Sanibel and sports well-recognized courses like Heritage Palms, Raptor Bay, Dunes Golf Club at Seville, TwinEagles and Mediterra.
And there are some promising new courses opening up, such as TPC at Treviso Bay in Naples.
This private Arthur Hills course, the 26th TPC facility, is sited in a neighborhood of mid-rise condos, carriage homes, detached villas and single-family homes. Like most TPC facilities, it is designed to host a PGA Tour-sanctioned event, though none have been announced yet.
Old Corkscrew, another new Nicklaus design, features tall stands of cypress, pine and oak and nesting colonies of wood storks, egrets and herons.
February 28, 2007
Any opinions expressed above are those of the writer and do not necessarily represent the views of the management. The information in this story was accurate at the time of publication. All contact information, directions and prices should be confirmed directly with the golf course or resort before making reservations and/or travel plans.