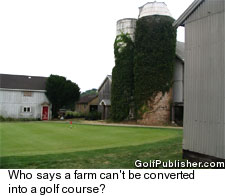 REAL ESTATE
Golf real estate: Course ownership about a new way of life
By Chris Baldwin,
Contributor
BUTLER, Pa. — Tim McNulty couldn't make it as a farmer. So he opened up his own golf course.
Now instead of obsessing over the corn crop, he's mowing his 600-yard par 5 at Strawberry Ridge Golf Club with the same tractor he used in the family farm business.
"What's the old saying?" McNulty said, laughing. "Those who can't farm, golf."
McNulty is just one of the estimated 15,000 to 17,000 individual owner operators of golf courses around the country. He's one of the more extreme examples. He designed Strawberry Ridge himself after studying golf course architecture books and moved most of the dirt to build it himself.
But even McNulty shares one basic trait with the rest of his fellow small time golf course own bosses.
"Those who want to own and operate their own golf courses are a passion buyer," said golf course real estate agent Hilda Allen. "They're often looking for a way out, for a different way of life."
That way could be going from the courtroom to the pro shop just as readily as the farm fields to the fairways.
Big dreams, small towns
Hilda Allen's company, Hilda W. Allen Real Estate Inc., specializes in selling golf courses. She's been turning around golf courses to buyers since 1991 and in those years she's lost track of the number of successful folks who just yearn to be running their own golf course instead.
"They come from every walk of life," Allen said. "We've had buyers from doctors to dentists to lawyers to football players who are retired and looking for something to do.
"The only thing they all share is a passion for golf. We just sold a course to a major corporate officer in Charleston who's looking to retire to golf.
"A golf course is unlike any other real estate buy. There's a romance to it."
The proliferation and dominance of major golf course conglomerate companies — Troon Golf, American Golf Corporation and the like — has convinced many that the romance is gone. In reality, there are thousands of golf courses that remain mom-and-pop operations.
They just tend to be in more out of the way places. Hilda Allen is currently pushing a course in Western Kentucky — an Arthur Hills design that includes a farm building that's on the National Register of Historic Places. It's called Lafayette Golf Club at Green Farm Resort. There's also a bed and breakfast being sold with the course.
Buying an individual owner operated course for yourself can cost anywhere from $500,000 to several million. Not chump change to be sure — but not exactly crippling for CEOs with corporate stock options, Wall Street bonus collectors or even a doctor who's been in practice for years.
Hilda Allen's sold more than 120 golf courses since 1991 — with almost all of those going to individual owner operators. Some individual golf course owners are happy to run small time businesses. Some expand and turn their course into a major driving force for the whole community.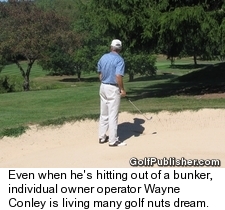 Wayne Conley, who didn't buy his course from Hilda Allen, marketed Conley Resort so effectively that the little region of Butler County, Pa., found a foothold as a possible golf destination.
Not that everyone in the golf course buying business wants credit.
Hilda Allen relates that some of her more famous clients, especially a few ex-NFL players, don't want it known that they bought a course.
"From what I understand, they don't want their friends to be bugging them for free golf all the time," Allen said, laughing.
Hilda Allen didn't set out to become one of the top golf course realtors in the U.S. She started out in real estate in 1978, represented a few golf courses in the early 1990s, and realized she had a gift for these quirky sales.
"It's definitely a specialty niche market," Allen said. "You have to look in some unconventional places and really do your research to find a buyer. You can't just put a 'for sale' sign on a golf course and expect it to sell."
In many ways, Allen's job is to find the dreamers — the guys looking to cash it all in for a try at golf, the investors who can look outside the box to a tee.
Tim McNulty went into golf out of necessity. It's a way for him to support his family while maintaining a similar work-the-land lifestyle to what they had in farming. Other professionals buy a course to escape from the drain of the office life.
It's no stretch to call it one of those ultimate luxury buys.
Even if the pleasures are sometimes decidedly simple.
"Nothing beats lying in the grass and having a beer in the middle of the 13th fairway, looking up at the mountains at the end of a long day," McNulty said.
December 21, 2006
Any opinions expressed above are those of the writer and do not necessarily represent the views of the management. The information in this story was accurate at the time of publication. All contact information, directions and prices should be confirmed directly with the golf course or resort before making reservations and/or travel plans.