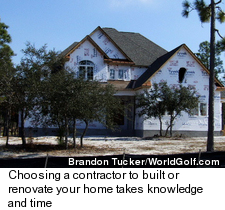 REAL ESTATE
Ask first, pay later: Tips for hiring a contractor for your golf course home
By Brandon Tucker,
Senior Writer
Some homeowners learn the hard way that a relationship with a contractor can be a messy one. When high aspirations meet high costs, the results can be disappointing.
There are ways homeowners can protect themselves from being taken advantage of and education tops the list. Here are GolfCourseRealty.com's tips for finding and hiring the right contractor.
1. Learn the bad, not just the good: Most contractors will be happy to show you a portfolio of their best work and refer you to satisfied clients, but you can learn a lot from the bad times too. Ask about jobs that didn't go so smoothly, and check with your local Better Business Bureau or the relevant government agency to see if a contractor has generated any complaints. Find out if conflicts were handled professionally, and whether the contractor held up his side of the bargain when challenged.
2. See previous work firsthand: The right photo can make almost any home look like a masterpiece; best to go see for yourself. You'll get a much better look at his work and the quality of materials, and whether ideas that sound good on paper look as good in practice.
3. Know what questions to ask: Has this company ever gone over budget or past deadline? How long have similar projects taken in the past? For renovation jobs, how much of a nuisance will the work be and what will the contractor due to keep the site clean during off-hours. Asking informed questions will let the contractor know you're no rookie.
4. Interview in person: Phone and e-mail are more convenient, but it won't tell you the whole story about someone you're investing in. Meet face-to-face and make sure you have good chemistry and communication.
5. Don't sacrifice quality for cost: It's easy to take the lowest offer, but that can mean compromising on quality or know-how. Many contractors trying to break into a certain market will charge less to get their foot in the door but may not know about local ordinances, zoning codes and environmental obligations. Still, if you are attracted to a higher bidder, make sure it has plenty to offer that other firms don't.
6. Have legal representation: There's plenty of potential for the homeowner/contractor relationship to get messy, so it's always good to invest a little in peace of mind. Having a lawyer from day one can often be more economical than having to find representation quickly if something goes wrong.
7. Don't pay up front: Pay only for work that gets done, and set up time penalties that reduce payments if something isn't done on time. This will ensure that your job gets priority. Don't pay for the contractor's materials in advance either; wait for the bill.
8. Check the crew: The crew your contractor hires can make all the difference in speed and quality of work. Ask about his hiring practices and make sure he isn't hiring cheap, inexperienced help.
9. Check his specialties: A contractor might be the best in town on, say, patios and decks, but if that isn't your priority, don't hire him. Some contractors who specialize in renovations or additions will try to get a job building a house from the ground up despite never having done it before. Make sure yours isn't the first.
10. Check credentials: Don't take out the checkbook until you know the contractor is bonded and licensed. This will also protect you from liability if anyone is hurt on your property during construction.
October 25, 2006
Any opinions expressed above are those of the writer and do not necessarily represent the views of the management. The information in this story was accurate at the time of publication. All contact information, directions and prices should be confirmed directly with the golf course or resort before making reservations and/or travel plans.