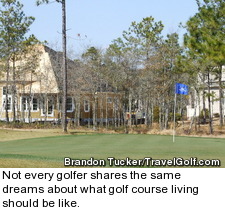 FEATURE STORY
What makes a great golf community?
By Shane Sharp,
Contributing Writer
CHARLOTTE, N.C. -- So you want to live on a golf course. Splendid! But owning a house on a golf course is like choosing a beer at your favorite pub -- there are a lot of things to consider, based on your budget and temperament.
That you are even considering a golf course lifestyle is probably indicative of the fact that you aren't living off black beans and rice every meal, or still stuffing money in a piggy bank. Yet, some of the classiest golf course developments in the country don't require you to be worth millions of dollars in order to plunk down a crib on their closely cropped fairways.
Not every golfer shares the same dreams about what golf course living should be like. Some want to tee it up in the 300 plus sunny warm days of Arizona or Florida, wear shorts year around, and buy sun tan lotion in bulk at Costco or Sams.
Others prefer the changing seasons of the mountains, the rolling terrain of a hillside golf course, and a few months by the fire while the golf course sits and rests. Some people move to golf courses to retire, and the further away from civilization the better. Other folks are nowhere near hanging up their careers, and they need to live within 30 minutes of a major metro area.
We've assembled an entourage of the country's best golf course communities, running the gamut from desert hideouts to mountain getaways. Enjoy, and choose carefully!
Coastal living for the retired, semi retired, and not so retired at all
Hammock Dunes, Palm Coast, Fla.: There may be more Mediterranean-themed golf course development than you can shake a putter at in the Sunshine State, but with good reason -- people, especially "snowbirds," love them. Hammock Dunes is one of the best the state has to offer, what with its oceanfront, Tom Fazio-designed layout and its newly constructed Rees Jones course. Playa del Sur, a new neighborhood within the larger development, just came online in July, and will offer 43 single-family oceanfront lots. All homes are custom built, at least 2,500 square feet, and feature private setbacks that provide more than ample spacing between homes. Homesites start at $160,000 and run up to $900,000.
Twin Eagles Golf and Country Club, Naples, Fla. Time was, Naples had a couple of resort golf courses and a handful of golf course communities. Those days are over. This quaint burg on Florida's far, southwest corner now boasts perhaps the largest collection of golf course communities, per capita, in the state. Twin Eagles is among the most exclusive. Only 184 home sites, from a half-acre to five acres, are being offered, and the development will include 800 acres of preserved open space. Need more Sierra Club fodder? The developer is requiring all builders to pass a course on environmentally friendly building practices. Home sites start at $260,000, and homes lead off at $1 million.
The Kiawah Island Club, Charleston, S.C.: For those Northerners who think Florida offers up the only fun in the sun in the world of golf course communities, the Lowcountry of South Carolina will come as a pleasant surprise. Summers aren't as hot, winters are mild, and the scenery is hard to beat.
Still going strong after 25 years is the famed Kiawah Island Club. Replete with 2,700 homes, villas, and cottages, Kiawah has not thrown in the towel, yet. Its seventh golf course, the Tom Watson-designed Cassique, opened this year with 40 new homesites. Homes at Cassique will range from $375 to $675,000. But living within earshot of the Ocean Course? Priceless.
Southeastern golf communities that aren't so southeastern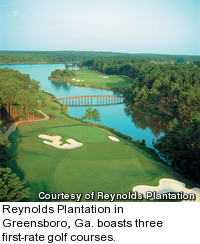 Reynolds Plantation, Greensboro, Ga.: The Southeast isn't all beaches, plantations, and swamps. Lest we forget that this diverse region is home to a large chunk of the Appalachian Mountain chain. Reynolds Plantation is an 8,000 acre community perched on scenic Lake Oconee in Georgia's northeast corner. The community was developed by descendants of Mercer Reynolds, who purchased the property back around 1900. Three first-rate golf courses adorn the development, one by Bob Cupp, on by Jack Nicklaus, and one by Tom Fazio. Home sites range from $75,000 to $1 million. Cottages and homes range from $450,000 to $3 million.
Uwharrie Point, New London, N.C.: The Uwharrie "Mountains" are one of the great geographic anomalies of the southeastern U.S. Set in the otherwise gently rolling hills of the Piedmont, the Uwharrie region sports the country's oldest mountains, formed by the convergence of the Yadkin and Pee Dee Rivers. Uwharrie Point was formed by the damming of the Yadkin back in 1917. Oh, and the golf course -- Old North State -- is one of the best on the east coast. Lawns are discouraged at Uwharrie in favor of the natural look, which in this case includes oak, holly and hickory trees, and 14 miles of shoreline. Home sites start at $125,000 and homes range from $350,000 to more than $1 million.
Head west, young man
The Powder Horn, Sheridan, Wyo.: If you are having trouble associating the wild, wild West with the not so wild game of golf, Powder Horn won't help to clear up any foggy mental images. Set on a 607-acre ex-cattle ranch, you still get the impression that a cow could be waiting around every corner of the Homer Scott, Dick Baily signature golf course. Both custom and predesigned homes are available, and home sites start at $60,000, houses at $200,000.
Aspen Glen, Carbondale, Colo: It's not all about skiing around Aspen. Try Aspen Glen, for instance: a Golden Bear, Golden Bear Jr. designed layout, views of the Rockies, and the Roaring Fork River all combine to make this mountain hideaway just 31 miles southeast of Aspen a formidable golf course community. Homes range in size from 6,000 square feet to luxury townhomes. Home sites are one-quarter acre to one-half acre and start at $186,000. Aspen Glen is not for the tight fisted -- even the townhomes start at $642,000 and the single-family homes begin at $800,000.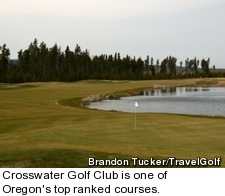 Crosswater, Sunriver, Ore.: There was a time when you didn't hear much about golf on the eastern front of Oregon's Cascade Mountains, but those days are long gone. Since it opened in 1995, Crosswater has been recognized as one of the best golf course communities in America, as has its golf course, the Crosswater Golf Club. Construction is primarily timber and post beam, a natural blend with the region, and homes range from 3,900 to 9,000 square feet. Homesites start at $275,000 and homes at $600,000.
Southwestern sizzle
Superstition Mountain Golf and Country Club, Superstition Mountain, Ariz.: If you are looking for a golf course community that spews southwestern ambiance, Superstition Mountain Golf and Country Club could be your future home. Design guidelines require the use of hand-hewn timbers, mortar washed stone and terra cotta tiles and stucco. Both custom and predesigned homes are available. There's one catch, however: You better like Jack Nicklaus designed golf courses. The tracts at Superstition were designed by Jack, Jack Jr. and Gary. Homesites range from a third of an acre to just over an acre, and start at $230,000. Homes start at $445,000.
Shane Sharp is vice president of Buffalo Communications, a golf and lifestyle media agency. He was a writer, senior writer and managing editor of TravelGolf.com from 1997 to 2003.
September 23, 2002
Any opinions expressed above are those of the writer and do not necessarily represent the views of the management. The information in this story was accurate at the time of publication. All contact information, directions and prices should be confirmed directly with the golf course or resort before making reservations and/or travel plans.