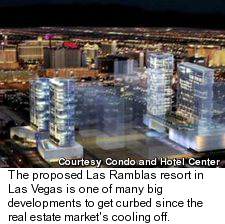 REAL ESTATE
Lukewarm real estate market has developers curbing planned developments
By Brandon Tucker,
Senior Writer
After several years of double-digit growth in home and condominium sales, the real estate market appears finally headed for a market correction, according to recent numbers.
Real estate developers across America are delaying or canceling condominium projects as home sales slow from its meteoric explosion from 2000 through 2005.
With energy costs rising, construction is costlier, interest rates have been steadily rising and lenders are balking at financing units that potentially won't sell. A reduced pace of home construction is expected in four of five U.S. regions, according to McGraw Hill's Construction Outlook 2006.
In South Florida, canceled high-profile developments include 1390 Brickell Bay and ICE in Miami, The Waves Las Olas in Fort Lauderdale and Promenade in Palm Beach County. According to one luxury home builder, WCI Communities Inc., orders for its high-rise condominiums fell by 84 percent in the second quarter — causing them to go forward with only three to five condo projects this year, down from as many as 17 in previous years.
Old City 205, A $40 million project in Philadelphia's Old Town was curbed after developers predicted unsold units of its luxury condos ranging from $400,000 to $2 million.
Las Vegas, the second-fastest growing big city in America from 2000 to 2005 has seen several high-profile condominium projects tabled recently. This includes the $600 million, 825-unit luxury condominium-hotel resort that included Michael Jordan as an investor, the $3 billion, 4,400-unit Las Ramblas resort backed by George Clooney, and Ivana Las Vegas, a $700 million, 945-unit tower.
Apartment-to-condo conversions plunged by more than $1 billion in May to just $334 million compared to a year ago. The all-time high was $4 billion hit last September.
Builder confidence, as measured by the National Association of Home Builders/Wells Fargo Housing Market Index, fell in June to its lowest level since April 1995. Confidence took a hit due to rising mortgage rates, high home prices and investors and speculators fleeing the market. Philadelphia "condo king" Allan Domb has speculated many condos are priced out of most home buyers range.
"The sweet spot of the market is probably $250,000 to $700,000," Domb told the Associated Press. "That's what the majority of the population can afford. Many condos are priced higher. That's part of the problem."
The index surveyed builders of single-family homes, where the sales decline hasn't been as severe as for condos.
For buyers, the tide may be turning after years of seeing prices rise by double-digit percentage points. Developments across the country are beginning to offer a year's free mortgage to the use of yachts or upgraded kitchen packages. Many golf communities are beginning to no initiation fees in the development's club with the purchase of a lot or home.
McCabe Research and Consulting based in Florida, say luxury condo projects are at risk of a crash and prices may fall by double-digit percentages in the coming years.
Not everyone is shying from the lukewarm market. Real Estate mogul Donald Trump is going ahead with his 45-story waterfront luxury high rise called Trump Tower Philadelphia.
October 4, 2006
Any opinions expressed above are those of the writer and do not necessarily represent the views of the management. The information in this story was accurate at the time of publication. All contact information, directions and prices should be confirmed directly with the golf course or resort before making reservations and/or travel plans.
Content for this site is provided by GolfPublisher Syndications.