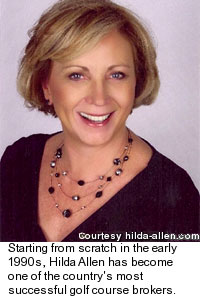 PERSONALITY PROFILE
Golf course realty: Specialty keeps Georgia-based course broker Hilda Allen one step ahead of the competition
By S. Adam Cardais,
Staff Writer
"I am the competition."
This is golf-course broker Hilda Allen on her mobile phone from Georgia. She's not at home - she's in Atlanta all week, showing golf courses to clients.
The week after she'll be in Florida. Then it's off to Washington, D.C.
Allen is the owner of Hilda W. Allen Real Estate, a brokerage she founded in 1991 in Adel, Ga. She sells golf courses for a living. And, as she is quick to point out when asked the level of competition on the market, she's good at it.
She is also quick to disclaim any boastful intent. But a look at her resume bears out her claim to be her own competition.
In her 16-year career, Allen has brokered more than 20 deals worth nearly a billion dollars. In 2005 she sold 14 properties, including Port Armor Resort in Georgia, a deal worth around $30 million. She closed nine properties last year and already has four courses under contract for 2007.
Licensed in more than two dozen states, she has sold properties to doctors, lawyers, used-car salesman, former PGA Tour players and other pro athletes, though confidentiality agreements prohibit her from naming them.
"Looking at her clientele, I would say definitely she is the leader," says Kelly Jadlot, a membership services coordinator with the National Golf Course Owners Association. "She's kind of got a niche market."
Allen's strength is her specialization in golf and resort properties. Many of her largest competitors, such as Prudential, PricewaterhouseCoopers and Atlanta firm Hodges Ward Elliott, have golf divisions that compliment their other, larger operations, but, as Jadlot notes, Allen's business "is strictly golf courses."
The fiftysomething daughter of a tobacco farmer ("I'm young enough and old enough at the same time," she says in declining to give her exact age. "I'm the new thirties."), Allen grew up in south Georgia. After earning a degree in elementary education from Valdosta State University, she began working as a schoolteacher in the 1970s.
Allen was a reluctant teacher, finding it unfulfilling. It also didn't pay enough for her to support her two sons, Marty and Jared, from her first marriage. (She has been married twice and is now single.) So in 1978, she got her real-estate license.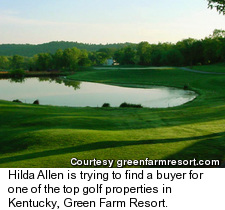 The spark that kindled her current career came in 1990, when one of her clients told her he was interested in buying a golf course.
"I was a broker and had been in the auction business, and all of a sudden I had a client who was looking for a golf course," she says. "So before you know it, I was selling golf courses."
The only thing Allen knew about golf courses at the time was that they came in nine and 18 holes. But she was friendly with the late Bill Roquemore, a legend of Peach State golf who owned several Georgia golf courses. Allen called him up, explained her situation and asked if he, or anyone he knew, had anything for sale.
"Everything is for sale," she recalls him replying, "at the right price."
Allen ended up closing on two of Roquemore's courses that year. He became her mentor, saying he would teach her everything she needed to know about the business.
"I didn't have a clue what went with a golf course," Allen says. "He just laid out an outline of what he would look at when buying, which is how I got started."
From there it was a matter of getting tapped in. Allen joined groups such as the National Golf Course Owners Association and the Urban Land Institute to get her name out.
"I had to develop a presence," she says. "It was a man's world."
Allen was Hilda W. Allen Real Estate until 2000, when she hired a secretary. Today she has five employees, including her son Marty Howell, but she still brings in most of the business.
Allen works primarily in east of the Mississippi River, selling courses ranging in price from $500,000 to $30 million, but she has also done deals in the Midwest, Texas and California.
In the industry, Allen is known as straightforward and down-to-earth.
"She's very personable and approachable," Jadlot says. "She's done a great job of getting her name out among golf-course owners and letting them know her services are available."
Allen's own opinion on her success mixes good old-fashioned business acumen and Southern piety. The most valuable lesson she's learned as a broker, she says, is to be honest and to be prepared. Above all, she adds, "I owe it all to the good Lord above. He has blessed me, and I am thankful for that."
Her blessings appear likely to continue in 2007. In addition to the four deals already closed, Allen has a New Hampshire golf course under contract and is trying to find a buyer for one of the top golf courses in Kentucky, Green Farm Resort, which is selling for $11 million.
Selling courses will likely be the easier of Allen's major objectives for 2007. She's going to have her hands full with her other big goal for the year - improving her golf game.
"I'm not good," she says. "I'm a workaholic, and I don't take time to play. I need to. One of my New Year's resolutions is to play more golf."
February 16, 2007
Any opinions expressed above are those of the writer and do not necessarily represent the views of the management. The information in this story was accurate at the time of publication. All contact information, directions and prices should be confirmed directly with the golf course or resort before making reservations and/or travel plans.