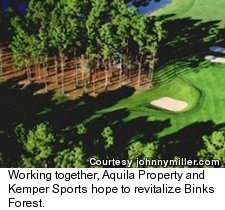 REAL ESTATE
Developers hope to restore Binks Forest in Florida to former glory
By Tim McDonald,
Contributor
Binks Forest in Wellington was on its way to becoming a major South Florida golf course when it fell victim to ownership and financial issues. Now, Aquila Property Co. and Kemper Sports have teamed up to renovate and manage the course. Plans call for a 90-unit residential golf community.
You've heard about Pebble Beach, Augusta National, Pinehurst and all those other famous golf courses that host some of the country's major tournaments.
But, how much do you hear about the courses that might have been great, but for some reason bit the dust?
By all accounts, Binks Forest in Wellington, Fla., while not in the above class, was on its way to becoming a major Florida golf course, unique in South Florida because it actually played through a real forest, so scarce in the area.
It was the first Johnny Miller signature design in America, and hosted a major PGA event in its first season (1990) when the PGA Tour Team Championship was held there. Golf Digest ranked it in its top 75 public golf courses in the country.
But, Binks Forest fell victim to a tangle of ownership and financial issues and reached a low point when U.S. marshals showed up one day in 2002 to close it. Employees were left without paychecks, contractors went unpaid and some members lost their dues.
The course sat neglected for years, its fairways a jumble of weeds, the ritzy clubhouse boarded up against vandals, while, on the other side of the street, half-million dollar homes overlook the mess.
Now, a real estate investment company is in the process of restoring Binks Forest.
Aquila Property and Kemper Sports
Jourdan C. Paul, chairman of Aquila Property Co., used to live in the neighborhood. He had played the course in its heyday, and could only shake his head as he drove past the wreckage.
As a golfer and businessman, Paul saw its potential. The company recently entered into an agreement to buy the property, and has brought in Kemper Sports, a golf course management and development company to oversee the re-construction and manage the course.
Kemper operates the highly-regarded Doral Beach Resort in Florida and Bandon Dunes in Oregon, among others.
"Last May, a deal with a third potential group was falling apart, so we approached the bank," Paul said. "We had seen the course deteriorate. My background and the company's background is turning around commercial, troubled properties."
Gene Bates had helped with the design, as part of Miller's architectural firm at the time, and he's been brought back to help with the original blueprints. To this date, Miller is not involved, though the new owners hope to get him on board, at the least in a marketing capacity.
"It's going to be based on the original design," Paul said. "Gene is doing some things to modernize the course. We're going to soften it some, take down some of the trees. It's in the middle of a pine forest - all those trees made the course really challenging."
The course is now fairly far along in its redevelopment. The greens have been shaped and it's close to the re-seeding process. The opening target date is Sept. 30.
"We think it's going to be as high quality as it was, but it's going to be different," Paul said. "I've lived in south Florida 10 years and never played a course in middle of wooded forest like this. It has the sort of natural, topographical features you just couldn't buy."
Plans call for a 90-unit residential golf course community. Those involved also plan to revamp the 30,000-square-foot clubhouse, which was a contentious issue when the club was undergoing financial hardships, with banquet and meeting facilities as well as a restaurant.
Paul said he plans to move back to the area eventually.
"We want this to be a great course for the village," Paul said of Wellington, a suburb of West Palm Beach. "On the other hand, we're investors and there's great financial potential here. We wouldn't have a strong emotional attachment unless we thought it would work."
April 24, 2007
Any opinions expressed above are those of the writer and do not necessarily represent the views of the management. The information in this story was accurate at the time of publication. All contact information, directions and prices should be confirmed directly with the golf course or resort before making reservations and/or travel plans.