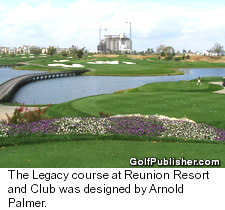 FEATURE STORY
Florida courses: The best residential golf in the Sunshine State
By Tim McDonald,
Contributor
Golf course development and real estate experts have long known that residential courses are an economic reality, that courses are often possible only if tied to real estate. It's especially true in the Florida market. GolfCourseRealty.com ranks the communities that offer Florida's best residential golf.
ORLANDO, Fla. — I like houses. In fact, I live in one. But, that doesn't mean — no offense — that I want to look at yours when I'm playing golf.
Residential golf courses are frowned upon by many, especially the purists who rave about the "core golf" experience. Others couldn't care less if they bounce a drive off someone's Mediterranean-style roof. Still others actually enjoy house- and condo-lined fairways and don't mind tee boxes so close to back-yard patios that it seems like you're barbecuing with the neighbors.
Well, it's a fact, and an economic reality that golf courses are often possible only when they're tied to real estate, especially here in Florida. And so we play them.
Baby boomers in particular are more and more buying properties in golf communities. As they pour into Florida from the Rust Belt and other bleak, northern parts, they're faced with an overwhelming choice.
To help you choose, here are the communities we feel offer Florida's best residential golf.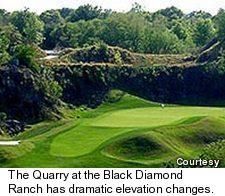 • No. 1: People have been raving about Black Diamond Ranch in Lecanto since it opened in 1988. Have you been to Black Diamond yet? Located between Orlando and the Nature Coast to the west, Black Diamond is home to 45 golf holes, including the superb Quarry, with its elevation that can be legitimately described as dramatic, even in Florida.
The Ranch is a good, underrated course and The Highlands nine can be paired with either of the other two layouts. There is also a four-hole course and an excellent practice facility, including a practice range with elevated tees, berms, bunkers and manicured greens.
• No. 2: Ocean Hammock in Palm Coast is one of my favorite Floria golf courses. This is what Florida golf should be all about, taking advantage of the state's bountiful, sub-tropical scenery in all its glory.
It may seem funny to say it in a state with thousands of miles of coastline, but to actually see the ocean from a Florida golf course is quite a treat; no fewer than eight holes play along the Atlantic Ocean.
• No. 3: Jack Nicklaus, Tom Watson and Arnold Palmer all have courses at Reunion in Orlando. I've played all three courses and they're all excellent, particularly Independence. If you tend to favor perfectly manicured courses over natural, you'll love Palmer's Legacy course, with the preternaturally white sand bunkers standing out sharply against the deep green fairways.
• No. 4: Isleworth was good enough for Tiger Woods, so it can't be that bad a joint.
Designed by Palmer and Ed Seay in 1986, the course was re-done by Steve Smyers in 2003. Smyers rebuilt all 18 holes and lengthened the course (Tiger must have complained).
They opened a new residential "enclave," the Gardens of Isleworth, last year. Premier villa homes start at $2.5 million.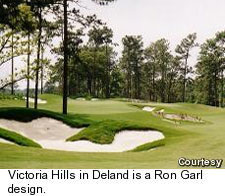 • No. 5: Victoria Hills in Deland is a superb Ron Garl design. The terrain is ideal, a layout waiting for a golf course. With rolling hills — up to 80 feet of elevation change — and sandy waste areas, Victoria Hills bucks the stereotype of flat and watery Florida courses.
"This is a tough golf course," Assistant Professional Brad Verman said. "It's very undulating and you've got to have a good short game to get up and down. You can miss the green on the wrong side and it's impossible to get there in two strokes. It's a shot-maker's course if it's anything."
• No. 6: Golden Ocala Golf and Equestrian Club is set in the horse country of Ocala. The combination or horses and golf is an unusual combination, and this area of central Florida has some of the best thoroughbreds in the country.
The golf course draws on the best in the world: the 18-hole, Ron Garl design has eight replica holes based on Augusta, St. Andrews, Royal Troon and Baltusrol.
• No. 7: Mountain Lake, just outside of pretty Lake Wales, is far enough away from either Tampa or Orlando to not get caught up in the sprawl, but close enough to drive to either city.
The community was founded in 1915, a year before Seth Raynor designed the golf course. Most of the 135 homes cannot be seen from the course, which has most of Raynor's classic British influence.
• No. 8: Fiddler's Creek is one of the more sumptuous golf communities in a city steeped in them, Naples. Less than a third of Fiddler's Creek will be developed, leaving the rest of the 4,000-acre community to nature.
The Arthur Hills course, the Creek, is frequently praised in golf magazines. A second course, The Preserve, is in the works.
• No. 9: Southern Hills Plantation Club in Brooksville sports different villages catering to families, golfers and, this being Florida, "active adults."
The golfers in particular should enjoy the Pete Dye golf course, opened last year. It has some discombobulating elevation changes and golf club officials claim that at 7,557 yards, it's the second-longest course in Florida.
• No. 10: No jokes about Old Marsh in old Palm Beach. It's 180 estates surrounded by 456 acres of nature preserve.
The private Pete Dye course opened in 1988, and it's surrounded by wetlands and Dye has done his best to obscure the view of most of the homes from the course.
Honorable mention
• Shark's Tooth, Lake Powell
• Jupiter Hills, Tequesta
• Grey Oaks, Naples
• Tuscany Reserve, Naples
• Johns Island, Vero Beach
• Lake Nona Golf and Country Club, Orlando
If you go
Tee times: 1-800-767-3574
Web: www.floridagolftravel.com
March 15, 2007
Any opinions expressed above are those of the writer and do not necessarily represent the views of the management. The information in this story was accurate at the time of publication. All contact information, directions and prices should be confirmed directly with the golf course or resort before making reservations and/or travel plans.